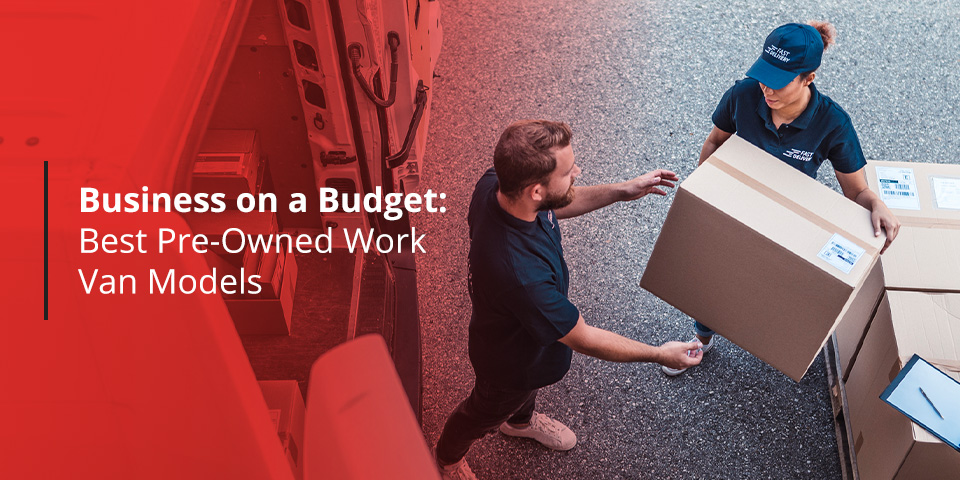 There are so many great older van models on the used car market, so which do you choose? If you're looking for the best work van on a budget, you should be aware of which models have the features you'd like to get. Learn about the capabilities of the best pre-owned work van models below.
1. 2015-2019 Ford Transit
The 2015 Ford Transit is the first of Ford's current-generation Transit lines on the market, often considered one of the best work van models. These vehicles are well known for their dependability, and they are commonly sought after for commercial use regardless of their depreciation. You can get an older Transit model for around $27,000 to $42,000.
Ford boasts the highest-selling work van models in the United States for more than 40 consecutive years. Ford also has a large market share in the full-size van segment, which includes the Transit. If you have decided on getting a model from this line, you can also choose between a:
3.7-liter V6: This is the standard option.
3.5-liter twin-turbo EcoBoost V6: This option has a gas engine and is considered to have best-in-class torque.
3.2-liter inline-5 PowerStroke turbodiesel: This economical option runs on diesel and offers 185 horsepower.
2. 2014-2019 Ford Transit Connect
The Transit Connect is a smaller work van than the Transit and has the features that make Ford vehicles popular. Its size makes it easy to maneuver and park. It is also more fuel-efficient, featuring smaller engine options like the:
2.5-liter inline-4
1.6-liter turbocharged EcoBoost inline-4
Your operators will enjoy this model because it drives as smoothly as a compact car, but it has enough cargo space for most equipment and tools. The Transit Connect is a hot van on the used car market, and you can usually find one starting at $14,000. Most Transit Connects sell for up to $27,000.
3. 1992-2014 Ford E-Series
The E-Series Ford vehicles are also known as the "Econoline" and are only available used. They have a van body with an F-150 truck chassis. Discontinued in 2014 to make way for the Transit, they were once competitors of the Chevy Express work vans.
One of their favored features is the V10 engine, which offers excellent torque ratings and power but still runs on gas. These vehicles sell for around $5,000 to $17,000.
4. 1996-2019 Chevrolet Express/GMC Savana
General Motors offers work vans on a truck chassis with great dependability regardless of the number of miles. Although these vans are less modern than some of the other options, operators like the Express and Savana for their powerful engines and towing capabilities. These vans have remained largely unchanged since 1996, so if you buy an older model, it will offer about the same features as a more expensive new model.
Models from around 2003 or earlier are easy to find for about $5,000, and you can usually find a more recent Express or Savana for around $30,000. If you're a small business owner working on a strict budget, an older model might be the most economical option.
5. 2012-2015 Ram C/V Tradesman
This discontinued cargo van looks similar to a Chrysler minivan but is designed for commercial use. It has solid metal paneling in place of rear windows, two seats and plenty of cargo space. Its engine is a 3.6-liter Pentastar V6 with an impressive towing capacity.
The Ran C/V Tradesman had a relatively short production run, making them more difficult to find. They can usually be bought for around $11,000.
6. 2015-2019 Ram ProMaster City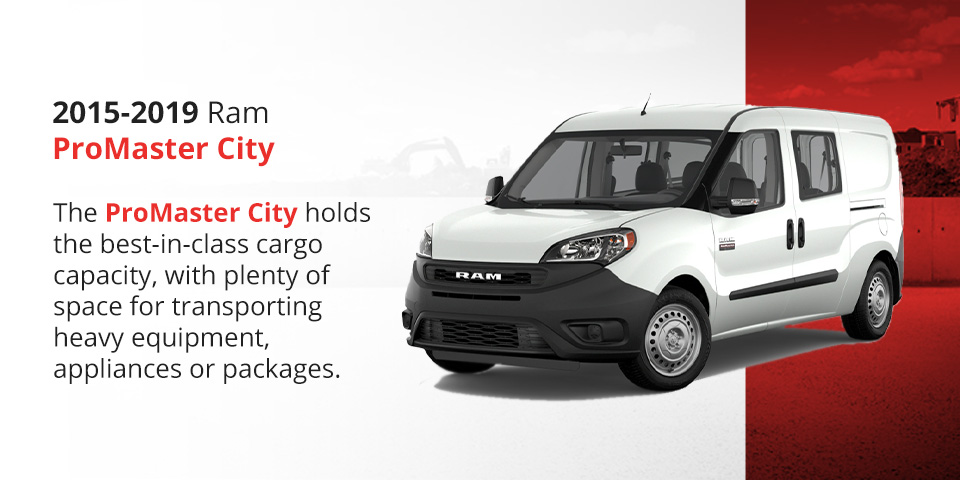 This is the vehicle that replaced the C/V Tradesman, and as the successor, it has more modern features. The ProMaster City holds the best-in-class cargo capacity, with plenty of space for transporting heavy equipment, appliances or packages. Its engine is a 2.4-liter Tigershark inline-4, offering horsepower of 178, torque of 174 lb-ft and a payload of 1,855 lbs.
It also has an impressive fuel economy for a work van, especially when considering highway miles at 28 mpg. You can commonly find the ProMaster City, and they go for around $15,000 to $29,000.
7. 2014-2019 Ram ProMaster
The Ram ProMaster is a size up from the ProMaster City and has front-wheel drive, an excellent turning diameter and a cargo height of 65.4 inches. In terms of traction and maneuverability, it has an advantage over its competitors. It is ideal for climates that experience a lot of severe weather, snow and ice.
The ProMaster is easy to steer and park for a large work van. You can find a used one starting around $20,000.
8. 2006-2019 Mercedes-Benz Sprinter
Sprinter vans are another of the most popular tall cargo work vehicles and have been sold under Volkswagen, Dodge and other brands. With the new 2022 Sprinter in circulation, the older models continue to lower in price. The Sprinter tends to be a more expensive vehicle, and you can expect to pay up to $60,000 even for a used model.
9. 2012-2019 Nissan NV
The Nissan NV first came out in 2012 and uses the same platform as the Titan pickup with some modifications. It has rear-wheel drive only, making it less ideal for snowy weather conditions, but it has two good engine options, including the 4.0-liter V6 and the 5.6-liter V8. Used Nissan NVs go for around $15,000 to about $30,000.
10. 2013-2018 Nissan NV200/Chevrolet City Express
The Nissan NV200 and similar Chevy City Express — a competitor of the Transit Connect — have been discontinued. The used models of these compact cargo vans are smaller and highly efficient, much like the Transit Connect they were designed to rival. They sell for around $10,000 to $26,000, so if you're looking for a small work van that is easy to maneuver, this is another decent option.
Where to Buy a Used Work Van
You can either buy a pre-owned work van from an individual private seller or from a dealer — either option comes with its pros and cons. You can typically negotiate more easily with a private seller than you can with a dealer. A private seller will likely be able to answer easier questions about the vehicle, like what it was used for and its maintenance history.
A dealer will know more about different makes and models. If you buy from a dealer, you can ask about other vehicles to get the best for your needs. You can also enjoy the safety of a warranty and professional inspection.
What to Look For
A used vehicle's condition and history are two of its most important qualities. Check sites like Carfax for a vehicle report that includes the following information:
The number of previous owners
Past accidents
Maintenance and repairs
Recalls
If the vehicle's title is listed as salvage or rebuilt salvage, the van may be in a worse condition than usual. You can get an inspection to ensure the vehicle is in the claimed condition.
Customize Your Pre-Owned Work Van With Advantage Outfitters, LLC
If you've bought a pre-owned work van for your business, Advantage Outfitters can help customize it to your needs. When you've found the perfect model, our cargo van equipment and accessories can help make your vehicle safe, efficient and ergonomic. Contact us to learn more about our products.