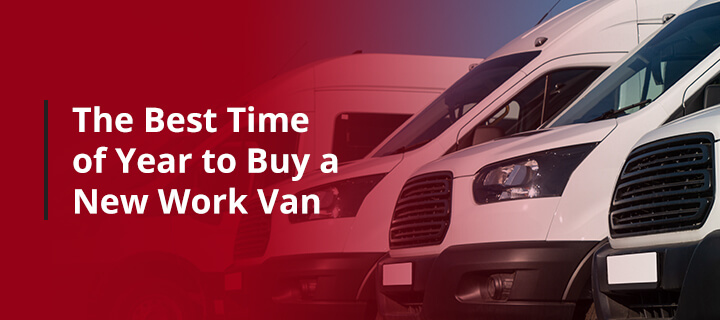 The best time to buy a work truck or van is when you can afford the investment, but which times of the year can you get the best deal on a new vehicle? This guide has inside information about when dealerships tend to offer the most generous discounts and deals. Learn how to find the most reliable cargo van for your business at a reasonable price.
Buy Around the Holidays
One of the busiest times for dealerships is the end of the year when sales events draw customers in for the seasonal holidays like Christmas and New Year's Eve. The sales typically start around late November and end in early January. Dealerships are generous at the end of the year because they want to meet their sales quotas and restock their inventory with the next year's models.
If you want to shop earlier, many other times of the year also have sales events, such as:
Memorial Day: This holiday signals the beginning of summer and often brings an increase in customers to car lots. Dealers tend to offer closeout deals over Memorial Day weekend.
Independence Day: Dealers start getting more variety in their incoming vehicles over the summer. You have a better chance of getting a deal on the van you want at this time.
Labor Day: This weekend sees competitive prices and various vehicles. You might be able to find a wider selection at this time than at a December sale.
Veteran's Day: This autumn holiday is usually a good time to look for a deal at your local auto lots.
Black Friday: If you plan to shop on Black Friday, expect to compete for the sales team's attention. You can scope out the best deals by doing some research before you visit the lots on this busy shopping holiday.
Buy in the Middle of the Week Instead of Weekends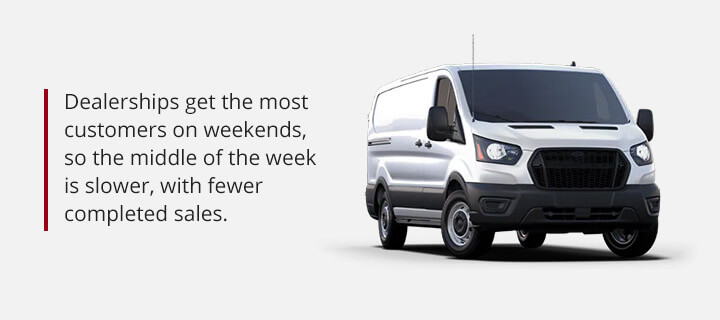 It might seem counter-intuitive to spend time looking for a deal on a workday, but going to the dealership on Wednesday is usually a better experience than visiting over the weekend. Dealerships get the most customers on weekends, so the middle of the week is slower, with fewer completed sales. They have more incentive to lower prices during the week if they think they can sell you a van off the lot.
You can also usually find low prices at dealerships near the end of each month. They want to clear out their inventory to make room for the newest stock. You may also find the best rebates if you shop for a work van at the end of the month.
The Worst Times to Buy a Used Van
Now that you know which holidays to shop on, you should also be aware of the holidays that are less than ideal for finding a deal. Here are some of the most disappointing days for car lots that you should avoid if possible:
Mother's Day: Dealerships rarely offer special deals on this holiday, and they are often closed.
Father's Day: This is one of the least generous holidays for auto shopping.
Easter Sunday: Many dealerships are closed on Easter, and if they are open, the main staff members are often off work.
The beginning of the month: Dealers have less incentive to cut their prices at the start of a new month, especially if they just reduced prices at the end of the month.
The beginning of a model year: Dealers rarely offer discounts for new models, but this can be an excellent time to get the best used cargo van prices.
When a vehicle is in demand: New vehicles usually have the highest demand on the lot. Dealerships typically offer vehicles in high demand for a premium price because it's easier for them to get buyers.
The Best Cargo Vans in 2022
Here are some of the best vans for delivery work or other small businesses:
1. 2022 Ford Transit Cargo Van
The Ford Transit cargo van continues to be a popular choice as a commercial vehicle. This versatile van has a large cargo area, perfect for storing your equipment or products regardless of the industry. This van has a lot going for it, from the impressive hauling ability to the advanced user-friendly features that make driving a safe and comfortable experience.
This van is available at an affordable midrange starting price and has a long life span with typically low maintenance. The Ford Transit cargo van has either a 3.5L PFDI V6 engine or a 3.5L EcoBoost® V6. It comes in 130- and 148-inch wheelbase options and three roof heights.
The advantages include that it:
Has a good amount of cargo space.
Comes with advanced driver aids.
Has a high towing limit.
The disadvantages of the Transit are that it:
Amenities are somewhat limited for the base trim.
Mid-tier price range.
2. 2022 Ram ProMaster Cargo Van
This is one of the best cargo vans on the market for small businesses. It has a spacious cargo area, a high payload and comes at a great price. The ProMaster has a smaller turning radius, making it great for urban areas.
Although rival cargo vans might have slightly more options, this two-seat vehicle is simple but elegant, with plenty of advantages and several trim options. The ProMaster comes with front-wheel drive and a 3.6L V6 engine, offering plenty of power.
The advantages of this van include the following:
The ProMaster also has some disadvantages, including the following:
Has simple features that lack variety
Only one engine option
3. 2022 Mercedes-Benz Sprinter Cargo Van
The Mercedes-Benz brand produces some of the most successful cargo vans on the market, and the 2022 Sprinter is among the best of the newest cargo vans. This van comes in a 144- or 170-inch wheelbase and two roof heights. Choose from a 2.0L 4-cylinder turbo gasoline engine for cost efficiency or a 3.0L V6 turbo diesel engine for maximum performance.
Here are some of the advantages:
Available with advanced driver aids
Offers a long wheelbase with a large amount of interior space
These are some of the disadvantages of the Sprinter:
Few driver-assist features available as standard
Lack of trim options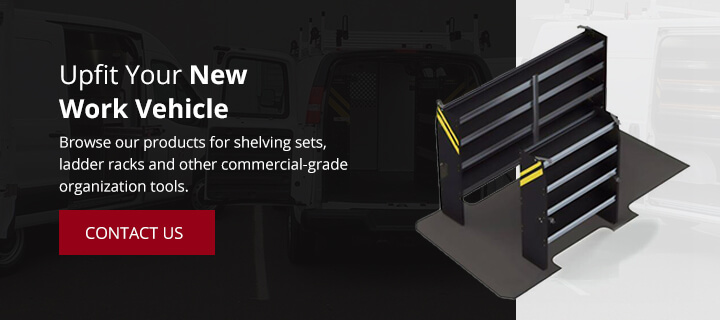 Upfit Your New Work Vehicle
Whether you're looking for a new model or an affordable used model, Advantage Outfitters, LLC can help optimize the space in your work van. Browse our products for shelving sets, ladder racks and other commercial-grade organization tools. Contact us if you have questions about our products or unfitting services.