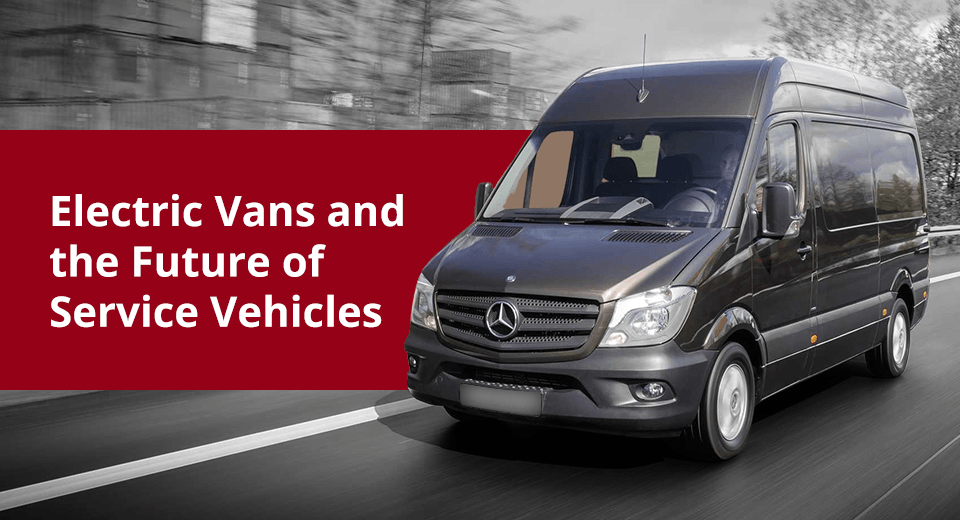 Commercial vans and work vehicles are hard to miss when you're exploring around your town. Both small local companies and worldwide corporations use commercial vans to deliver products to customers or transport equipment to job sites for service.
Companies use commercial vans because they offer an optimal amount of inside storage space, excellent maneuverability and excellent value for a quality vehicle. So, what can make a commercial van even better for companies?
How about offering a fully electric commercial van that can make a huge impact on the world and on a company's operating procedures?
Electric vans are new to the commercial van market and are ready to take on the industry. With electric vehicles becoming more prevalent around the world, the commercial van industry may see a lot of changes with newer electric vehicles taking over.
Learn more about electric vans and how they'll impact the future of service vehicles.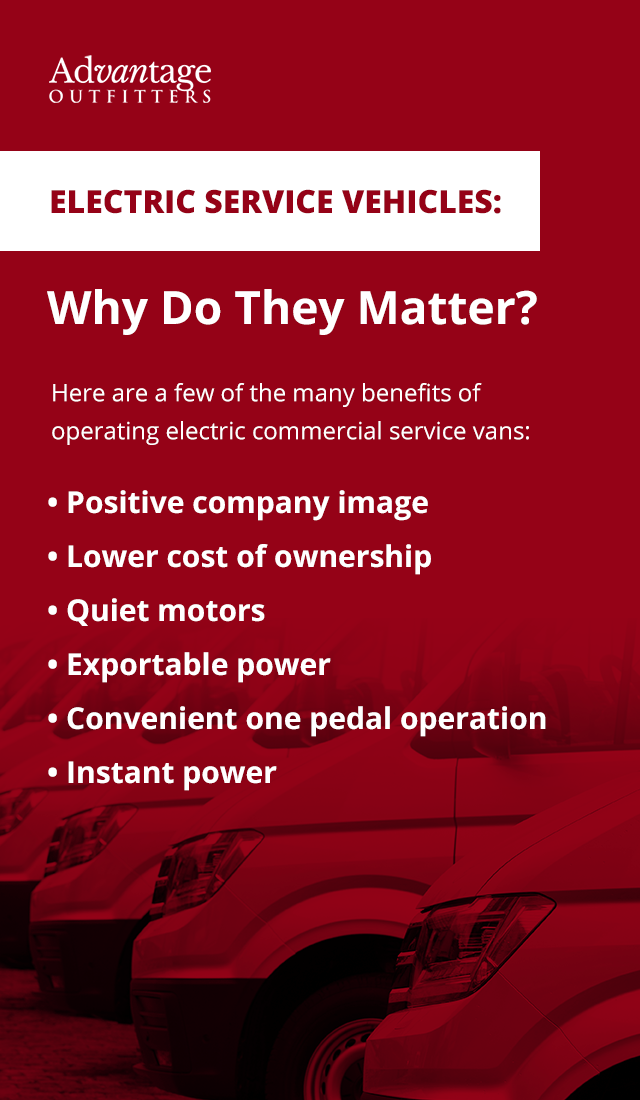 Electric Service Vehicles: Why Do They Matter?
As times change and technology evolves, companies look for new ways to stay ahead of the competition and make their operating process more productive, environmentally friendly and cost-effective. One of the most profound changes society has seen take over the roads is electric vehicles. Many automobile companies have introduced new electric models, and car charging stations have started to pop up nationwide, transforming the way people look at their wants and needs for vehicles.
But what does this mean for service vehicles? From big delivery companies to local plumbing or HVAC companies, commercial vans are a common choice for service vehicles. Until recently, personal vehicles were the only electric cars available for sale. Now we're seeing public transportation, tractor-trailers, trucks and commercial vans enter the market, which is a big deal for the automotive industry and the environment.
Electric commercial vehicles offer numerous benefits and are very appealing to companies and consumers. Here are a few of the many benefits of operating electric commercial service vans:
Positive company image: Adapting electric work vehicles to your fleet can turn heads and may even earn you free press depending on the size of your company. Any company embracing zero emissions is sure to gain attention from current and new customers. Many cities have goals for reducing harmful environmental emissions, and companies can help their cities reach those goals by adding electric commercial vehicles to their fleets.
Lower cost of ownership: While the upfront cost of an electric vehicle may cost more than a traditional gas or diesel van, the overall cost of ownership is typically lower. Operating electric vehicles typically costs less than operating comparable gas models, saving your company money on fuel and maintenance. Electric vehicles include fewer moving parts and more advanced features that require less maintenance or less invasive service.
Quiet motors: Companies operating new electric commercial vans will notice happier customers and employees with the quiet motors in the vehicles. Many new electric vans offer an exceptionally quiet motor that is a bonus for early morning deliveries or service calls and drivers who spend long hours inside of the vans. With happier drivers, companies also note higher employee retention. They appreciate the quiet ride, smooth operation and lack of gas and diesel fumes and feel safe knowing they're driving a new vehicle with updated technology.
Exportable power: The possibilities of electric commercial vans continue to expand, including the opportunity of a portable power supply. One of the perks of the Ford E-Transit commercial van, in particular, is that it offers exportable power to charge power tools and other equipment. Other brands will likely offer the same feature for their electric commercial vans and service vehicles. This feature would be a perk for many service companies like HVAC, plumbing, roofing and other home maintenance companies.
Convenient one pedal operation: Some electric vehicles come equipped with one-pedal driving. This operation feature is a bonus in the driver community because of the simplicity of pressing the pedal to speed up and releasing it to come to a controlled stop. This unique feature on electric vehicles has been tested in various traffic levels and is an impressive aspect of certain commercial truck brands.
Instant power: A bonus of electric vehicles is their ability to perform immediately with a strong launch with immediate torque. Internal combustion engines take time to reach the ideal revolutions per minute (RPM) before they reach max torque, but with an electric vehicle, you won't have to wait. Drivers will notice the power these vehicles have throughout the entire time they're operating them.
These benefits and numerous others are why electric service vehicles matter and why companies are making the switch and adding them to their fleets.
The Current Market for Electric Vehicles
The electric vehicle market has seen continual growth in the United States and worldwide. While researchers are noticing more electric vehicle registrations in Europe and Asia, the United States is close behind and has seen a serious increase in the last few years.
Around 1.8 million electric vehicles were registered in the United States as of 2020 — more than three times as many electric vehicles registered in the U.S. in 2016. This number includes all three types of electric vehicles available for drivers:
All-electric
Hybrid electric
Plug-in hybrid electric vehicles
Out of these three types, all-electric vehicles are the most popular and most registered in the United States.
While the number of electric vehicles is rising in the United States, China and countries in Europe have the most electric vehicles in the world. They are far ahead of the U.S. with 44% of the world's electric vehicles in China and 31% in Europe.
A common thread among the data is a definite growth in adopting electric vehicles. As more commercial electric vehicles become available, companies and service workers will notice a change in their vehicles as technology advances in this industry.
Trends in the Market
The growing popularity of electric vehicles affects various industries in addition to the automotive sector. Here are some of the dynamics and trends of the electric vehicle market:
Charging stations: One of the improvements that will likely arise in the coming years is adding more charging stations worldwide for electric vehicles. Currently, there is a low number of public charging stations. But as the mass adoption of electric vehicles increases and more companies include electric vehicles in their fleets, more charging stations will be necessary. More convenient charging will encourage more individuals to consider purchasing an electric vehicle the next time they're in the market. Once there is a strong charging infrastructure in place, people may see more charging stations around their communities.
Cost of electric vehicle batteries: As electric cars become more popular, electric vehicle batteries are experiencing technological improvements and increased production. Better technology and mass manufacturing have helped reduce the cost of electric vehicle batteries. Batteries are one of the most expensive features of electric cars, and the prices should continue to decrease as people discover more improvements and build more manufacturing facilities to create large quantities of electric vehicle batteries. Companies looking into adding electric commercial vans to their service fleet may want to keep an eye on the price of electric vehicle batteries.
Standardizing charging stations: One of the reasons that cities and communities haven't seen a large growth of charging stations for electric vehicles is the lack of standard charging infrastructure. With no standardization, charging stations are more likely to be compatible with a few specific vehicles rather than electric vehicles more generally. Instead of being universal, charging stations often work with only one voltage, charging speed or plug shape.
Government support and initiatives: Many countries, including the United States, have government initiatives to promote the sales of electric vehicles to reach goals of reducing vehicle carbon emissions and support renewable energy. In the United States, the government has invested in growing the electric vehicle infrastructure. One of the areas that this money goes towards is adding more charging stations around the country to help make owning electric vehicles more convenient for individuals and companies. Companies should look into local and federal incentives for adding electric vehicles to their company.
Goals for the Industry
As electric vehicles become more popular, what are some of the goals and accomplishments people will see from the electric vehicle industry? Check out some of the interesting advancements we should see in the next coming years:
New electric commercial vans: Companies like Ford, Mercedes and Tesla have announced or already introduced new commercial service vans that are fully electric.
New personal vehicle lineups: Many automotive brands are also expanding their inventory of consumer electric vehicles. Individuals looking to upgrade to an all-electric vehicle will have plenty of options to choose from soon. By the end of 2024, almost 100 all-electric vehicles will debut. This will include a larger selection of trucks and SUV models. The newer models often have features that influence traditional car owners to switch to electric.
More rear-wheel drive options: A demand for more rear-wheel vehicles may drive the industry to develop more of these models in the future.
All-electric delivery services: Car manufacturers are beginning new businesses that include all-electric delivery vehicles to help with "last mile" deliveries. These electric vans will help improve delivery operating procedures and reduce gas and diesel emissions. Companies including GM and Ford both announced commercial vans that will hit the roads and help companies make deliveries.
More charging stations: Auto manufacturers and the United States government want to establish more charging stations around the country. According to the Pew Research Center, the number of charging stations in the U.S. has nearly tripled since 2015. Researchers project that this number will increase to between 800,000 and 1.7 million by 2030. More charging stations can help convince more car buyers to consider purchasing an electric car and more companies to invest in switching their fleets over to fully electric.
The future of electric vans is promising, and people can expect to see more changes in the coming years regarding electric vehicles, charging stations and more.
How Will Electric Vans Influence Service Workers?
Electric vans offer multiple benefits for service workers. With quieter motors, instant power, comfortable operation and exportable electrical power, these commercial vehicles have already helped improve the jobs of service workers and delivery drivers across the world.
Many auto manufacturers have already created or plan to make electric commercial vans, big trucks, semi-trucks and other service vehicles. As electric vehicles become more popular and the demand for reducing gasoline and carbon emissions grows, many companies will want to replace their large truck and van fleets with an all-electric solution.
The reality of large electric commercial van fleets is on the horizon. With new technology allowing electric commercial vans to travel farther on a single charge, this will be an excellent opportunity for many businesses. Keep a lookout for these automaker's electric commercial vans:
Ford: The new Ford E-Transit is a service van that will hit the market in 2021. Service workers may expect portable power to charge equipment and tools, which can help make working at numerous job sites more convenient.
Mercedes: Mercedes will introduce the eSprinter Panel Van that promises safety in the workplace, ergonomics, security and comfortable operation.
Volvo: The VNR Electric from Volvo is a zero-emission truck that hit the market in late 2020.
Tesla: Electric trucks and commercial vehicles have been in the works at Tesla for years. In the coming years, Tesla may release semi-trucks that can accelerate quickly and travel 300 miles to 500 miles depending on the model.
Arrival: This London start-up is set to make its way to the United States with electric commercial vehicles in the future.
BYD: BYD creates electric buses and sells electric commercial vehicles to large companies in the United States like Anheuser-Busch.
Nikola Motors: This startup in Phoenix, Arizona, has made significant progress in introducing electric semi-trucks in the United States.
Rivian: Individuals will see Rivians electric delivery vans in Amazon's massive fleet.
Almost all auto manufacturers understand the importance of electric vehicles in the service industry. As the on-road electric vehicle industry grows, more companies will request the best electric commercial vans on the market.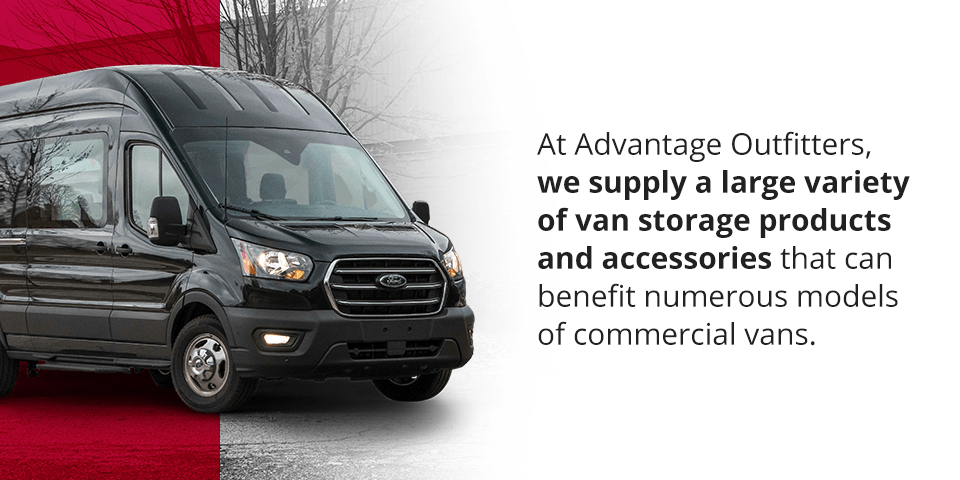 Why Choose Advantage Outfitters for Your E-Vehicle Needs?
When your company acquires new electric commercial vans, you'll want to include additional storage solutions for your equipment and tools. With electric van models like the Ford E-Transit, the interior design specs will remain the same. This means that the custom storage solutions from Advantage Outfitters will still meet your needs and help you make your new electric service vans organized and ready for any job site.
At Advantage Outfitters, we supply a large variety of van storage products and accessories that can benefit numerous models of commercial vans. Our team of experts can help find a solution for all of our clients.
Talk With an Advantage Outfitters Expert
Are you ready to optimize your commercial van space? Shop for quality products from Advantage Outfitters or contact us today for more information.