When you work in the service industry, you learn the importance of good organization right away. As the owner of an HVAC, electrical, plumbing or other service business, your time is valuable. Completing your tasks efficiently is the key to running a successful business. But this is harder to do without work van organization.
If you want to organize your work van and increase your efficiency, you need some service van organization ideas. Luckily, we're in the service van industry, and organization is our specialty. This guide will help you learn more about contractor van organization and how to organize your work van for productivity.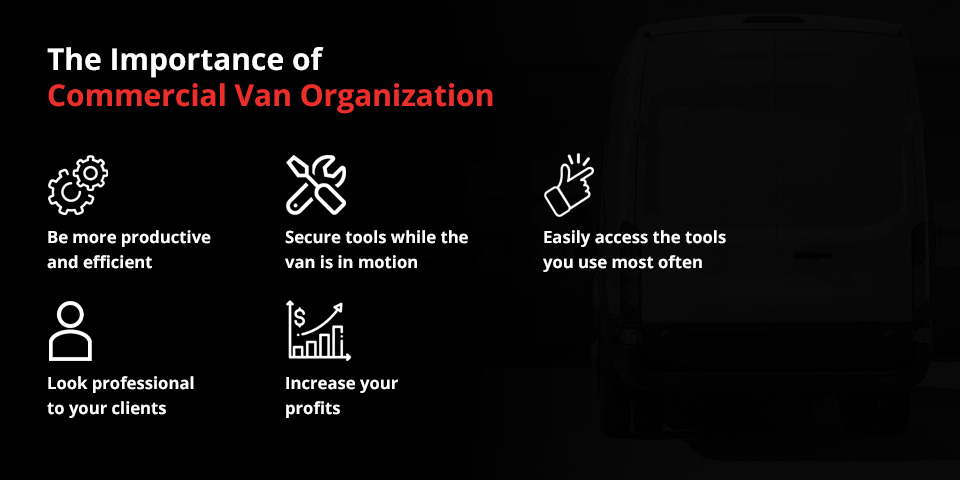 The Importance of Commercial Van Organization
Many people use the term "organized clutter" to describe how they keep their items at home or at work. In the business world, this could take the appearance of tools in the back of your van piled in a way that makes no sense. Yet somehow, you know exactly where that pipe fitting or trusty screwdriver is.
It's hard to sustain this cluttered organizational style for long. Your employees may have trouble finding something in your van if you're too busy with another task to go retrieve it yourself. Plus, your items can shift when you drive, making a certain item move from its usual location. When it comes to knowing where all your tools are at all times, cargo van organization is key.
Here are some benefits of having an organized work van:
Be more productive and efficient: Time is money when you run your own service business. That means all the unnecessary minutes spent searching for items in your van are costing you money. Instead of providing your service, you're rummaging through piles of tools and materials looking for what you need. Increase your productivity and efficiency with an organized van. You'll be able to walk up to your van, grab the item you need, and get back to doing your job.
Secure tools while the van is in motion: An unorganized van does more than waste your time and money. It can even be a safety risk. Loose tools and unsecured materials will move around in your van as you drive. And if you ever have to come to a hard stop — or get into an accident — your tools can come flying up into the cab. By following the right tips to organize your work van, you can secure your tools and enjoy increased safety as you drive.
Easily access the tools you use most often: When you organize your work van, you'll know exactly what tools you have and where they are. This helps you access the tools you use most often. If you use a certain drill or a particular set of wrenches every day, then you should put them in a convenient location where you and your employees can grab them without a second thought. You'll know where they are at all times, increasing your productivity even further.
Look professional to your clients: Consider going to a restaurant and getting a glance at the kitchen. If you see a clean cooking area and organized utensils, then you'll feel like you're at a good establishment. If the kitchen is in disarray, you may assume your food is going to be in disarray as well. The same idea applies to your work van. Impress your clients and give off an aura of professionalism with a clean and organized work van. They'll feel like they're going to get a high-quality service.
Increase your profits: The right work van storage ideas can help you save money in the long run. As you work with more efficiency, you can complete jobs faster and finish more jobs in a given day, leading to more profits. Work van organization can also help you keep your items organized so you can avoid buying tools or materials that you already have on hand. You'll perform your job at peak efficiency, leading to more productivity, less waste and more money in your pocket.

Van Organization Products
Investing in organization products can help you maximize the storage capabilities of your work van and increase safety. If you or your team members feel like you're running out of van storage space, the answer might be simpler than purchasing a bigger van. With van organization products, you can streamline the storage space of your van to hold more than you ever thought possible. Upgrading your van's organization can even increase its resale value when it comes time to sell it.
There are many types of van organization products. The following items and pieces of hardware can help increase efficiency and safety in the day-to-day duties of you and your employees:
Van equipment containers: If your drivers transport small, specialty tools regularly, consider purchasing van equipment containers. These containers can help keep your valuable materials from damage caused by sliding around during transit. Your drivers will also have an easier time finding them on the job site, saving you time and money. Remove cluttered items from the floor and give them a home in their own equipment containers.
Van roof racks: Ladders are essential components of your work crew's equipment, but they can take up quite a bit of storage in your van's cargo bay. Some ladders may even be too tall to store in your cargo area, so you'll need another solution for transporting them. Installing roof racks on your van is a great, secure way to transport your ladders while keeping your van's cargo bay free of obstruction. Roof racks will even protect your van's paint job when transporting longer items and materials.
Drop-down ladder racks: For an even more convenient way to access ladders, install drop-down ladder racks. Drop-down ladder racks allow for increased storage, freeing up your roof racks to haul more tools and materials. If you work with long sections of pipe or lumber regularly, then consider installing drop-down ladder racks to make transportation easier than ever.
Van partitions: Are your drivers at risk of impact from loose tools or equipment? If so, a van partition is a great way to protect them from harm. Van partitions are available in several varieties including windowed and windowless. These give your drivers separation from cargo while offering the option of monitoring your materials during operation. Plus, it's always a good idea to set boundaries — tools can stay in the back to keep the cab clean and organized.
Van shelving: Provide your operators with another organizational tool by outfitting your van with shelving. Shelving is one of the best van storage solutions to keep things in a consistent location. This will save time when unloading at a job site and can help when the time comes to pack up or take inventory of your items. Shelves also aid in keeping items off the floor and increasing your professional appeal for clients.
Gas bottle storage: If your company transports volatile, compressed gases, then gas bottle storage is a safe, secure way to ensure they arrive at your destination unharmed. Proper bottle storage helps prevent possible punctures and keeps your gas bottles in a consistent place for your drivers to access when they need them. Invest in the safety of your drivers by installing gas bottle storage in your work van.
Van file organizer: You probably use your work van for more than transportation. You might use it as an office on wheels where you can take phone calls, write down information and keep important documents for reference across several job sites. Invest in van cab organization by installing a system for all your files and documents. With it, you can keep your cab free from clutter and know where all your documents are at all times. It's one of the simplest ways to organize your work van.
These tools are great ways to help keep your workflow efficient and organized, but you'll have to use them to their fullest potential to experience their true benefits. Instruct your drivers about the importance of keeping your vans' storage spaces clean and maintained. You could even create a guidebook to help your drivers know where to put certain tools and what you expect each van's storage space to look like at the end of the day. That way, each of your employees will know how to stay organized.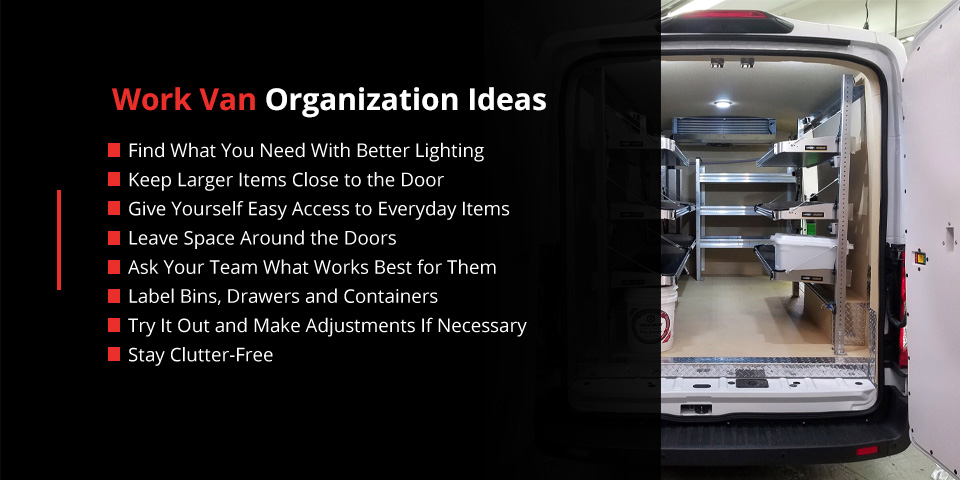 Work Van Organization Ideas
Every contractor van setup is different since every business owner has their own needs and preferences. Yet there are a few work van setup ideas that anyone could use when learning how to organize a work van. With the following work van tool storage ideas, you can enjoy increased productivity and efficiency during your workday.
1. Find What You Need With Better Lighting
Finding what you need when you need it is one reason to organize your van. Yet poor visibility can decrease your ability to find what you're looking for, even in the most well-organized work vans. Get the tools you need at any time of day by installing better lighting in your work van.
One good way to do this is with LED light strips. Install them anywhere you'll need some extra light during late-night work sessions. With better lighting, you'll enjoy your newfound work van organization to the fullest extent.
2. Keep Larger Items Close to the Door
The service industry can take a toll on your body without proper safety precautions. Working in hard-to-reach places, climbing up and down ladders and lifting heavy objects can leave you feeling dinged up after a while. Make things easier on yourself by keeping your largest items close to the door.
This simple step can save you from backaches and pinched nerves. Large, heavy objects will be easier to access if you keep them near the door. That way, you can avoid having to crawl into your work van and lift heavy objects from your knees. That could be a sore back waiting to happen. Skip that difficulty by keeping your large items close to the door.
3. Give Yourself Easy Access to Everyday Items
Knowing where things are is one part of proper organization. But you also need to optimize these locations to suit your workflow. If you find yourself using a certain tool every day, it makes little sense to store that item deep in your van. You'd waste time going into the van every day to get that item.
Instead, put your most used tools close to the door. This method allows you to swing open the door, reach in for what you need and head back to the job site to complete the task at hand. Grabbing your everyday tools from easy-to-access locations will become second nature to you, and you'll save valuable time every day.
4. Leave Space Around the Doors
Get into the good habit of leaving the space around your doors free from tools and materials. After you organize your work van, you should be able to open and close the doors without a problem. Leaving items in the door's path can make the simple act of accessing and securing your van both frustrating and difficult.
Start by clearing the area inside the van right when you open the doors. Tell your employees to always keep this area clear to avoid shutting items in the door. And if you use the inside of your doors to hang extension cords and similar items, make sure they stay away from the door's edges. Closing an extension cord in the door could damage it, and then you may need to purchase a new one.
5. Ask Your Team What Works Best for Them
Unless you're running a one-person operation, you have a few employees that help you on the job. These people look up to you for guidance and direction, so make sure you ask them for any organizational tips or ideas. This is especially important if van organization is new for you, as everyone will have to relearn where everything is.
Be open to suggestions and recommendations. If your employees perform tasks or make deliveries on their own, then they should have a say in the organization of the van they use. Your employees' productivity affects your business profits, so make sure your van setup works for them.
6. Label Bins, Drawers and Containers
Few things halt progress on a job site more than sending an employee to get something from the van, only to have them come back and say, "I couldn't find it." This can even happen if you have a well-organized van. Overcome this issue with proper labeling techniques.
Instead of using cryptic directions to describe which bin or drawer holds a certain item, use a label maker to show what each container holds. This will save time on the job site and boost your employees' confidence as they learn where your tools and materials are.
7. Try It Out and Make Adjustments If Necessary
When you reorganize your work van, you're not stuck with the first configuration you choose. You're free to arrange the inside of your van any way you like. If the first arrangement feels wrong, try putting items in different locations until it suits your workflow.
Give each arrangement a week or so to determine if you've found the one that's right for you and your employees. This is where asking for employee feedback is important. They might have good ideas that will help everyone perform their job duties with better efficiency. After some trial and error, you'll find a permanent arrangement that works.
8. Stay Clutter-Free
Treat reorganizing your work van as an opportunity to stay clutter-free. It might take some practice, but before long, the days of papers, trash and tools everywhere will be far in the past. Using all these work van storage ideas can help you achieve a level of organization that lasts. You only need two things to make it happen: a willingness to stay organized and the right organizational products.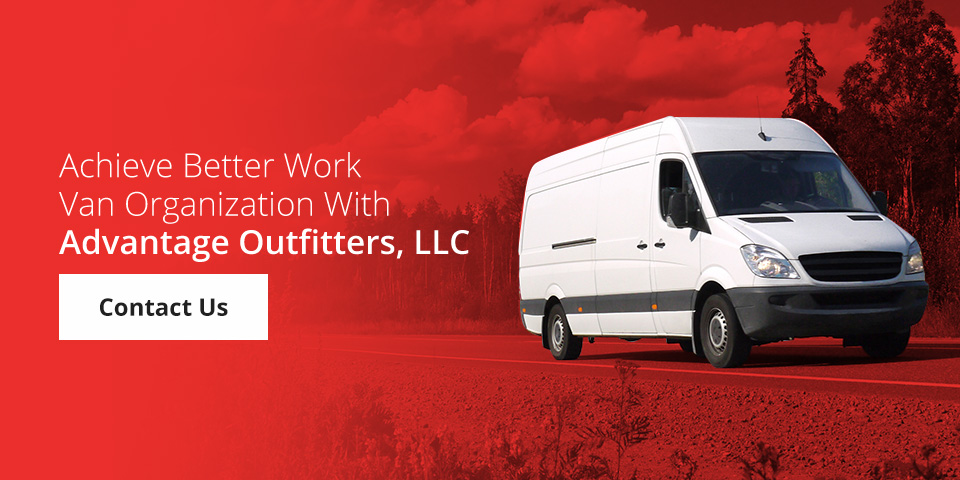 Achieve Better Work Van Organization With Advantage Outfitters, LLC
Advantage Outfitters is your source for excellent equipment for your service industry van. Our gear can help make working from your van more convenient while creating safeguards and increasing resale value. We stock a variety of organizational products in our online store and provide fast shipping to your facility. Check our website regularly for promotional discounts and sales. We're the answer when you want to increase you're team's productivity and organization.
Call us today at 866-925-4844 or contact us online to learn more about how we can help optimize your van's storage capabilities. Our team of experienced professionals can help you figure out how to best organize your work van.