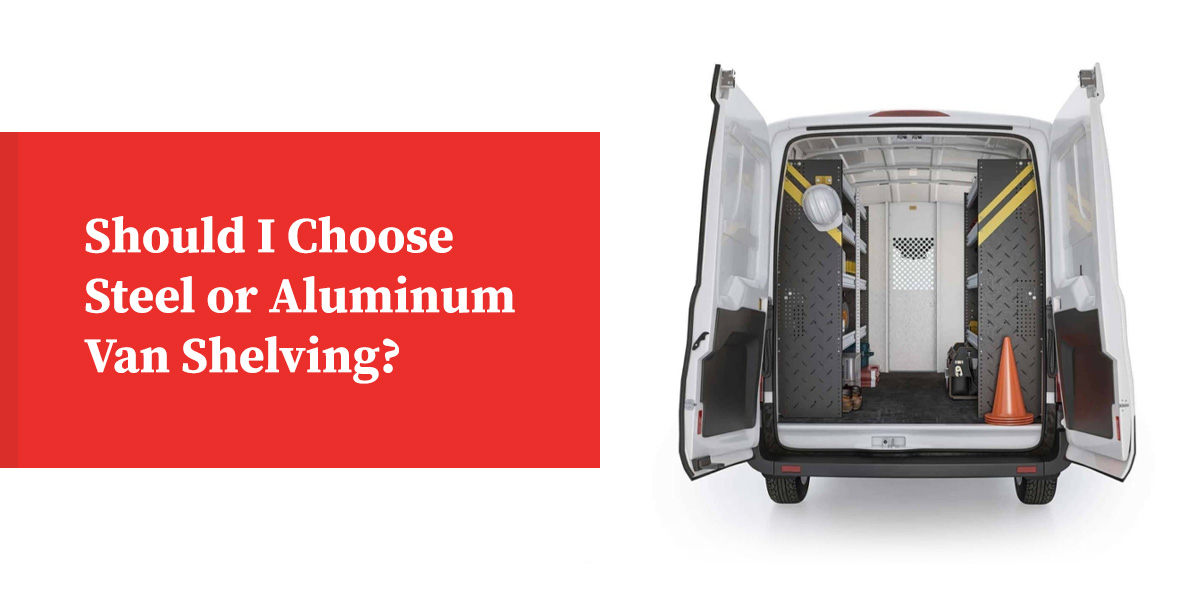 Van shelving is an important investment for your company or small business. As an accessory, it makes your cargo space less cluttered and easier to organize. You want to buy the right kind of shelving, but how are steel and aluminum sets different?
Both metal shelving styles have many benefits and similarities, but if you need to choose between them, knowing the differences can help you make the best selection. Keep reading to learn more about your options for van shelving.
Characteristics of Steel Van Shelving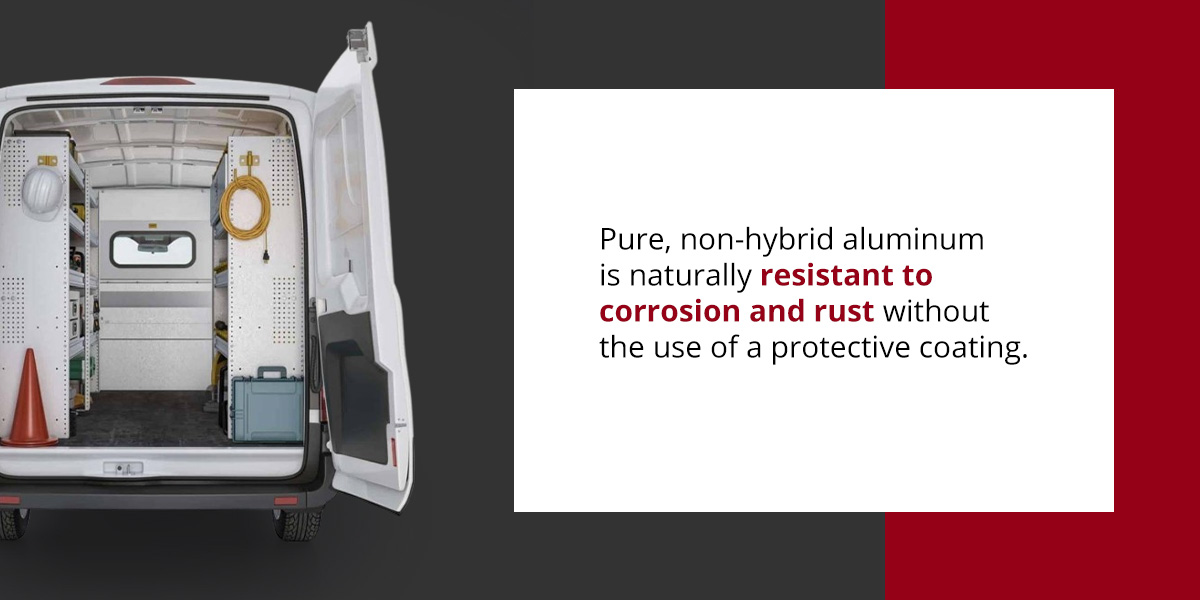 Both aluminum and steel shelving is easy to install and offer superior protection for your equipment. Steel is often recognized as one of the most valuable building materials, with common uses, including small household supplies such as sewing needles to heavy-duty commercial use in housing.
Steel is:
A dense, hard metal with a large weight capacity.
Heavy for its surface area.
Vulnerable to corrosion and rust from moisture and unstable temperatures.
Steel van shelving has many beneficial characteristics and is valuable for commercial use. For the interior of a vehicle, steel shelving is a good choice because it is:
Strong and durable.
Supportive for the heaviest objects.
Usually coated to protect the underlying metal.
Pros of Steel Van Shelving
Steel van shelving has the advantages of being:
Stronger: Steel shelving sets have the greatest strength because of the carbon component in this material. They are less prone to bending.
Requires less material: Manufacturers can use less steel in shelving sets and other products because the material is so dense and heavy compared to aluminum. In some cases, steel sets are more affordable than aluminum sets that are similar in size because the frame contains less metal than what is required for aluminum.
Lower upfront costs: Although aluminum is the most cost-efficient material to produce, upfitting a vehicle with a steel interior may be more affordable in terms of the upfront costs. The steel's quality and grade make a difference in the price.
Commercial Uses for Steel Shelving
Some industry professionals prefer steel accessories for work vans. Common uses for steel shelving include:
Auto part storage: Steel is frequently used for loading small and large auto parts.
Storing heavy equipment and products: Steel shelving is designed to be as lightweight as possible. Because steel is very strong, these shelving sets are ideal for storing the heaviest equipment.
Plumbing, HVAC and contracting industries: If you are a contractor who needs to transport items of a significant length and weight, steel shelving is often ideal for this purpose. Steel is strong and stable enough to hold your heaviest supplies as you enter and exit job sites.
Characteristics of Aluminum Van Shelving
Aluminum is a similar building material to steel in terms of its common applications. Pure aluminum is rarely used for shelving because aluminum alloys have the most strength. In fact, hybrid shelving sets are made with a combination of steel and aluminum.
Pure, non-hybrid aluminum is:
An abundant pure metal often mixed with traces of other elements to make durable alloys for building.
A strong, lightweight material with an impressive weight capacity.
Silvery white in color.
Highly malleable and easy for manufacturers to work with.
Naturally resistant to corrosion and rust without the use of a protective coating.
Aluminum van shelving is also popular and it has a few advantages that separate it from steel. Aluminum shelving is:
Lightweight but strong.
Easy to manufacture.
Resistant to corrosion.
Pros of Aluminum Van Shelving
The biggest advantages of unfitting your work van with aluminum van shelving are that it is:
Lighter in weight: Shelving made of aluminum adds fewer additional pounds to your vehicle than a steel set. If you have to transport heavy equipment and tools, using aluminum shelving can optimize your fuel economy.
More affordable: Generally, aluminum items are less expensive than stainless steel. Aluminum is one of the most abundant materials in the earth's crust. It is anti-corrosive without the added cost of a special coating.
Resistant to the elements: Aluminum is resistant to rust and can withstand extreme temperatures and excess moisture without corroding. Aluminum is a popular choice for vehicle shelving sets because of its durability.
Malleable and elastic: Aluminum bends more easily than steel and is less prone to breaking. It offers superior flexibility.
Commercial Uses for Aluminum Shelving
Many industry professionals prefer aluminum shelving or a hybrid option with aluminum because of its lightness or other features that make it an appealing choice. Common uses for aluminum shelving include:
Transporting food: Aluminum can be sterilized because of its copper content. It's also easy to clean and works well for storing or transporting food products.
Cold storage: Aluminum keeps well in a refrigerated cargo area where microbes can't grow.
Storing laboratory equipment: If you transport or store chemicals and other sensitive materials, aluminum is a good choice for shelving. It is odorless, impermeable and stands up well in temperature-controlled cargo environments.
Storing computer parts: Aluminum is non-magnetic and well-suited for sensitive electronic items and computer parts.
Farm animal and pet supplies: Using a lightweight metal is ideal for transporting smaller items and perishable products such as pet food.
Aluminum vs. Steel Shelving — Which Should I Choose?
Both materials work well for commercial sets of shelving and are commonly used for this purpose. Your satisfaction will be the highest if you buy from a manufacturer that cares about the quality of your installation. If you have specific preferences or requirements regarding your shelving's weight limit or durability, it's wise to compare them before choosing.
Aluminum shelving sets are best for:
Transporting heavy items, including your essential tools and equipment.
Cargo areas that are frequently very hot, cold or exposed to humid air or moisture from the outside.
On the other hand, steel shelving is best for:
Traveling over unstable roads, navigating gravel or dirt roads and driveways, avoiding potholes or frequently traversing severe weather conditions.
Strapping down heavy items to keep them secure on the shelves.
Depending on your industry, you could consider investing in both aluminum and steel shelving to meet your full range of storage needs.
Get Aluminum or Steel Shelving for Your Work Van
Are you preparing to order high-quality van shelving sets for your commercial fleet or personal work van? We have a variety of work van accessories, including commercial shelving with upfitting options and 10-year manufacturer's warranties. Our team is also happy to help you make the right shelving choices for your work van and applications. Contact us for more information about our shelving products or installation services today.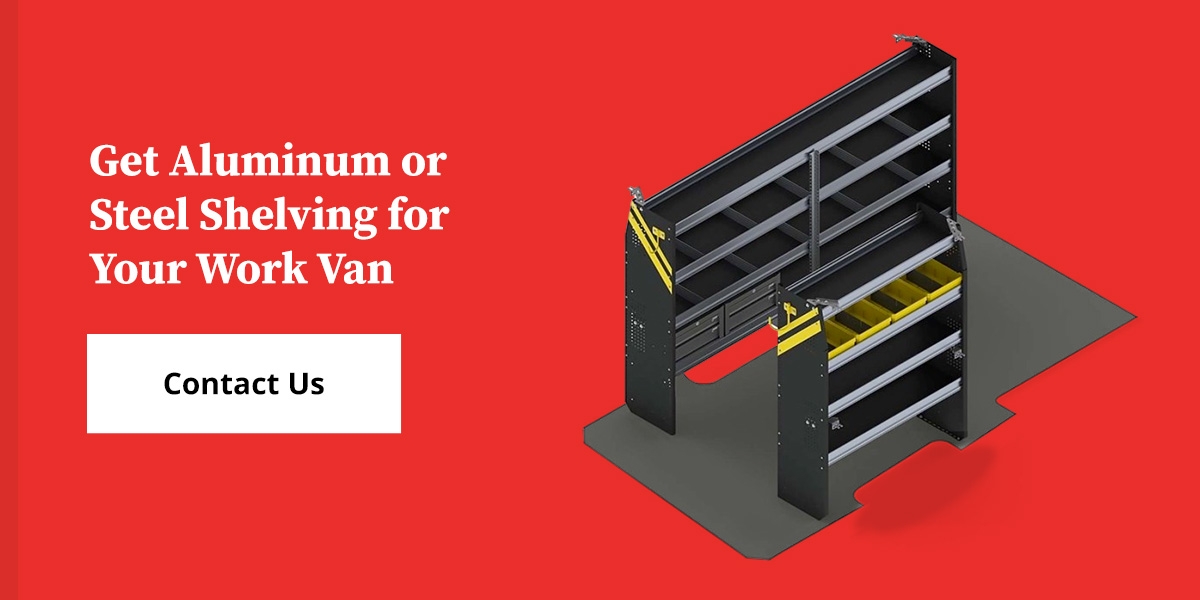 { "@context": "https://schema.org", "@type": "FAQPage", "mainEntity": { "@type": "Question", "name": "Should I Choose Steel or Aluminum Van Shelving?", "acceptedAnswer": { "@type": "Answer", "text": "Aluminum shelving sets are best for: Transporting heavy items, including your essential tools and equipment. Cargo areas that are frequently very hot, cold or exposed to humid air or moisture from the outside. On the other hand, steel shelving is best for: Traveling over unstable roads, navigating gravel or dirt roads and driveways, avoiding potholes or frequently traversing severe weather conditions. Strapping down heavy items to keep them secure on the shelves." } } }