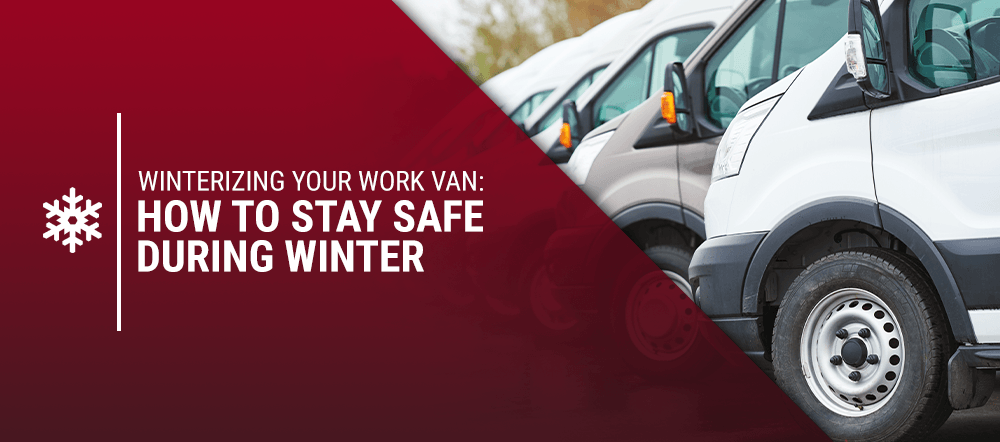 The winter presents unique challenges to your work van. Freezing temperatures, shorter days, and slippery surfaces all can affect your workers while out in the field. As a result of these conditions, your team can benefit from work vans that have been outfitted for the winter, helping to keep staff members warm, productive, and safe while working.
To help you prepare for the winter, here's a look at how to properly winterize your work van with the right supplies, maintenance practices, and new components.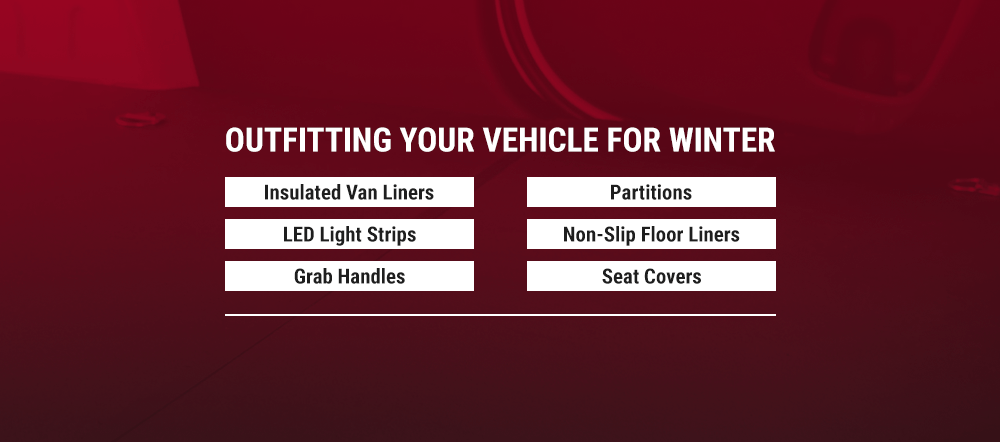 Outfitting Your Vehicle for Winter
Winter can present some unique challenges for your work van and staff. Cold weather, slippery surfaces, poor lighting, and dirty conditions can all impact your van's safety, cleanliness, and efficiency. However, there are a few winter work van essentials you can incorporate into your company's vehicles to improve their ability to handle winter weather and protect your employees from inclement conditions.
Check out some of the top accessories and components you can use for winterizing cargo work vans:
1. Insulated Van Liners
Many people prepare their work van for winter by investing in insulated van liners. Uninsulated vans can lose their heat quickly when they're turned off or can take a longer time to get warm when they're turned on. Winterizing cargo vans involves utilizing insulated van liners to retain heat for longer. Insulated van liners can cover the walls, floor, doors and ceiling to ensure cold can't easily enter the vehicle.
2. LED Light Strips
The sun goes down sooner during the winter, making it more likely you'll be out at a worksite when it's dark outside. Trying to navigate the back of your van to grab a part or put equipment away can be difficult in the dark and potentially dangerous.
LED light strips help to illuminate the back of your van in the dark. They can be placed on the ceiling, doors, walls or even along the floor of your van's cargo area, illuminating the space to help workers find tools and equipment easily in the dark.
3. Grab Handles
Surfaces covered in ice and snow can be very slippery. If you're handling equipment or if your van is high off the ground, it can be difficult to get into the van without slipping. Grab handles can be easily installed on your van's side and rear doors to address this challenge.
These handles give workers something to hold onto as they enter the van, helping them stay stable and safe from slippage. Besides the standard grab handles, you can also purchase large grab handles, which provide even more resistance to pull force. The larger handles are easier to grasp as well.
4. Partitions
There's usually a temperature difference between the cabin of a work van and the cargo area, especially if the cargo area isn't insulated. As your workers travel from location to location, they'll likely want the cabin to be warm. Many work van owners add partitions behind the cab to completely separate it from the cargo area. These partitions make it easier to keep the cab warm.
5. Non-Slip Floor Liners
Working in snow or slushy conditions can lead to workers tracking water and other materials into the van's cargo area. The floor of the van can get very slippery, presenting a danger to those working in the cargo area. Non-slip floor liners can increase your floor's grip and decrease the chance of anyone slipping while in the back of your van. Greater traction is absolutely crucial during the winter for your workers' safety, so non-slip floor liners are a smart investment.
6. Seat Covers
Besides the need to keep your workers safe and able to find equipment quickly, it's also important to protect your van from damage in the winter. Messy winter weather conditions can leave your workers wet and dirty, especially when they get in the cab, and their clothes begin to defrost. When your workers sit in the driver and passenger seats, their wet and dirty clothes can end up damaging the seats.
While you're winterizing work vans, you may want to invest in seat covers to protect your seats from harm. These seat covers are placed over the seats and help to prevent water stains. They're also machine washable and dryer safe, so they're easy to take care of.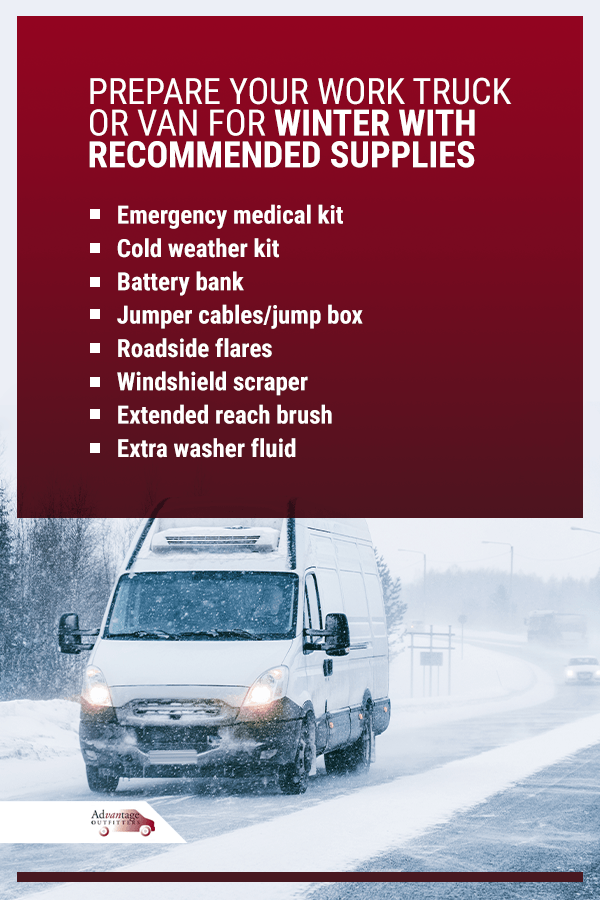 Prepare Your Work Truck or Van for Winter With Recommended Supplies
Winter weather car supplies are common must-haves if you drive in freezing conditions regularly, and there's no reason why these supplies shouldn't also be added to your work van. The right winter weather van supplies can help with everyday tasks, like removing snow and ice, or in emergency situations where your employees need to stay warm while waiting out a snowstorm.
As you go about winterizing your cargo work vans, consider also outfitting your vehicles with these recommended supplies to keep your employees safe during inclement weather:
Emergency medical kit: No matter the weather, it's a great idea to include an emergency medical kit in work vans. These kits can help when emergencies happen in the field and someone needs immediate medical attention. With the winter leading to more slips and falls, many companies add emergency kits with medicine, bandages, and other helpful medical supplies.
Cold weather kit: When cold weather hits, it's time to outfit your work vans with cold weather kits. These kits of winter weather work van essentials often include a thermal blanket, a flashlight, matches, bottled water, food, gloves, hats, and a shovel to keep workers safe if a van breaks down in a remote location or gets caught in a snowstorm.
Battery bank: Battery banks are a useful tool for keeping cellphones and other electronics charged. While you can charge your phone using the work van's battery, you don't want it to be the only option. Batteries are more likely to die in the winter, so having a battery bank handy can ensure your staff can always charge their cellphone, especially if they're stranded somewhere.
Jumper cables/jump box: Batteries are put under a significant amount of strain when it's cold out. Due to this strain, it's more likely a work van's battery dies while out in the field. A jump box and jumper cables are a must-have to get your battery running again.
Roadside flares: If a work van gets stuck in the snow or needs to pull over on the side of the road, roadside flares help to make the van more visible to other drivers. This extra visibility can help to lower the chance of an accident.
Windshield scraper: When a work van gets left outside for a long time without being turned on, it's going to accumulate ice and snow on the windshield and side mirrors. A good windshield scraper should come standard with a work van to help staff remove ice and make it so the work van is safe to drive.
Extended reach brush: Snow can accumulate on the roof of a work van. If it falls onto the windshield while someone's driving, it can make it hard or impossible to see the road, potentially resulting in an accident. An extended reach brush is a great standard piece of equipment to keep in your van, as it can be used to push snow off the roof before the van hits the road.
Extra washer fluid: People tend to use their washer fluids more in the winter. As such, it's more likely your drivers run out while they're at a work site or on the road. Keeping extra washer fluid that's designed to withstand cold temperatures can ensure your windshield stays clean, and your employees have enough visibility to drive safely.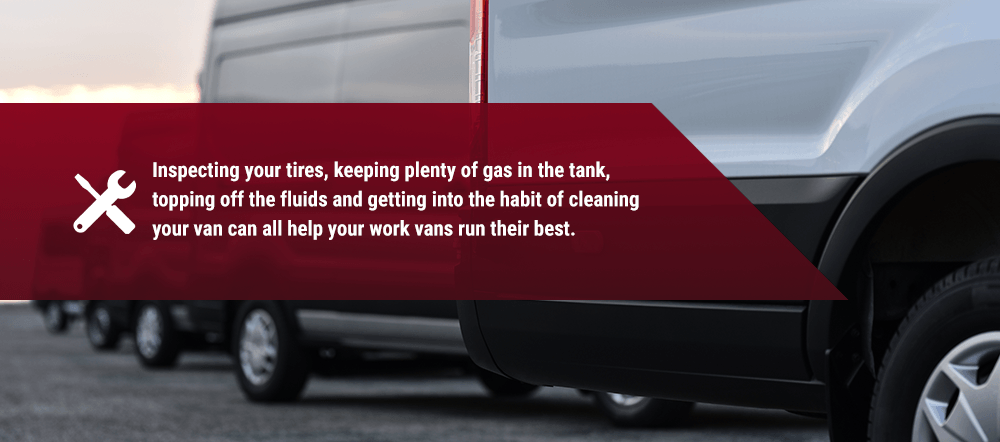 Maintaining Your Van
Part of knowing how to winterize your work truck or van is all about maintaining it properly. Inspecting your tires, keeping plenty of gas in the tank, topping off the fluids, and getting into the habit of cleaning your van can all help your work vans run their best.
Winter weather work truck maintenance also involves a few additional practices that you can integrate into your maintenance schedule immediately. Check out some of these steps to winterize your work vans appropriately:
Inspect Your Tire Tread
Before you let your work vans drive in winter conditions, it's crucial to check the tread of their tires. If a tire's tread has worn down and balded, slippery conditions are much more dangerous, and the threat of losing control of the van and getting into an accident is much higher. Replacing worn down tires is a must before your vans hit the road.
Add Snow Tires
While all-season tires can work for your vehicles if you don't regularly experience heavy-winter conditions, they can be a safety risk in heavy snow or ice. If your fleet will be driving in especially icy or snowy conditions, you may want to invest in winter tires. These tires are designed with extra traction so that it's easier to drive on icy roads and in the snow.
Regularly Check Tire Pressure
Another way you can ensure your tires are prepared for winter is to regularly schedule tire pressure inspections. It's important to keep your tire pressure properly inflated in normal conditions, but it's even more crucial to keep them at the right inflation level during the winter. Your van's manual should have information about the right tire PSI level. Make it a point to check the tire pressure throughout the winter to see if it's at the recommended pressure level.
Prevent Your Gas Tank From Getting Too Low
In the winter, blizzards and other hazardous conditions can pop up quickly, leaving work vans stuck in one location. One of the easiest tips for winterizing your work van is to simply keep an eye on your gas gauge and refuel regularly. You don't want to get stuck somewhere with a limited amount of gas.
Check the Battery and Battery Cables
Freezing temperatures put the most strain on your battery. Since batteries are more likely to fail in the winter, it's a good idea to inspect your battery cables often. While checking the cables, look to see that there's no terminal corrosion and that they're tightly secured. Additionally, test the voltage. If the voltage is at a lower level, it's often better to replace it than risk the battery dying out in the field.
Top Off Windshield Washing Fluid and Other Fluids
Another primary winter weather van maintenance tip is ensuring your windshield washing fluid is topped off. Your drivers will likely be using more windshield washing fluid out on the road, so it's important to keep it filled to the top. This same principle applies to other fluids, such as your engine oil. Ensure your engine oil is at the right level and is changed regularly to keep your work van running optimally.
Use the Appropriate Amount of Antifreeze
Another tip for winterizing your truck or work van is to use the right amount of antifreeze. A 50/50 mix of antifreeze and water is typically appropriate for most of the seasons. However, during the winter, you may want to use more antifreeze, as colder temperatures require more of it. The bottle of antifreeze should let you know how much you need based on the temperature. Keep in mind that you'll never want to go past a 70/30 antifreeze-to-water ratio.
Schedule Regular Cleanings of the Exterior and Undercarriage
Driving every day in the winter can lead to road salt building up on your vehicle's undercarriage and exterior. This salt can be corrosive and cause damage to your van over time. To keep your van free from damage, it's a good idea to have regular cleanings scheduled into the workday.
Install New Wiper Blades
One of the easiest steps to winterize work trucks and vans is to replace your old wiper blades with new ones. Wiping melted snow, rain and ice can be much more difficult for older wiper blades, leading to less visibility for the driver. Freshly installed wiper blades, though, will do a better job of clearing moisture off the windshield, which can be crucial to safely navigate through a snowstorm and other wet weather.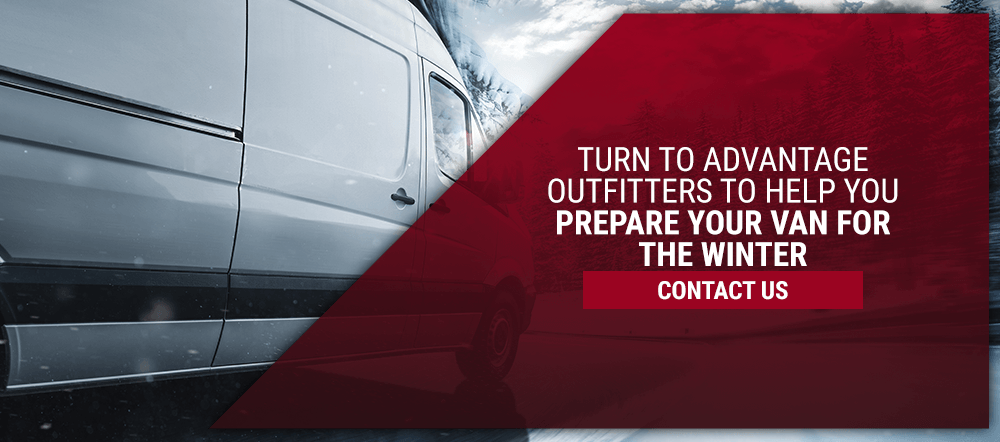 Turn to Advantage Outfitters to Help You Prepare Your Van for the Winter
When you're ready to winterize your work vans, turn to Advantage Outfitters for the new accessories and kits you need. We provide insulated wall liners for various vehicles to keep employees warm and your van free from damage during the winter months. You can also find several other essential winter products, like partitions, seat covers, non-slip floor liners, grab handles, and LED light strips.
Browse our selection of van products to find the right ones for your work van's model. If you have any questions, please feel free to contact us, and our representatives will be happy to help you invest in the best winter equipment for your van.