You might have a lot of questions as you decide whether you should renew your fleet. At what point will maintaining older vehicles become less cost-efficient than renewing? Will renewing the fleet provide enough long-term savings to justify the upfront cost? If you decide to renew your fleet, you also want to consider the best-valued cargo vans. How can you know which vehicles will save you the most money long-term?
The best replacement cycle and vehicle will depend on your business and fleet usage. When you're looking to buy service vans for your organization, you'll want to focus on vehicles that offer a combination of affordability, a reputation for reliable operation and strong resale value when it's time to renew your fleet. One way to put these categories into use is to calculate a vehicle's total cost of ownership (TCO).
A vehicle's TCO can give you a fair idea of how much it will cost to own a vehicle from beginning to end. Here are some qualities that contribute to a cargo vehicle's TCO:
The initial vehicle price
Fueling infrastructure
Vehicle maintenance costs
Fuel costs/efficiency
Annual mileage
Vehicle cost per mile
Vehicle warranty
Estimating these factors can help you evaluate long-term costs and benefits for each cargo van make and model. But how does resale value fit into the equation?
Why Work Van Resale Value Matters

"Resale value" refers to the price you can get for used cargo vans. The amount of money you'll receive when you renew your fleet is dependent on the vehicles' resale values. Understandably, your goal when renewing your fleet will be to get the most out of your old vehicles so you can invest in quality new vehicles. Investigating and observing resale values can help you get the most out of your fleet at every stage of use.
A work van's resale value is both positively and negatively affected by a variety of factors. Some of the positive factors include:
Upfitting: Upfitting your cargo vans with practical accessories and equipment will increase their resale value. Items such as ladder racks, interior shelving and partitions are valuable tools your business uses to maximize your vehicle's potential. Accordingly, these add-ons generate resale value when you renew your fleet.
Good fuel economy: Your vehicle's average gas mileage may make it more desirable during resale. The better your vehicle conserves and uses fuel, the more you may benefit. Fuel efficiency is beneficial all around: It saves you money while you own the vehicle and makes you money when you sell it.
Regular maintenance schedules: Kelley Blue Book cites regular car servicing — in addition to well-kept records of maintenance history — as a simple way to retain and maintain car value. Investing in your fleet with maintenance not only extends its lifespan, but it also increases its resale value.
Some of the negative factors that affect resale value include:
High mileage: The number of miles on your vehicle when you sell it plays a large role in determining its worth. Your fleet likely racks up a fair amount of miles before it's retired, which may negatively influence the resale value.
Depreciation: New vehicles start to lose value from the moment you purchase them. After the first year, vehicles tend to lose about 10% of their value each year. The longer you own and use your vehicles, the less they will be worth upon resale.
Worker driving practices: The wear and tear your vehicles receive due to worker driving habits can cause a decrease in your fleet's resale value. If your business cultivates a safety culture around driving habits, it could help improve the resale value of your vehicles. Safe driving protects your staff and prevents your fleet from unexpected maintenance and cosmetic damage.
When you select high resale valued vehicles, renewing your fleet can be an exciting opportunity to upgrade. A crucial element to make the most out of your renewal is to establish proper timing.
How Often Should I Renew My Fleet?

The time frame within which you renew your fleet will depend on your business, fleet and budget needs. Here are some important questions to consider when deciding how often to renew your fleet:
If one of our vehicles is damaged, can we adapt while it is in the shop?: No business wants to deal with work van repairs. But accidents and unexpected mechanical errors happen. For some businesses, having a van in the shop may be a manageable inconvenience. For others, it may be a major obstacle. If you need every vehicle to be reliable each day, it may be prudent to renew your fleet more often.
Do our vehicles' maintenance costs exceed their value?: Having your vans serviced costs money. When maintenance costs begin to outweigh the vehicle's value, your money may not be best spent on old vehicles. If you find yourself at this point, it may be more cost-efficient and profitable to invest in newer vans.
Does our business need better van performance to do our jobs well?: One of the biggest pros of fleet renewal is getting access to new vehicles. Newer vans can provide increased reliability, fuel economy and efficiency, which may be exactly what your business needs. If you rely on high-quality cargo vans to serve your customers well, you may need to renew your fleet more often.
Is the business prepared for the upfront cost of fleet renewal?: One of the cons to fleet renewal is the upfront cost you face. If you have a fleet with a high resale value, you may not have to worry about the upfront cost. If you're upgrading from low resale value vehicles, you may need to be prepared to pay the upfront cost comfortably.
Along with considering these questions, most businesses establish a standard mileage at which they retire their vehicles. The mileage number depends on the type of vehicle, maintenance costs and the typical degree of vehicle use. Common maximum mileage numbers include 150,000, 200,000 and 250,000 miles.
Whatever your fleet renewal schedule, you want your new vehicles to maximize longevity, function and resale value. One of the obstacles to finding vehicles that meet those standards is the amount of research and consideration that goes into evaluating van performance. To save you time and aid your decision, here are some vans to check out first.
Work Vans With the Best Resale Value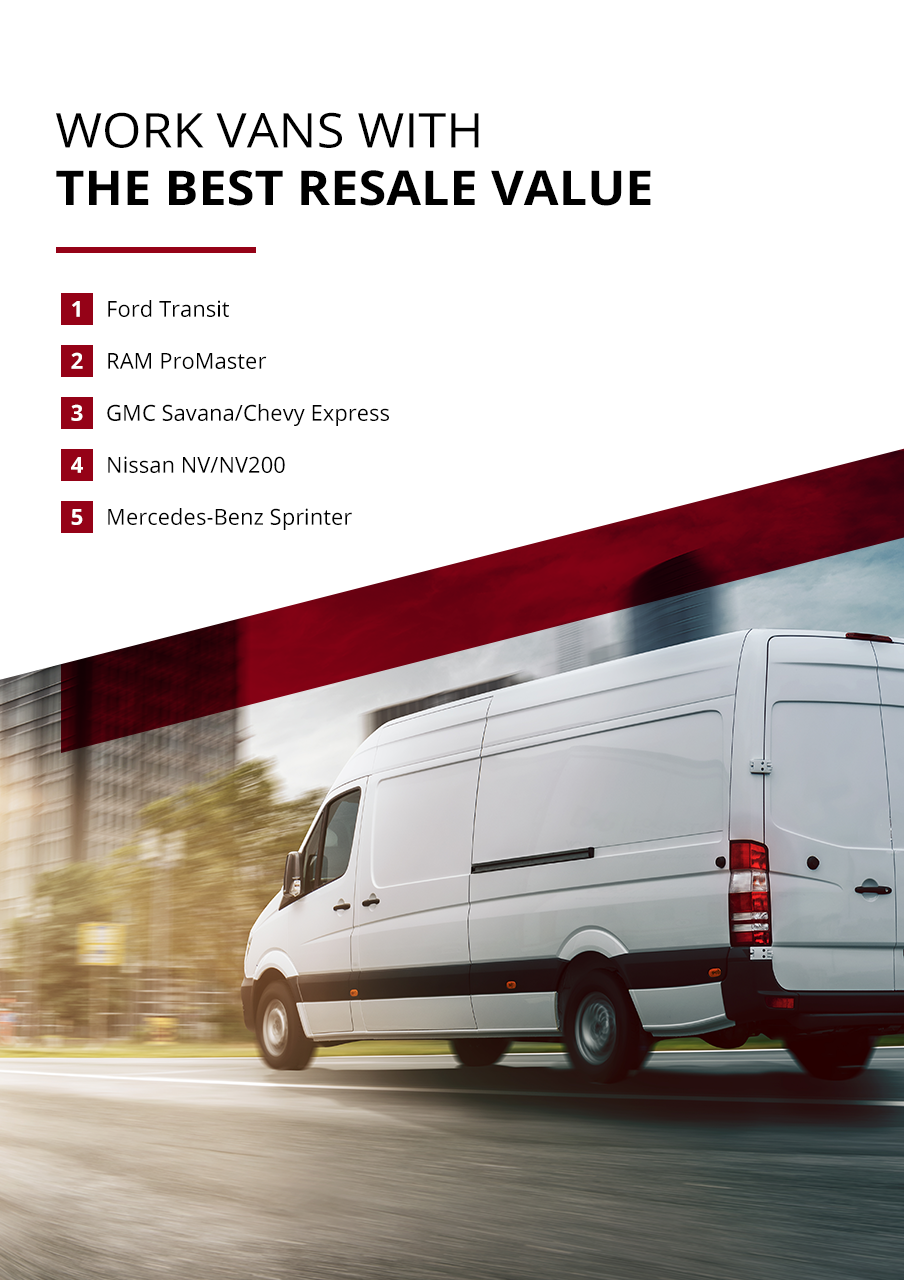 In addition to regular maintenance, one of the most important factors for high resale value is the brand of your van. Within the brands that have high resale value, it's important to find a trustworthy vehicle that also serves your business's needs. The following used van value guide includes a few of the models commonly recognized as offering high van resale values. Explore their details and features to find a make and model that works for your business.
1. Ford Transit
The Ford Transit is a highly customizable vanwith plenty of room for cargo. With three models, three roof heights, two wheelbases, three engines and three lengths to choose from, you can tailor this vehicle to fit your vocational needs from the start.
One of the outstanding features owners value in this particular van is its choice of powerful engines, including a 3.7L V6, a 3.5L V6 EcoBoost and a 3.2L Power Stroke diesel. Its fuel economy ranges from 14 to 18 miles per gallon, making it a solid choice among cargo vans. Because the Ford Transit is available in regular and long wheelbases, this van is also an excellent choice for a driver seeking a solidly-built, durable vehicle that excels in a wide range of applications.
Some of the Ford Transit's safety features include:
Side-curtain airbags
Rearview camera
Curve control
Trailer sway control
Gyroscopic sensors, which monitor yaw and roll rates and help with wheelslip, understeer, oversteer and roll motion
The Transit's customizable features aren't the only qualities business owners appreciate about this van. Its resale value is worth noting. Each vehicle's resale value fluctuates depending on its year, condition, mileage and features. You can estimate your fleet's worth by using valuation tools like Kelley Blue Book to input your exact specifications.
As an example, a used 2015 Ford Transit 250 with a medium roof height, dual sliding doors, regular wheelbase, four doors and 150,000 miles has an estimated worth of around $18,366 to $22,786. If your fleet has less mileage or has been upfitted with industry accessories, you may receive even more for each vehicle.
The Ford Transit balances function with resale value to make it one of the most popular and profitable cargo van choices. The starting price for a2022 model begins at around $39,970.
2. RAM ProMaster

Dodge has long been renowned for building strong, long-lasting utility vans, and the RAM ProMaster proudly maintains the tradition. RAM ProMasters are equipped with front-wheel drive — a unique trait among cargo vans. They can be outfitted with a 3L eco-diesel engine that puts out 174 horsepower and offers an impressive fuel economy at 21 to 28 miles per gallon.
The ProMaster features a standard, medium, long and extended wheelbase option to give your vehicles the cargo length they need. With a lower floor height, the ProMaster makes cargo loading simple. You can easily access your cargo with rear doors that swing open 260 degrees and rest nearly flat against the vehicle. Choose from three models with either a standard or high roof to ensure your vehicle fits your business's needs.
In addition, the Ram ProMaster offers several excellent safety features that are sure to provide extra protection for your operators.
Some of these features include:
Electronically controlled traction and stability
Six airbags
An assist mode to help avoid mishaps on particularly treacherous hills
Standard rear back-up cameras in some models
When it comes to resale value, the RAM ProMaster doesn't disappoint. A used 2014 RAM ProMaster 2500 with tradesman windows, three doors and 150,000 miles is valued between $13,107 and $16,575. Keep in mind that the exact specifications of your vehicles will ultimately determine how much you receive for them. Regardless, the RAM ProMaster has the features and build to serve your business on the road and with its resale value.
2022 ProMasters start at $35,745 for a 3500 model.
3. GMC Savana/Chevy Express

The GMC Savana/Chevy Express is a classic, American-made van that has been trusted by countless drivers to provide power, durability and convenience. Customize your van for convenience and functionality with a choice of two maximum payload ratings and two wheelbases.
The van's standard package features a strong V8 engine that can haul a mighty load, and its fuel economy ranges from 11 to 16 miles per gallon. If you're looking for a van with a work-horse quality, safety and strong towing and payload capabilities, this may be the vehicle for you.
OnStar can be added to the van to provide assistance in the event of an emergency, and an electronically controlled stability feature can help protect your operators in especially slippery situations. Other safety measures include:
Rear parking assistance
Low-speed forward automatic braking
Lane change and blind zone alerts
The GMC Savana and Chevy Express are mechanically identical and have high overall resale values, but the two vans show slight differences in their individual resale values.
Here's a comparison of resale values for a similar GMC Savana and Chevy Express:
In this example, both vehicles have a similar value range, but the Chevy Express exhibits a slightly higher resale value. According to Kelley Blue Book values, across a range of years and features, the Express and Savana have slightly different resale values. In some cases, the Savana is worth more, and in others, the Express has a slight edge.
If you're currently using or considering a GMC Savana or Chevy Express, it may be worthwhile to plug in your vehicle's typical specs and see if a switch might be profitable during your fleet renewal. If purchasing, current models start around $33,000. Both vans are strong, reliable choices to serve your business.
4. Nissan NV/NV200

While these models have been discontinued, you can still purchase used options for your fleet and maintain a beneficial resale value. Nissan has long established itself as a leader in manufacturing high-quality performance machines, and this van is no exception. Outfitted with V6 engines as the standard option, the Nissan NV series vans are nimble operators that offer your drivers comfort, speed and strength when hauling cargo.
The Nissan NV features a spacious cargo capacity, high payload and towing capacity and a fuel economy of 24-26 miles per gallon. Choose from different models, trim levels and several roof configurations to customize the NV to meet your needs.
Additional options include Bluetooth connectivity, keyless entry, chrome fenders, a V8 power plant and more. This van also comes with integrated roof mounting points for racks, reinforced cargo-mounting points for interior upfitting accessories and a flat-wall design perfect for customization.
Some available safety features in the van include:
Six standard airbags
Zone body construction designed to absorb collision impact
Protective over- and understeering controls
Electronic brake force distribution
In addition to its safety and function features, the Nissan NV/NV200 garners a respectable resale value. A used 2014 Nissan NV200 S Van with four doors and 150,000 miles is valued at $8,004 to $10,205. This van is well-built for upfitting, and if you incorporate items like shelving and racks, you'll add to the vehicle's resale value.
5. Mercedes-Benz Sprinter

The Mercedes-Benz Sprinter is a versatile and spacious cargo van option with a reputation for reliability. It comes equipped with a four-cylinder, turbo-diesel engine and is available in two powertrain options — including 161-horsepower or 188-horsepower.
Its fuel economy rounds out around 19 miles per gallon, and recent models include both gas or diesel fuel options. With two wheelbase options and two roof heights, you can select the Sprinter configuration with specifications that match your business.
Safety features in the Sprinter include:
Lane departure warnings
Active brake assistance
Crosswind stabilization
Collision prevention measures
The Mercedes-Benz Sprinter often has some of the highest resale values. For instance, a three-door, 170-inch-wheelbase used 2011 Sprinter 2500 Cargo Extended is worth $15,471 to $19,233 based on Kelley Blue Book estimates.
Though the resale value exceeds many of the other vans on this list, the Sprinter has other costs to consider. The Sprinter's upfront price is higher than most other work vans. The 1500 models start around $38,300 and the 3500 can cost up to $57,550.
Unlike its competitors, the Sprinter doesn't need to be serviced until it has traveled 20,000 miles. But its maintenance costs are higher than other vans. Consider this high resale value in tandem with the Sprinter's maintenance needs when deciding which van is right for your business.
Factoring Resale Value Into Your Fleet Renewal

When you're ready to renew your fleet, it may be easy to focus on the benefits certain vehicles can give you now. The pros of purchasing inexpensive vehicles include a reduced upfront cost that may allow you to renew your fleet more often.
When you think long-term and factor vehicle quality and resale value into your decision, you can make your fleet renewal much more profitable. You may be able to renew your fleet less often while still enjoying high-quality vehicles in the intermediate periods. Like most investments, long-term fleet gain requires patience and judicious consideration.
The best used cargo van for your business and for resale is one that gets the job done. Picking a vehicle brand with trusted resale value, maintaining your fleet regularly and upfitting vehicles with tools and materials to succeed on the job are all valuable ways to ensure you'll get the best price on your work van. Each of the five models we've detailed allows for flexibility within your business as well as high-quality resale value. Wherever you are in the fleet renewal cycle, consider trying out one of these models.
How to Ensure Your Fleet Has the Best Resale Value

As you're comparing used van values, it's important to know which features are dated in the current market and which manufacturers buyers will trust regardless. Understand the following factors in this work van value guide to ensure the best possible results when it's time to resell your fleet:
1. Manufacturer
To net the highest possible resale value, select vehicles from cargo van lines known for their dependability. The above manufacturers are among the best when it comes to work vans. The manufacturer's reputation will ensure buyers are looking for the models you have available on the market.
2. Mileage
Estimate when the best time would be to start upgrading your fleet based on mileage. The lower the mileage on your vehicles, the higher the selling prices can be. If you wait too long to replace your fleet, the vehicles' worth can go down because of the high miles and other factors of selling dated work vans, like decreased life span and reliability. Still, you'll want to balance getting as much use out of your fleet as you can.
3. Maintenance
Lower wear on the vehicles will also help you get a better deal when you're ready to upgrade. Make sure all vehicles in your fleet have regular maintenance conducted, which ensures they run efficiently and have good histories for prospective buyers.
4. Accident Records
For the maximum resale value possible, sell vehicles with clean accident records. An accident is a possibility for any of your operators, but with thorough hiring and training practices, most of your vehicles will have clean records when it's time to renew your fleet.
5. Depreciation
It's important to know how much a specific model will depreciate over time when you're planning to resell the vehicle. You might be able to check the manufacturer's website for clues or use an online calculator to estimate the depreciation. If you sell your car through a dealer, you will be given a price estimate.
You can usually calculate the depreciation for a work van based on what models of the same year are valued at online.
Consider Ford Transit depreciation for the 250, which sold starting at $30,685 in 2015. Based on the Kelley Blue Book fair purchase price of $19,770 for a 2015 model now, that's a $10,915 depreciation. Of course, the year and condition of your vehicles can mean better used van values. A 2018 Ford Transit, for instance, went up to $39,600 new, but Kelley Blue Book puts the fair purchase price at $34,573 now.
Advantage Outfitters: Your Source for Quality Van Equipment

At Advantage Outfitters, we understand that quality vehicles are only part of the equation. You need mobile organization solutions with the durability and compatibility to keep up with your business. We offer a wide range of add-on equipment to fill those needs, including cargo racks, van flooring, van ladders, van partitions and van storage containers.
Our products are compatible with the Transit, ProMaster, Savana/Express, Nissan NV, Sprinter models and more. Implementing storage and organization materials in your vans helps to increase your drivers' safety and protect your vehicles from damage caused by loose tools and cargo. With all of our products, we strive to help make your work vehicles work better.
When you've found the van that suits your organization's needs, shop our products or contact us at 866-925-4844 to learn about how we can help improve its convenience factor and maintain its strong resale value.