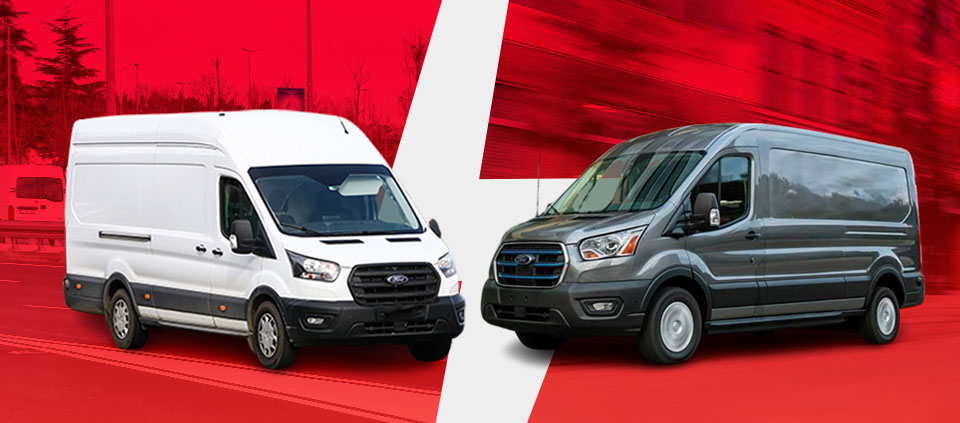 Whether you are a business owner, contractor or delivery driver currently using the Ford Transit cargo van, you are likely intrigued by the opportunities presented by the eTransit cargo van, including sustainability, potential cost reduction and adopting innovative technologies ahead of the competition.
Some key factors should be considered before deciding to go electric or stick with gas, especially regarding payloads and van upfitting.
Transit vs. eTransit Van
The automotive industry is steadily shifting toward electronic vehicles (EVs), and this revolution includes the likes of cargo vans and other work vehicles. There is a lot of excitement and intrigue surrounding the Ford eTransit, which entered production in 2021 and was unveiled in 2022 to the United States market. But how does the eTransit van compare to the current Transit van? Well, the Transit and eTransit specifications differ in several ways:
Power and Performance
The most significant difference is the obvious one with the traditional Ford Transit running on a diesel or gasoline engine. The base engine options offer variations in power as the 3.5-liter V6 Flex-fuel generates 275 horsepower and 260 pound-feet of torque versus the 310 horsepower and 400 pound-feet of torque from the turbocharged 3.5-liter V6. The Transit has a ten-speed automatic gearbox and like the eTransit, it has rear-wheel drive.
Climbing into the eTransit seems similar to the Transit until you turn on the nearly silent electric engine. The battery pack powers the electric motor, generating an instant 266 horsepower and 317 pound-feet of torque when you place your foot down. It provides quick and smooth acceleration, allowing the eTransit to hold its own against the Transit.
Fuel Consumption, Charging and Range
Due to the change from fuel to electric charging, you and your business will need to make slight adjustments to habits and schedules to accommodate the need to recharge your eTransit instead of pulling into the gas station. This is likely the greatest divergence, apart from the variation in driving experience.
The traditional Transit is a highly versatile and reliable work van — however, it is less eco-friendly than the eTransit. The 2021 Transit has a 25-gallon tank and a fuel economy rating of 15 mpg in the city and 19 mpg on the freeway.
On average, recharging the eTransit is cheaper than refueling a gas-powered Transit and does not produce any emissions. However, considerations include battery range, charging time and the charging infrastructure available to you. The Ford eTransit has different charging methods, offering varying charging speeds. The most likely scenario is to use the 240-volt mobile charger, which allows you to charge the eTransit in 12 hours and provides a typical range of 126 miles.
Gas stations are still more widespread than charging stations and refueling is much faster than recharging the eTransit battery. However, it would be best if you considered the eTransit's long-term cost savings and other benefits.
Configuration and Space
Looking at the Ford Transit technical specifications and the Ford eTransit technical specifications, it is apparent that both the Ford Transit and the eTransit models offer different lengths and roof height options. All versions are considered comfortably spacious and highly appropriate for either passenger or cargo transportation.
A slight variation in the eTransit is the absence of the transmission tunnel seen in the Transit. This is because the eTransit uses an electric drivetrain, which helps create more space in the cabin for the eTransit.
Maintenance and Running Costs
Many businesses and contractors are familiar with the Ford Transit and understand that an internal combustion engine requires regular maintenance and servicing to keep it running smoothly. One bonus is that there are extensive service offerings available for the Ford Transit. However, if you are willing to forego familiarity, Ford does offer comprehensive support and customer service for their electric vehicle owners.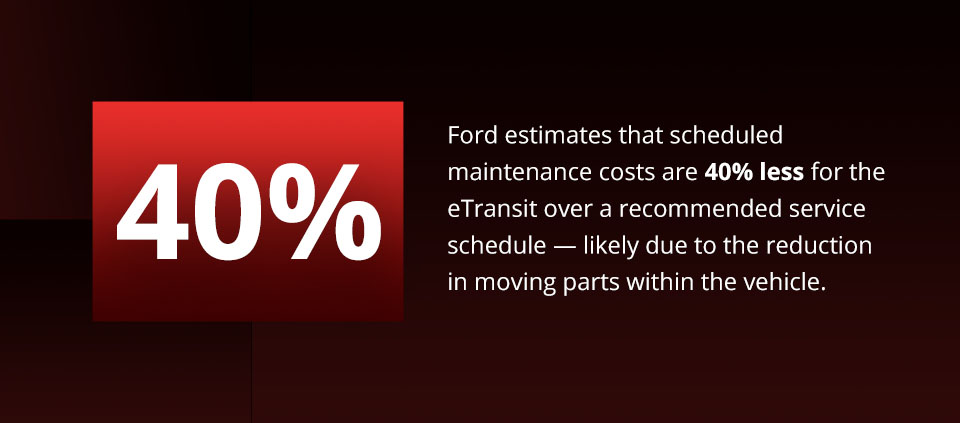 Additionally, Ford estimates that scheduled maintenance costs are 40% less for the eTransit over a recommended service schedule — likely due to the reduction in moving parts within the vehicle. Charging an EV is also cheaper than filling up with gas on average. However, all these benefits aside, due to the cost of EV batteries and the current supply and demand ratio, the upfront cost of an eTransit will set you back a bit more than a traditional Ford Transit.
Also, due to the added weight of the battery, the eTransits are approximately 10% heavier than their Transit counterparts. The eTransit, therefore, tends to see further wear and tear on its tires, meaning you'll likely need to replace these more frequently.
What to Know About eTransit Van Upfitting
The Ford eTransit makes a compelling replacement for gas-powered cargo vans as it leads the way as one of the first all-electric work vans to enter mass production.
Battery Placement
A vital note on the upfitting of your eTransit is the battery placement. Before you install shelving, partitions or any other equipment that needs to be attached to the cargo van floor, you need to install suitable flooring. This is because the eTransit battery is beneath the load floor, which prevents you from safely drilling into the floor.
Upfitting Materials
When you upfit your eTransit, you'll want to pay close attention to the amount of upfitting equipment and accessories you install and the product material, which may add additional weight to the vehicle. The goal is to capitalize on the fuel, maintenance costs and other savings. You don't want to sacrifice precious work hours recharging the eTransit more frequently due to excessive weight and reduced battery range.
The two most popular materials for van upfitting are steel and aluminum. Both materials offer high durability and strength capabilities, though aluminum is considerably lighter than steel. This ordinarily makes it ideal for delivery vehicles and contractors that carry heavy equipment and parcels and wish to reduce overall weight and gas consumption. By upfitting your eTransit with aluminum where possible, it is an easy strategy to make your EV go that extra mile.
Cargo Weight Management
You will also want to create a comprehensive system where contractors and drivers only carry the tools, gear and equipment they need daily to avoid loading the eTransit with unnecessary weight. This will make the work van less congested and cluttered, but more importantly, you will extend the battery range.
eTransit Van Upfit Options
Whether you own a Ford Transit or an eTransit, the upfitting options remain similar, apart from the flooring and material recommendations for the eTransit. There is a diverse range of Ford Transit and eTransit upfit products designed to suit varying types of work.
From plumbing to HVAC and a range of other high-demand vocations that require reliable and ergonomic shelving and accessories to boost efficiency and organization, there are van upfit solutions for you. Upfit your Ford eTransit with the same van upfitting essentials as before, including:
Floors and rubber mats
Shelving packages and individual units
Wall, door and ceiling liners
Partitions and bulkheads
Ladder racks
General and industry-specific accessories
Upfit Your eTransit and Transit Van With Advantage Outfitters, LLC
The automotive industry is constantly evolving and so should how you manage and organize your cargo vans. Whether you and your business use gas or electric-powered work vans, Advantage Outfitters supplies top-end van upfitting gear to help boost your commercial van organization, safety and efficiency. Now that you have a greater insight into the differences between the Ford Transit and eTransit, shop for van upfit equipment confidently, knowing that our products continue working as hard as you.
At Advantage Outfitters, we pride ourselves on offering a comprehensive collection of Ford Transit and eTransit upfitting options that allow you to customize your van to your specific needs. We have you covered with our superior products and service, including fast shipping and excellent technical assistance. If you want to learn more about how we can help you with your work van upfitting or to ask questions on product compatibility, you can contact us online or at 866-925-4844 today!