If you use a commercial work van for your business, your van is one of your most critical tools. It gets you to where you need to go, but it also stores all the tools and equipment you may need for a job. A van that doesn't allow you to bring everything you may need might not be the right van for you — or you simply haven't made the most out of it.
Have you thought about how to make the most out of your roof and how it could help you solve some storage problems? Van roof storage works by increasing your cargo space, decluttering the back of your work van and making your vehicle a little more organized.
This van roof storage guide will help you choose the best options for your vehicle.
Choosing the Right Roof Rack for Your Van
How do you know if a roof rack will fit your van? This is one of the most important things to consider when choosing a roof bar or ladder rack. Unfortunately, there is no one-size-fits-all option for van accessories simply because of how different each van model is. Depending on the make and model of your van, certain racks may fit, and some may not. However, with Advantage Outfitters, LLC, you can shop by vehicle, so you'll know the products you order will be made to fit your van.
Similarly, if you're wondering how to install van roof storage, you'll want to check the manufacturer's instructions since every product is a little different.
Explore all the options to find the best van roof storage for your needs.
Work Van Roof Cargo Racks
Perhaps you don't have enough room to store everything inside your van, or maybe you like to keep it clutter-free. Either way, cargo racks may be the answer you need. Whether it's tubing, lumber or large tools, you have several options when you want some extra space up top.
Cargo rack bars are a popular option for adding easy-to-use storage to the roof. Two or three bars are placed along the roof and can be used for many different purposes. Cargo rack bars are a very budget-friendly choice when looking for more space, and they pair well with tie downs and rear roller bars for secure storage and easy access.

A large cargo rack that stretches the length of the roof is also a popular option. This rack has nine bars across the roof. The additional crossbars protect the roof and allow you to store smaller tools or equipment. It can hold up to 220 pounds and includes a rear roller bar to make loading and unloading easier.
Work Van Ladder Racks
For many service jobs, having a ladder is a necessity. Most vans don't have the space to put a ladder inside, and many workers don't want a ladder taking up that much space in the interior anyway. Ladder racks are the perfect option for anyone needing to haul a ladder or multiple ladders.
Clamp Down Ladder Rack
The first option to carry your ladders is with a clamp-down ladder rack that sits on the top of the van. This rack has front, middle and rear bars that simply clamps the ladder into place. The main disadvantage with this rack is that it may be more difficult to load and unload the ladder as it is firmly secured to the top of the roof. But, if you're looking for a cheaper alternative, this rack type is still an excellent choice.
Drop-Down Ladder Rack
The second option is a drop-down ladder rack. With this rack, you can drop it down to the side of the van to load the ladder then easily pull the bar to raise the rack to the roof. This rack is great for easily accessing your ladders without much hassle. Because of the design and added convenience this rack provides, it is the more expensive option. However, its aluminum construction means it will never rust, so this investment will last a long time.
Add a Van Ladder
If you already have van roof storage, it might be challenging to use because it is out of reach, especially if you have a high roof van. One option is to attach a ladder to get to the roof. Most van ladders attach to the van's back door. Our rear door access ladders clamp onto the door for easy, no-drill installation. Adding a sturdy ladder to your van makes using your roof storage more convenient.
Are Roof Racks Worth It?
Roof racks and other van roof storage come with a multitude of advantages and are undoubtedly one of the best investments you can make for your work van. While roof storage may not necessarily be the cheapest van accessory you ever buy, it will make your job easier, your van more organized and you more productive.
Having a durable and lightweight storage solution can be a game-changer if you need the extra storage capacity.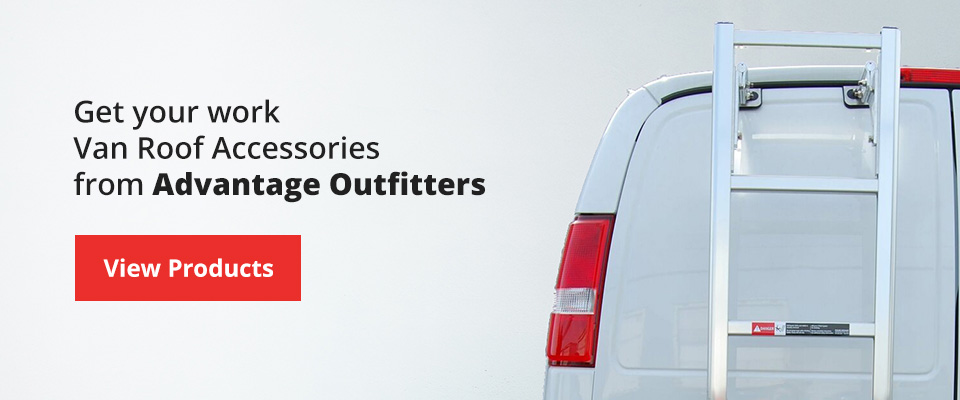 Get Your Work Van Roof Accessories From Advantage Outfitters
Our ultimate goal is to make your work van the best van it can be so you can be the most productive you can be. Once you know what you need for your van, reach out to the experts at Advantage Outfitters. We have several roof storage options that are lightweight and durable.
When you combine these factors with our excellent customer service, our fast shipping and our experienced and knowledgeable team of experts, working with Advantage Outfitters will give you the results you need promptly and at a fair price.
Call us at 866-925-4844 or contact us online if you have any questions or subscribe to our email list for exclusive offers.
Advantage Outfitters specializes in accessories and commercial equipment to upfit cargo vans. We're committed to making our customers' work vehicles work better, and we'd love to do the same for you! With quick and easy online shopping as well as locations in New York and New Jersey, our team is readily available to handle all your work van outfitting needs.