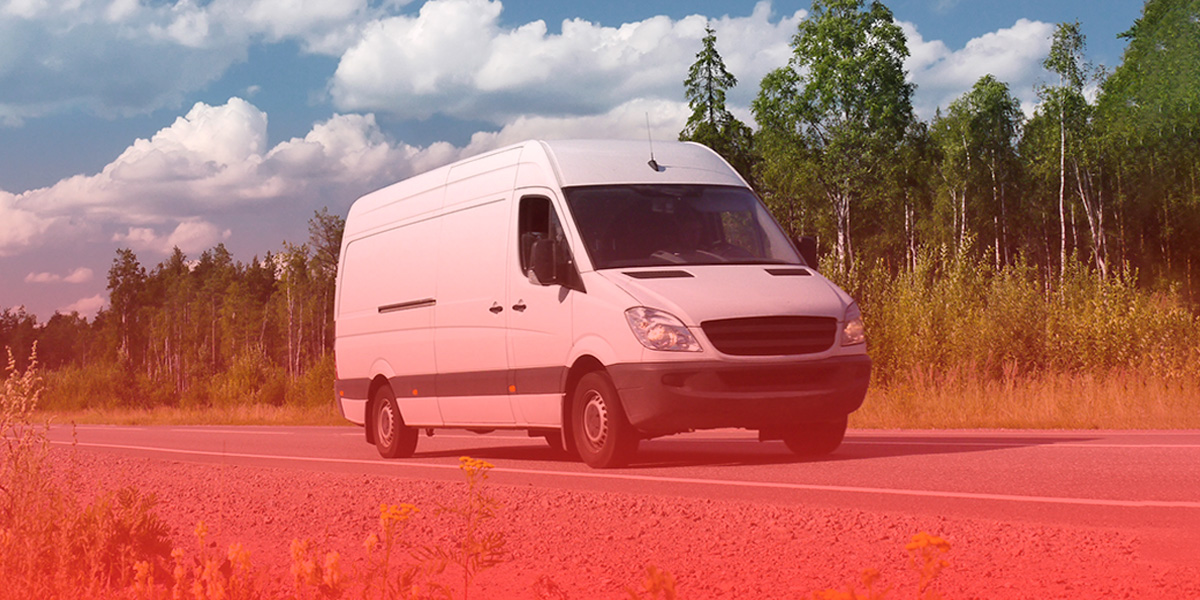 You probably keep almost all your HVAC equipment and supplies in your service vans. This enables your technicians to perform at peak efficiency regardless of location or time. While this is true for most businesses, some HVAC work vans streamline operations better than others. The secret is building a system that matches your daily activities with your mobile workstation's capabilities.
What Is Vehicle Upfitting?
Vehicle upfitting involves modifying the original state of a van or truck for a particular purpose. It's an approach most industries use to increase work efficiency, converting ordinary vehicles into self-sufficient mobile workstations. Upfitting also improves work van comfort, organization and safety. There are many upfits you can install on your HVAC work van, including shelves, cabinets, ramps, partitions, flooring and access ladders.
Best Vehicles for HVAC Upfits
The type of van you use can define your organizational layout, so it helps to choose carefully if you don't already have one. Pick a van that allows you to customize it according to your specifications without substantial restrictions. Here are some of the best options:
Even if you already have a reliable work van, you can find accessories that fit your make and model to streamline your upfit choices.
Advantages of Vehicle Upfitting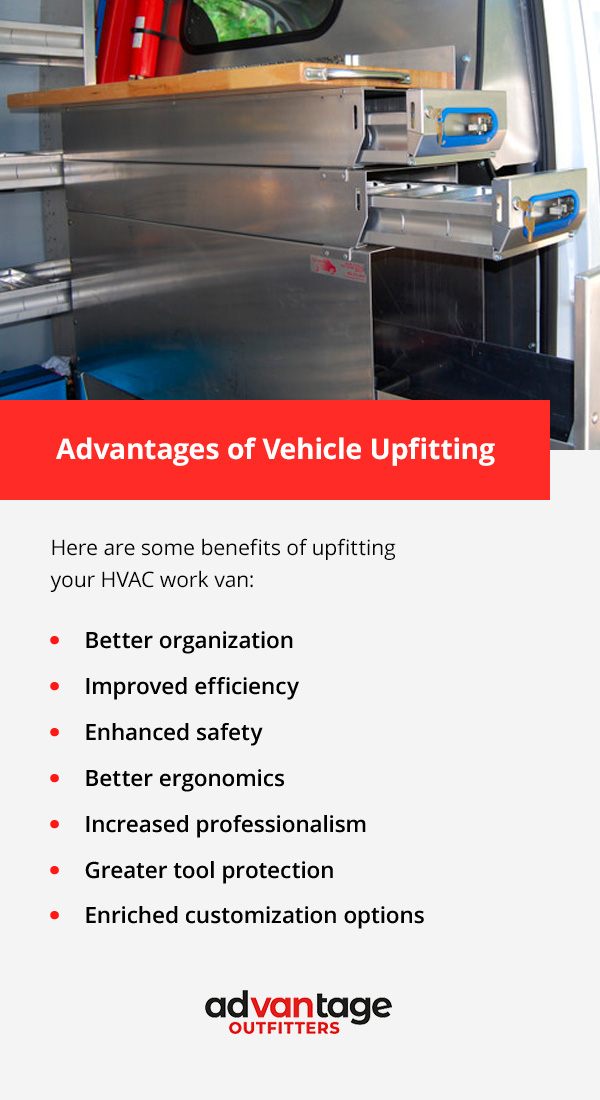 Here are some benefits of upfitting your HVAC work van:
Better organization: The primary goal of vehicle upfitting is to create a system that allows your workers to arrange tools and equipment orderly, enabling you to make the best use of your space. Upfitting your HVAC work van also simplifies inventory management.
Improved efficiency: A well-managed storage space can take more equipment. It also makes it easier to locate items. This improves job performance and streamlines operations.
Enhanced safety: Organizing your work and storage space reduces the risk of accidental slips and falls. It also makes cleaning and managing the space easier, improving health and comfort.
Better ergonomics: Creating an accessible and organized system enables your workers to secure items with less effort. It reduces straining, stretching and bending, improving overall mental and physical well-being.
Increased professionalism: Upfitting your HVAC work van creates an extension of your business unit, meaning your team can perform optimally regardless of location and time. It also informs customers about your preparedness to execute tasks and builds professionalism among your team.
Greater tool protection: Tools are capital-intensive investments, so you want to keep them safe. Upfitting organizes your tools in solid compartments, reducing the risk of accidental falls and breaks.
Enriched customization options: Upfitting generally centers around customization. Even when you pick standard fittings and fixtures, you usually do so according to preference. Build a workstation that meets your needs to improve productivity and add value to your operations.
Common HVAC Work Van Inventory
The tools you work with can determine your upfit choices. Although HVAC businesses may use different equipment depending on their needs, you'll likely be carrying cargo like:
Wrench sets
Battery-operated drills
Caulk guns
Anemometers
Vacuum pumps
Levels
Goggles
Gloves
Hard hats
Face masks and respirators
Knee pads
Types of HVAC Work Van Upfits
There are multiple options available for your HVAC work van upfits. Here are the top ideas for organizing your tools in a van:
1. Flooring
Here's a pro tip. Start your HVAC work van upfits with the flooring — that is the foundation everything stands on. Besides making your van stand out, choosing quality flooring protects your investments, reduces noise, provides a safer working environment and makes your van easy to clean. There are many customizable options depending on the kind of van you use and the nature of your operations.
For example, you can install composite van flooring if you prioritize safety and floor protection. They have anti-slip surfaces to help reduce injuries and are durable, protecting your floors against impacts.
Rubberized cargo van mats are cut for specific vehicle models. They provide added protection and are flexible, offering excellent padding and traction.
StabiliGrip floors are built with a thick composite blend, providing a firm base. Other flooring options include aluminum diamond plates and door sill plates.
2. Panels or Wall Liners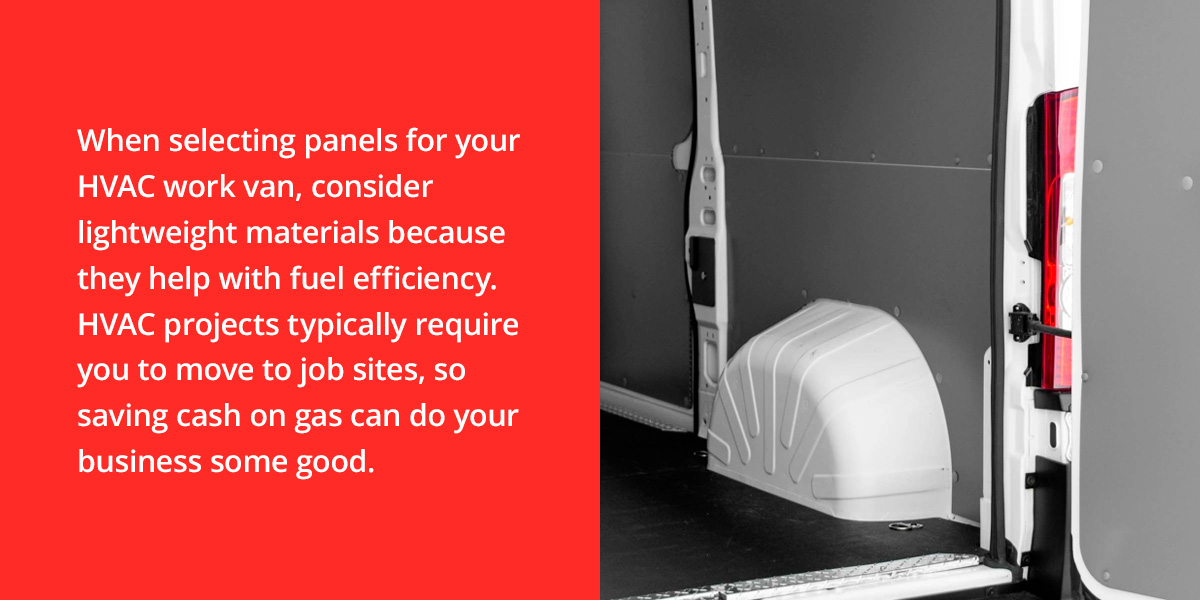 Wall liners protect your vehicle against damages arising from accidental drops and corrosion. They also help improve soundproofing and insulation. Ultimately, you save money on repairs and replacements and enjoy more comfortable rides.
When selecting panels for your HVAC work van, consider lightweight materials because they help with fuel efficiency. HVAC projects typically require you to move to job sites, so saving cash on gas can do your business some good. You also protect the environment by reducing your carbon footprint.
Choose quality materials that can last years with proper maintenance, like rigid plastic or options with insulated backing.
3. Partitions and Bulkheads
Protecting the cabin from the cargo area is essential, considering that large and small equipment is stashed in the back. Partitions separate the drivers and passengers from the cargo, increasing safety, security and comfort. There are many partitions you can choose from, including:
Straight: These are straight sheets of robust galvanized steel that protect technicians. You can choose the steel mesh option, which lets you see the back without getting out of the cab. Straight partitions are available for all full-sized vans.
Pass-thru: A pass-thru partition has an opening that allows workers to access the cargo area from the cabin. These are best suited for large, full-sized HVAC work vans.
Sliding door: Sliding door partitions provide stylish slide-door access to the cargo area. These are available for most full-sized vans.
Swing door: Swing door bulkheads open like ordinary doors with a latch that keeps them locked while you drive. You can install steel door bulkheads on all full-sized vans.
Contoured: Contoured partitions are designed for comfort and more expansive operating space. They are aluminum or steel barriers curved to maximize the cabin area. Contoured bulkheads are available for all vans.
MaxView: MaxView prioritizes visibility. It is built with a molded plastic base with a clear Lexan upper, allowing workers to view the cargo area through the barrier. They are also contoured and available for midsize and compact vans.
Wire mesh: These simple mesh partitions allow adequate visual access. They are lightweight and easy to install. Wire mesh partitions can fit with a fleet of most midsize and compact vans.
Composite: Composite bulkheads are relatively heavier and provide enhanced soundproofing. They are built with rugged molded plastic and steel reinforcements. They are available for most full-sized vans.
4. Shelving
Shelving units are one of the essential upfits for HVAC work vans. They allow you to organize your tools, making your daily activities straightforward. You can combine many storage systems, each serving a unique function. The options include drawers, bins, cabinets and dividers.
Dividers and storage bins are ideal for storing small items, such as nuts, bolts and snips, while cabinets are best suited for those tools and parts you need readily available. Storage drawers are also suited for commonly used equipment like pliers, wrenches and multimeters.
5. Roof Equipment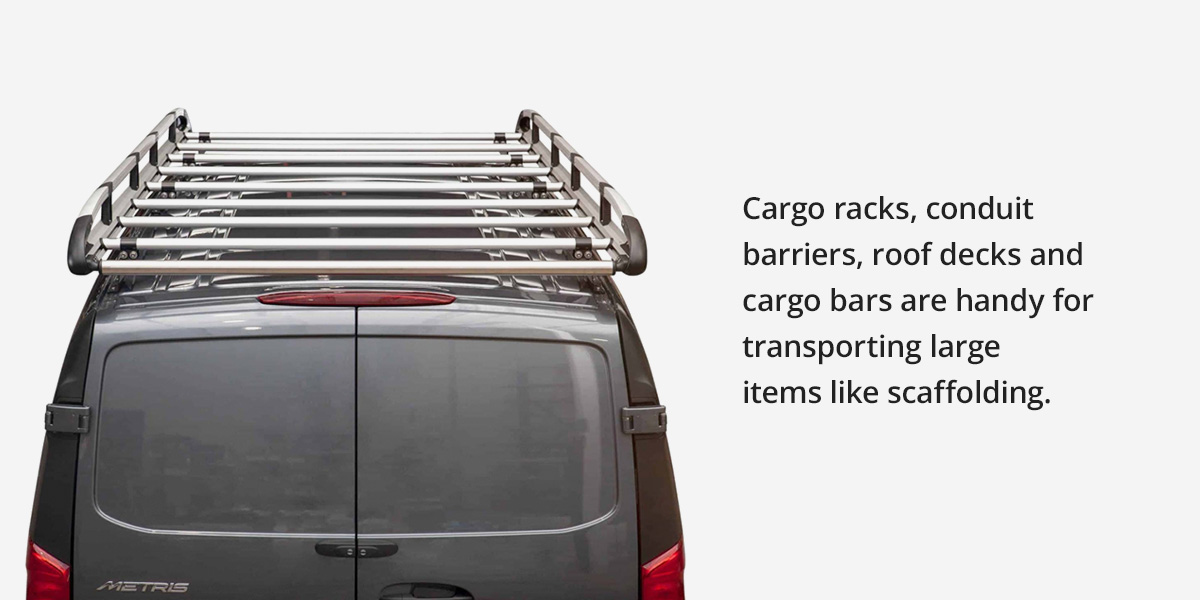 You can upfit your HVAC work van and create extra storage space on the roof. This is helpful when traveling with equipment that takes up excessive space in the cargo area, such as pipes, ladders and conduits.
Cargo racks, conduit barriers, roof decks and cargo bars are handy for transporting large items like scaffolding. You can include an access ladder for easy reach. Other equipment like drop-down and clamp-down cargo racks also offer safe, ergonomic and efficient solutions for storing, transporting and accessing ladders on your van's roof.
6. Accessories
There are other accessories you can install on your vehicle to improve efficiency and safety, like:
Interior lighting: Interior LED light upgrades, whether recessed or surface, improve visibility, especially at night. This allows your team to perform optimally at all times.
Windows: Managing a fleet of HVAC work vans without proper ventilation is ironic. That said, windows offer enhanced visibility and adequate airflow, improving the overall transit experience. You can customize your vehicles with specialty windows or choose an OEM-style window.
Running boards and rear steps: Running boards and rear steps improve access to the van. There are various types, including GripStep and MaxStep rear steps.
Cargo restraint and security: Logistics kits help stabilize your equipment during transit, reducing accidental falls and injuries.
7. Specialty Equipment
Besides the standard equipment and accessories, specialty equipment can provide added benefits. These include:
Rear HVAC: You can install cooling and heating systems to control the climate within the cargo area.
DC and AC power inverters: Power inverters allow you to use electrical devices from your vehicle by converting direct current to alternating current.
Liftgates and ramps: These help you carry heavy units in and out of the vehicle by providing an inclined surface.
Top Strategies for Effective HVAC Van Setup
Here are the five HVAC work van organization tips you should know:
1. Plan Your Layout
The first stage of the upfitting process is planning. This requires you to know basic things such as the vehicle's specifications, the nature of daily operations, the kind and number of equipment available, and your ultimate goal.
Planning your layout helps you assess exactly what your team needs and manage the resources at your disposal. It also lets you know which fixtures you should install, where to position them and your estimated expenses. For example, liftgates and ramps are highly recommended if your business engages in heavy-duty HVAC projects that involve transporting large units.
2. Make Items Accessible
Organize your space so your team can access all your materials and tools without tremendous effort. The aim is to reduce the time and energy spent on retrieving. All items needed for a specific task should be reachable in a single quick motion. That is the secret to cutting down delivery or arrival times.
3. Arrange Items According to Size and Weight
You want to know the ideal location to position each item — the size and weight organizational method can help you achieve that. Large items like ladders may find their way to the van's roof if cargo space inside your vehicle is insufficient. Medium-sized items like vacuum pumps and compressors can sit comfortably on the floor, while smaller items stay in the cabinets. It helps to place heavy items closer to the doors so you can quickly load and offload them.
4. Label Equipment
Labeling or color-coding items helps with easy identification. It also makes it easy for your team to know where to place each item after use and alerts you when an item goes missing. With all your items carefully arranged, even the most disorganized team can find their way and learn from it.
5. Utilize Every Space
There are many areas on an HVAC work van where you can create space. The floor, walls, internal and external parts of the doors and the roof are classic examples. You can use hooks, magnetic strips, racks and carriers to hold tools, but the options are numerous. The aim is to design and build a system that maximizes every space without compromising the safety or the workers and the vehicle.
Other Important Tips for Upfitting Your HVAC Work Van
Here are some extra tips for organizing your HVAC work van:
Develop a business culture: Your team will likely follow through if they understand that adopting a practical HVAC service van can increase productivity and customer satisfaction. That is why it is essential to take their input. Enforce company policies and reward technicians who uphold established standards.
Consider security: Add security features to your HVAC van setup to help protect your investment. For example, installing quality locks on the door's interior and exterior and adding security cameras to monitor activities can help reduce theft.
Ensure uniformity: Create a uniform system for all your vans, primarily when technicians are not assigned to a particular vehicle. That way, your team can work effectively even when they swap vans.
Insist on quality materials: Upfitting is a long-term investment, so choose materials that can last for years, even in harsh conditions. This saves you money and time you'd otherwise spend on repairs and replacements.
Customize your van: Choosing standard fits is straightforward and helpful, but customizing your work van allows you to create a system that suits your needs. The first thing is to identify your needs and assess your inventory. This will help you plan the layout of your van.
Consult an expert: Partnering with professional upfitters has many advantages. Upfitters have the experience and knowledge to assess your vehicle and recommend the best solutions. Plus, they may provide other helpful tips to design a van that matches your needs.
Upfit Your Plumbing Work Van With Advantage Outfitters, LLC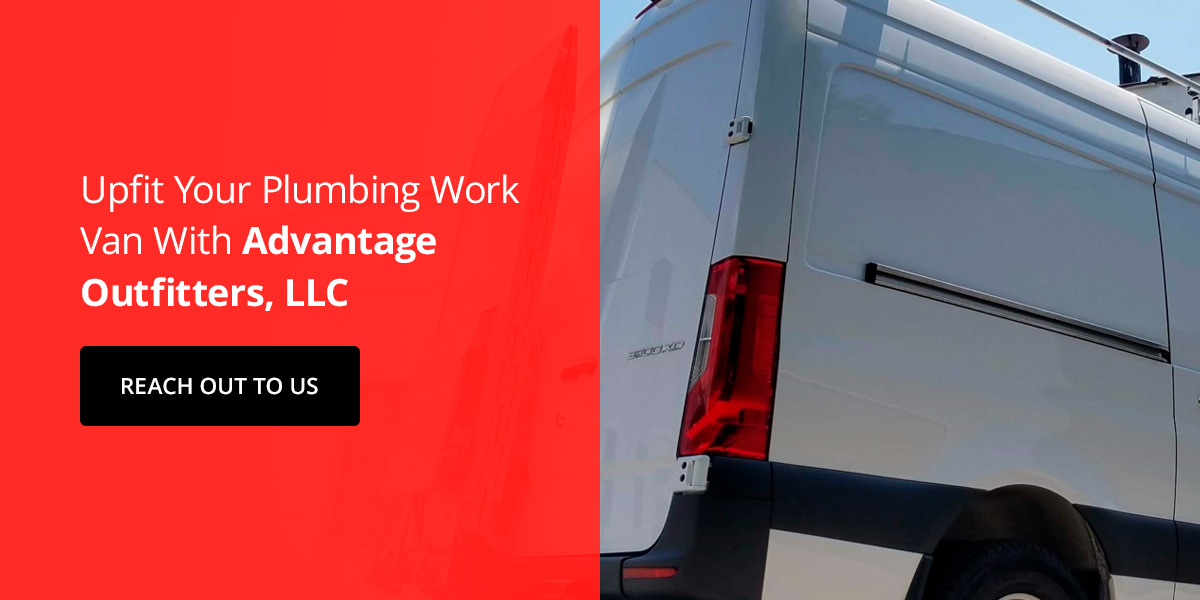 Advantage Outfitters, LLC's specialty is upfitting commercial vehicles with high-quality equipment and accessories. Our goal is to help customers design and build upfitting solutions that improve efficiency and keep workers safe. You can choose from our standard models or customize a van upfitting system according to your needs. Reach out to us to learn more!
{ "@context": "https://schema.org", "@type": "FAQPage", "mainEntity": { "@type": "Question", "name": "What Is Vehicle Upfitting?", "acceptedAnswer": { "@type": "Answer", "text": "Vehicle upfitting involves modifying the original state of a van or truck for a particular purpose. It's an approach most industries use to increase work efficiency, converting ordinary vehicles into self-sufficient mobile workstations. Upfitting also improves work van comfort, organization and safety" } } }