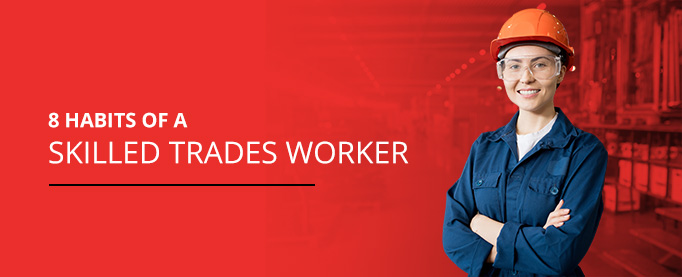 As the economy rebounds in a post-pandemic world, the demand for skilled workers is growing rapidly. More jobs are available that require the knowledge and expertise of a skilled trades worker, but there are also fewer skilled workers in the market than ever before.
If you are a trades contractor such as a plumber, electrician or HVAC technician, it can be difficult to find quality workers who are skilled in their profession. As these industries often move at a rapid pace, you may feel pressure to hire the first worker who walks through the door. But do they have good work habits?
This guide walks you through the top 8 worker habits you should look for in a skilled tradesperson to determine if they are the right fit for your business.
Habit 1: Knowledge and Education
One of the most common misconceptions about trades workers is that they are uneducated since many do not pursue a traditional college education. This could not be further from the truth! A skilled tradesperson will have numerous accreditations and hands-on experiences through trade school and apprenticeships.
Additionally, a good trades worker will have an expansive knowledge of the equipment and tools they use, understanding how to get the most out of their resources while avoiding damage to their surroundings and potential injury.
Ensure any tradespeople you hire have certifications in their field and experience learning their craft under a superior. The more experienced and educated a trades worker, the better your finished product will be!
Habit 2: Attention to Detail
While getting through a project quickly is important to pleasing clients, an essential habit of trades workers is doing a project correctly, which means paying attention to details.
A skilled trades worker will know how to balance efficient work with quality results. One of the best ways to accomplish this is by having a strong sense of detail. Refusing to cut corners and working with the utmost care and craftsmanship will please clients and ensure the project is done as safely as possible.
Habit 3: Manual Dexterity
Manual dexterity, or being able to use your hands in a skillful and coordinated manner, is critical to working within a trade industry. Because of the detail and precision required in most trade jobs, a clumsy or uncoordinated worker will be more likely to break materials and put themselves and others in harm's way.
Habit 4: Safety Minded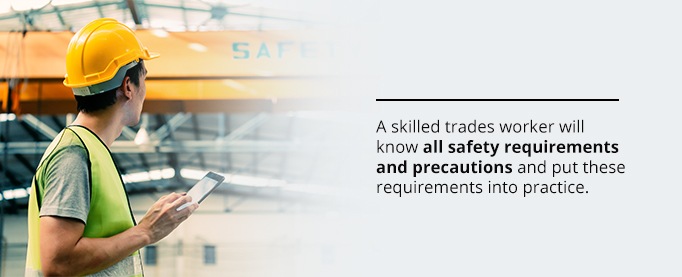 One of the most crucial trades worker habits is paying attention to safety. Because of the heavy machinery and tools used on the job, tradespeople are more likely to be exposed to workplace accidents than those working in other fields. A skilled trades worker will know all safety requirements and precautions and put these requirements into practice.
Too often, tradespeople can get sloppy and ignore rules and requirements put in place to protect workers from injury. A trades worker who is cautious and knowledgeable of all safety regulations is more likely to keep themselves and their co-workers positioned safely. A safe and healthy worker is much more likely to be productive and confident well into the future!
Habit 5: Good Communication Skills
Communication skills serve several purposes within the trades industries. In one way, communicating with fellow workers and supervisors is essential to safety on the job. Co-worker communication is also crucial to ensuring jobs are done correctly and efficiently.
In another way, communication with clients is also critical. For trades workers who work daily with clients, conveying information effectively, using good customer service skills and being friendly can be the difference between gaining new clients and losing them.
Finally, having a solid understanding of one another is beneficial when working with other employees. A successful organization will have tradespeople who enjoy working together and know each others' strengths and weaknesses so they can complete a project in the most efficient way possible.
Habit 6: Care for Equipment
The materials, tools and equipment used in the trades industries can often be expensive and delicate. A skilled tradesperson knows that a broken piece of equipment can be the difference between getting a job done correctly and on time versus a delayed deadline. If you use a commercial van for your job, caring for equipment includes vehicle maintenance.
One of the best ways to care for your van and equipment is to keep it organized, especially when transporting it from one location to another. Consider investing in practical commercial van upfitting products from Advantage Outfitters, LLC. Shelving, partitions, and other van accessories are designed to protect your tools, van and workers. They also keep your equipment organized, ensuring your trades workers can find what they need when they need it.
Habit 7: Problem-Solving Capability
Skilled trades workers know how to do their job efficiently and correctly, and they should be prepared for any issues that may arise along the way. A typical trade industry job will have numerous issues arise on a single job. A successful tradesperson can quickly identify the causes of a problem and provide a solution to keep the project moving forward.
Habit 8: Positive Attitude
An attribute that many employers don't often consider before hiring a trades worker is their attitude. A tradesperson who is negative, upset or angry all of the time will be less likely to have good habits or be passionate about the work they're doing. Additionally, their fellow workers and clients will notice their negative attitude and be less inclined to work with them or approach them during future jobs.
Having a positive attitude while on the job is beneficial to the teamwork that a trade job may require and to completing a project in a timely and efficient manner.
Learn Why Skilled Tradesworkers Should Choose Advantage Outfitters
Whether you are an employer looking to hire tradespeople or a worker searching for a career within a trade industry, understanding the attributes and habits of a skilled worker within the trade industry is essential to the success of an organization and helps ensure a project is completed safely, efficiently and effectively.
To learn why skilled trades workers should partner with Advantage Outfitters for all of their commercial vehicle upfitting needs, contact us today!