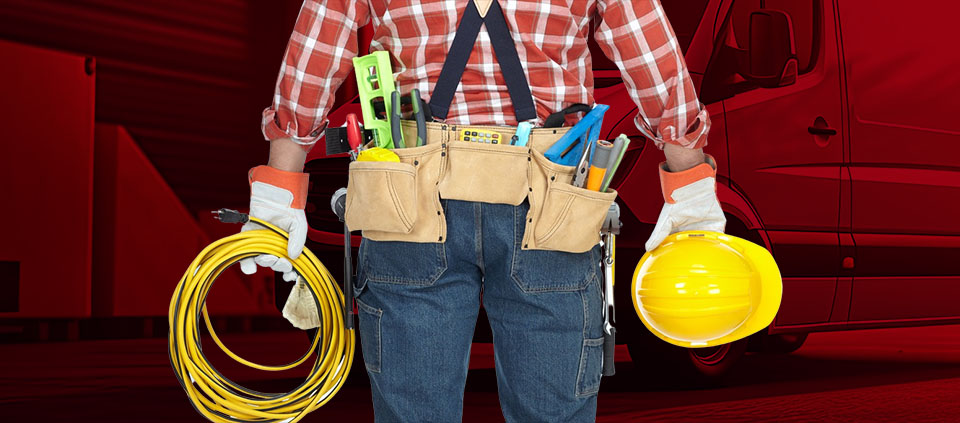 As an electrician, your van is your home base for everything you need for almost any job. In an ideal world, your tools are all within arm's reach, organized so you can find them easily, and stored where they can avoid damage and rust. However, we all know this isn't an ideal world. Between hectic days and complicated jobs, you may not think you have the time to completely reorganize your van — but it's an essential step to ensure your business' success.
If you realize that finding the essential tools and parts you need to finish a job could take less time, you probably need to rethink your van's organization. When you don't know where everything is, you spend far too much time looking for the right tool or going back and forth to your van because you can only find one thing you need at a time.
Electricians like you put in long hours and long days. You don't need the irritation of being unable to find a tool quickly. Staying organized means, you can do as many jobs in a day as you are able. You can save yourself or your employer money by organizing your electrician work van.
Why Keeping an Electrician Van Organized Is Important
At Advantage Outfitters, LLC, we understand your van is like your office. Instead of sitting behind a desk every day, your van is your place of business. Like an office, the equipment in your electrician van should be well organized, with everything you need to do your job within reach.
Your van needs to be organized so that you spend limited time looking for what you need to fix your client's problem. Organizing your van so that your tools are readily available and appropriately stored results in several positive outcomes:
Tool location: You spend less time on each job looking for the right tool, which can mean more income since you'll be faster on each job.
Tool life span: When you properly store your tools and accessories, they last longer, which saves you money in the long run.
Efficiency: Knowing where every tool and piece of equipment is and having a tidy electrician van increases your efficiency and productivity.
Inventory management: Knowing exactly where everything is kept in an electrical work van enhances tracking and restocking of tools and supplies.
Customer satisfaction: You can give your clients the quick and reliable service they need.
Brand image: Besides keeping customers happy, a clean, neat, organized electrician van promotes a professional and reliable brand image.
Safety: Reducing clutter, knowing where tools and supplies are and having everything properly secured reduces the chance of accidents and injury.
It's time to think about upfitting your van to organize your tools, accessories and documents efficiently. Whether you drive a self-owned electrician van for your business or employ several people and run numerous trucks at a time, Advantage Outfitters can help you find solutions to attain a new level of organization that increases profits.
With shelving systems built for the kind of van you drive and customized for your unique needs, you'll never find yourself at a loss when searching for the necessary equipment again.
Essential Work Van Equipment for Electricians
Let's look at the tools every electrician should have on hand. Many electricians are members of the International Brotherhood of Electrical Workers (IBEW). If you've started an apprenticeship as an electrician, here's an electrician van stock list of what the union recommends for apprentices, along with added essentials — the list works just as well for non-union members:
Electrical tape
Cable ties
Side cutters
Multi-tip screwdriver
Flat blade screwdriver — stubby and regular
Tape measure
Wire strippers
Torpedo level
Hammer
Razor knife
Needle nose pliers
Hacksaw frame shoe
Two times adjustable pliers
Number two Phillips screwdriver
Tool pouch with a belt
Other recommended tools and equipment for all electricians include:
Amp meter
Voltage tester
Digital Multimeter
Fishing tools
Power drills and drivers
Labeling machines
Power saws
Paper towels
Wire-pulling rods
Electrical conduit
Non-conductive gloves
Flashlight
Rubber-soled shoes
Safety glasses
Face shield
Pens, pencils and notepads
Cleaning supplies
Staple gun
Extension cords
An electrician may also need other work van equipment and accessories during a job, but the above list provides a good starting point.
Work Van Organizational Equipment for Electricians
Your organizational map is all created. You developed a system where you or your employees can easily find the tools and accessories needed to do a good job quickly and efficiently. So, let's take a moment to look at the components that can make that organizational map a reality: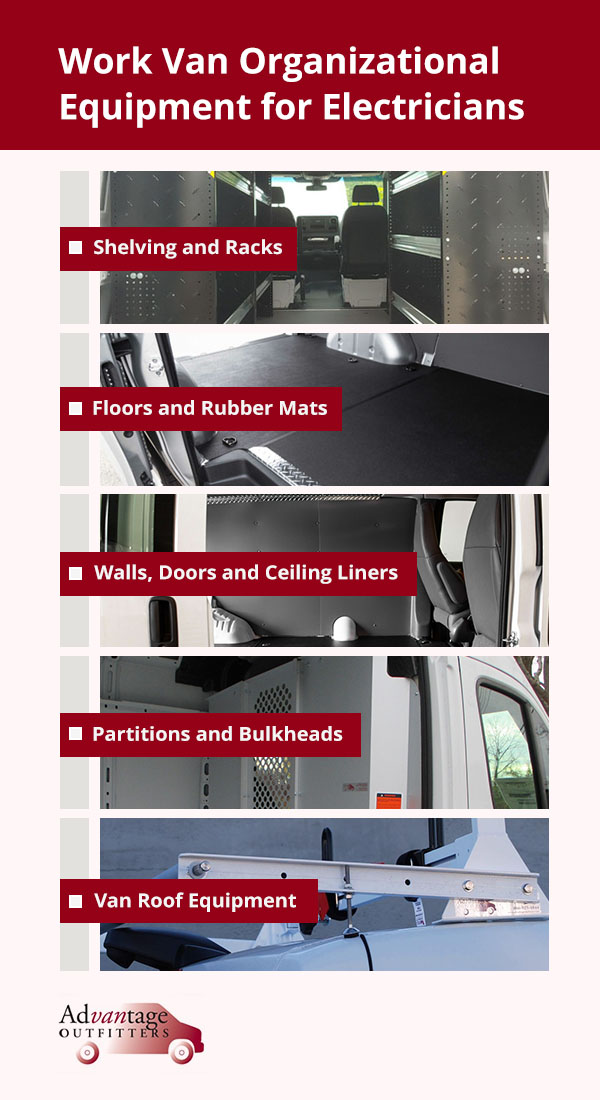 1. Shelving and Racks
One of the first organizational components that any electrician van setup requires is steel or aluminum van shelving and racks. These are essential for storing and organizing small to mid-sided tools, equipment and accessories. When laying out your van shelving, it is often ideal to fit shelves along the walls while leaving space in the center to move around and work in the van.
Depending on the size of the electrician van, you may choose to install center shelving, but ensure there is sufficient room to unpack tools and move around comfortably.
Advantage Outfitters has been outfitting vans for electricians and other tradespeople for many years. Regardless of the kind of van you use, we have the shelving or racking unit packages you need to create an organized workspace.
2. Floors and Rubber Mats
Sometimes, people don't consider the importance of having a good floor in a work van. But the right flooring or rubber mat makes it easier for you or your employees to move around more efficiently without fear of slipping or falling.
Van flooring offers improved traction and easy cleaning. Improved electrical van flooring also reduces damage to existing van floors caused by the moving and dropping of equipment and extensive foot traffic. Additionally, superior van flooring helps dampen any rattles and shifting of equipment by improving traction while the vehicle is in motion.
Advantage Outfitters carries a variety of van floor upfitting options for your van's load space.
3. Walls, Doors and Ceiling Liners
Adding durable liners to your electrical work van improves aesthetics, provides a protective barrier between your van and equipment, increases insulation and promotes noise reduction.
Even when you have all your equipment correctly stored, tools and other accessories can still make a lot of noise. Thankfully, you can install van interior liners to reduce that noise and help your van stay in good condition. That means the van will be easier to resell when you want to upgrade to a newer model.
4. Partitions and Bulkheads
An organized van means it's less likely that loose tools or accessories will come flying at your head if you have to make a sudden stop. However, even when a van is adequately organized, it still might be possible for some items to fall or roll and make their way forward in the electrician vans. The answer to this problem is partitioning.
If you own an electrician van, you should strongly consider installing reliable partitions and bulkheads in your van. The primary functionality of van partitions is driver and passenger safety in the event of rear load shifts due to sudden turning, braking or an accident.
Some bulkheads also offer a space to install utility hooks to hang gloves, fire extinguishers, electrical wiring and other items. Finally, bulkheads obscure the view into your van, meaning thieves cannot identify what is in the load space.
Advantage Outfitters can fit partitions to a single electrical work van, regardless of its make or model, or to a whole fleet if needed.
5. Van Roof Equipment
Once you have finalized the van interior, it is time to consider another area with excellent storage potential. Electrician van roofs are ideal for storing ladders, hitch steps and some heavy equipment. When you're designing your organizational map, it's an important place to include. We can help you find the right accessories for the top of your van, including ladder racks and work decks.
We also offer drop-down ladder rack shelving designed to make ladder storage more efficient and less cumbersome. Access ladders and rear roller bars make loading and unloading from the van roof a breeze. Conduit carriers provide convenient space for storing items of an awkward length while allowing easy access.
Essential Organization Accessories for Your Electrician Vans
With your base storage and upfitting complete, the following components to consider are electrician work van setup accessories that further assist storage, convenience, safety and productivity. Some of the electrical work van accessories to consider include:
Paper holders: Going from one job site to another, electricians need a central and convenient place that is easy to reach to store documents. This is also an excellent place to keep all van inventory logs, fuel slips and service and cleaning information.
Storage bins and drawers: Apart from more oversized inventory items, electricians also handle numerous small and delicate components that can easily break or get lost. Having designated drawers and bins for each type of object is highly useful.
Ladder racks: Maximizing your electrical work van's storage capabilities is essential to increasing productivity and organization. Installing ladder racks can help transport cumbersome items and clear space inside the cargo van.
Wire reel holders: Electricians deal with many wires and cabling — having designated places to hang them is essential. Wire reel holders keep electrical cords from tangling and offer a convenient way to view and cut cables as needed.
Hooks: You can install hooks on any available and convenient surface, such as van walls, partitions and shelving ends. These are great places to hang extension cords, tool belts, uniforms and more.
Van internal lighting: Electricians need to work when it's rainy, overcast and dead of night. If the back of your van is a dark, foreboding place, not only will it be challenging to find tools, but it can be dangerous. To help, you can place touch-activated lights in key locations that can be accessed easily.
How to Take Inventory of the Tools in Your Electrical Work Van
What are the tools or accessories you must have in the van? What tools are nice to have but mainly take up space and can be left in the main office until needed for a specific job? After you select your most crucial tools, you will have additional room for extras. By looking over your electrician van inventory regularly, you can make sure you have enough stock of items, notify relevant parties to order refills and replacements and assess the state of tools and equipment. Consider these steps when taking inventory of your tools:
Invest in an inventory management system, whether electronic tool inventory software, paper or a combination of both.
Create a means of capturing and identifying tools and equipment using barcodes, quick response (QR) codes or serial numbers.
Categorize your tools and equipment by type, function, brand and assigned electrician van.
Introduce a means to track repairs and reordering of tools and other equipment.
Ensure drivers and assistants keep a physical inventory log — which they can store in paper holders.
Track tools and equipment if they move between vans or your workshop and if items need repairs or replacement.
Conduct weekly inspections of the electrical work vans to assess organization and tool inventory updates.
Schedule thorough monthly and quarterly electrician van inventory inspections and take inventory.
Do inventory system diagnostics and research where you can make improvements.
How to Plan Your Electrician Work Van Setup
Planning your potential organizational map is a good idea before you commit to an electrician van shelving package. Your new van layout should benefit your organization enough to increase your productivity on the job. How will you use shelving and racking to their best advantage?
1. Outlining Your Organizational Map
You can get a notebook and outline your truck and its cargo space. Then, break that cargo space into zones. Where do you want to store your power drills? What about your ladders? Electricians always need a lot of wiring, so where's the best place to hang or store it? Consider using durable, clearly written labels for all drawers and shelves to ensure things stay organized within the van.
Putting forethought into your organizational map will make selecting a suitable shelving and racking system much more manageable when moving to the next step.
2. Planning for Multiple Work Vans
An organizational map will benefit you even more if you own multiple electrical work vans. You like to know where everything is in an organized model. Having a uniform organizational structure for your multiple work vehicles benefits you, your employees and your customers.
If a van breaks down and you need to swap it out for another one or if you and your employees use a different van daily, there's general clarity about where necessary items are.
3. Keeping Track of Your Tools and Equipment
An organizational model makes it easy to do inventories and restock the vans with new parts. In a clean, well-organized van, you will know when you are out of something or need to replace your equipment.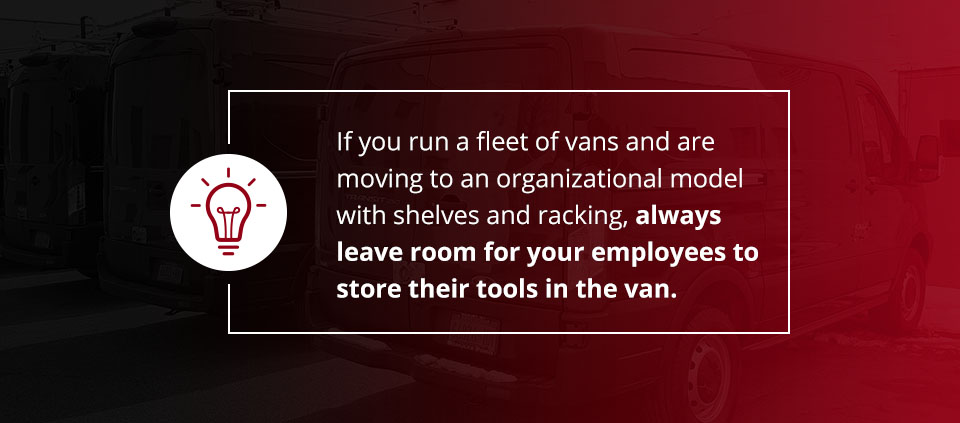 But here's a tip — if you run a fleet of vans and are moving to an organizational model with shelves and racking, always leave room for your employees to store their tools in the van. If you use tablets or laptops at job sites, consider an inconspicuous drawer where employees can keep them out of sight. Your employees will appreciate the allocated space, as it can help give them the feeling that the van is their personal "office." Plus, it will enhance the security of your equipment and tools.
4. Consider Personal Health
As an electrician, you might need to carry heavy equipment like a portable generator onto the occasional job site. You don't want to store these in some back corner of the van where they are exceedingly difficult to remove and load and potentially risk injury. Once again, please keep them in places near doors where they can be easily removed. You can also talk to us at Advantage Outfitters about equipping your van with a sliding unit that can be pulled out, giving you better access to heavy pieces.
5. Save on Gas Costs
Advantage Outfitters carries both aluminum and steel shelves and racks. If you want to save money on updating your van, you'll probably want to use steel. If better gas mileage is essential to your company, aluminum shelves and racking will help you achieve improved fuel efficiency.
So, what are the things you need to consider when you're creating a new organizational model?
How Creating an Electrician Van Setup Improves Your Work
True, it sounds like a lot of work. However, the extra time you will put into creating an organized and efficient van model will pay significant dividends. Here's how:
1. Easy Access to Tools and Accessories
Not only will you be able to complete jobs more quickly, but you'll be less frustrated. Shelving and racking from Advantage Outfitters can help you do a better job and it can help you feel better about the job as well.
2. Looking Good for Your Customers
Customers can think highly of your professionalism when they see that your van is well-organized, and they frequently will. If your van is tidy and everything is in its place, they will feel confident in your ability to do the job. That means they're more likely to recommend you to their friends, which is something every electrician desires.
3. Improved Productivity
When you arrive to do a job, you already need to be thinking about the next one. An organized van means you will spend less time searching for tools or going back and forth between the job site and your van to find what you need. Organization can save you many minutes or even hours during the day, which enables you to answer more calls.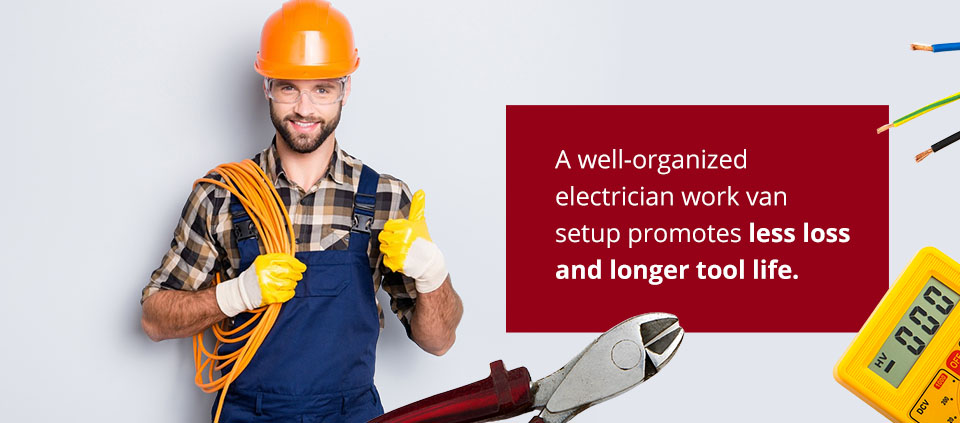 A well-organized electrician work van setup promotes less loss and longer tool life. When your tools are properly stored, they are less likely to be damaged and you will "lose" them less often. An essential tool or accessory can disappear in the back of a messy van. When your van is organized with shelves and racking from Advantage Outfitters, you'll know immediately if you left a tool on another job site or back at the office.
4. Having More Satisfied Customers
Every customer wants their electrical problems fixed as quickly as possible. However, they likely won't be impressed if you can't help them because of a lack of organization. Satisfied customers lead to more business through positive online reviews and referrals to friends and neighbors.
How to Organize Your Electrical Work Van System
After planning your electrician work van setup and installing all the necessary equipment, tools, gear and accessories, it is time to implement organizational methods to keep your van in order for the long term. It's a good idea to build your system from the ground up. Here are some tips for quickly reorganizing your van:
Move the Heavier Items Out of the Way
Before you fill up all available space with larger items, know where you intend to place small objects and how you will navigate the van's interior. Put heavier items, tools or accessories you use less often on the bottom shelves. This makes it easier to access them and promotes safety, as electricians do not need to remove heavy objects from shelf tops. Additionally, keeping large and heavy items lower down prevents them from damaging shelves or coming loose during transit.
Consider Frequently Used Equipment
As you build your organizational map, work your way up so that smaller and more frequently used tools and accessories are available on top shelves where they can be quickly reached when needed. Also, store frequently used items closer to the van doors and in better-lit areas.
Use a Label Machine to Help You Find Items Quickly
If you have drawers or other enclosed spaces, label what's inside. Even with shelves and racking, if you don't know what's in each drawer, you'll spend as much time looking for an item as you would in a disorganized van. In addition to labeling, incorporate a color-coding system to help with organizing and system efficiency.
Store Valuable Items in Locked Compartments
Shelf-locking doors, lockable drawers and secure cab organizer boxes provide spaces to keep valuable items and protect against left and unauthorized access.
Designate an Area for Trash and Recycling
Offcuts, broken parts and used packing need a place to go and to keep the work van tidy, you should install dedicated refuse bins for each kind of trash. This will keep the electrician van mess-free and make it easier to discard rubbish or recycle as needed.
Prepare an Organizational Map and Make Copies
When you're finished creating your organizational map, make copies you can place prominently in each van. That way, you or your employees only have to quickly glance at that map to know exactly where to look.
How Staying Organized Enhances Your Business Practices
When looking at this list of essential tools, it's easy to see why the items must be organized and stored efficiently. When you talk to Advantage Outfitters about our many electrician van shelving packages, you can see how it would make it much easier to find the right tool at the right time.
The advantages of updating electrical work van organization are that you can:
Minimize replacement costs: Very few electricians can afford to replace their essential tools regularly. When you use shelving and racking to store tools and accessories, they are better protected than when they are just lying around loose in the back of the van and will last much longer.
Prevent misplacing tools on a job: How often have you asked yourself where you put a particular tool? It's easy for things to disappear when dealing with a mess. You put a tool to the side and your attention is diverted for a second. When you go back to look for it, you can't find it.
Create an efficient layout: Even within the small confines of a van, you can create a proper organizational system that helps you operate more efficiently. Creating a system using shelving, racks and other essential organization tools helps keep your business organized.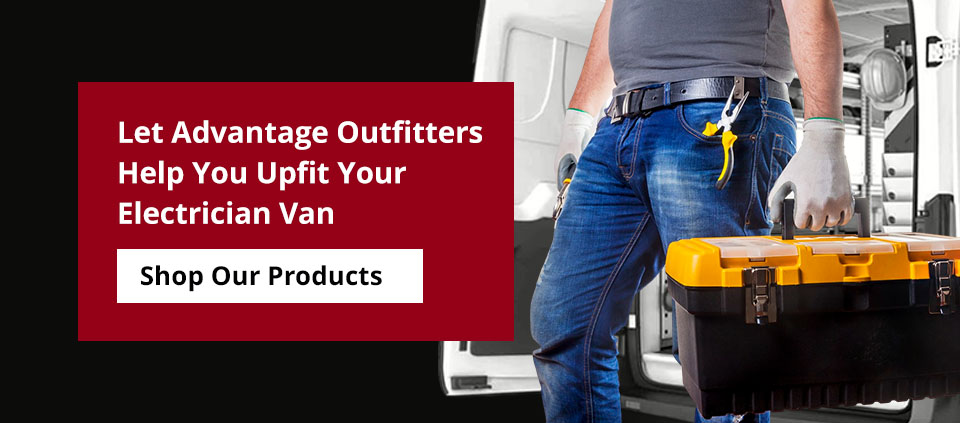 Let Advantage Outfitters Help You Upfit Your Electrician Van
A better-organized van means greater productivity, less lost time and more jobs per day — all features that will improve your company's bottom line. At Advantage Outfitters, our shelves, storage bins, partitions and other components are designed to improve the organization and efficiency of your electrician van. When you contact us about your electrician van storage and organizational issues, you can take advantage of our many years of designing similar systems for other electricians.
Each van and operation is different, so we will help you find the best electrician van accessories for your particular vehicle. Our goal is to help you create an organized work environment that contains the tools you need on every job. You can call our team of experts at 866-925-4844 and we will use our knowledge and expertise, developed over many years, to help you find a solution to upfit your electrician van.
We are at 255 West Street, South Hackensack, New Jersey and 107 E Hawthorne Avenue, Valley Stream, New York. If you're in the neighborhood, drop by and we will show you our comprehensive work van product line and talk to you about how they can help your business.