With the right work van accessories and setup, you can confidently access all the tools and supplies needed to make it through your day efficiently. You can store your tools in your van with helpful accessories to organize your portable workstation and avoid having to dash back to your shop or the nearest hardware store.
Upfitting your van with quality accessories can help prevent messes in the cargo area, reduce lost and displaced materials and mitigate extra money spent on repairs, costly downtime and rescheduled appointments. When you open the cargo doors of an upfitted van, you and your customers should see organized tools, materials and supplies — allowing you to present as a dedicated professional.
But where to begin — and which trade van accessories should you include in your vehicle upfit? Discover and learn about work van essential accessories and benefits for trade work, contracting and more.
15 Essential Commercial Van Accessories
Your service van is one of the most essential components to running a streamlined and productive business. However, even if it is one of the best cargo vans for business, it must be highly organized and fitted with the relevant cargo van accessories. Optimized with cool work van accessories, a service van promotes a smooth, efficient and safe working space. Furthermore, upfitting your vehicle improves its functionality and resale value.
Regardless of whether you use a large or small contractor van for your business, these are some trade van accessories you'll want to consider getting for your work vehicle.
1. Paper and Document Holders
Have you ever arrived at a job and could not find the necessary paperwork? Installing a paper and document holder in your work van can prevent this from happening again. Paper holders are available with multiple slots, making it easy to keep your paperwork organized and within easy reach.
Never lose track of vital paperwork and documents again — with an immovable central storage point that offers a hassle-free system. Use one compartment for your current and upcoming jobs that day and have another section to hold paperwork for completed jobs.
2. Bottle Holders and Restraints
You can install bottle holders and restraints to make your bottles easily accessible when needed and secure while driving. HVAC and refrigeration contractors use refrigerant tank racks to safely restrain their refrigerant bottles. Plumbers and other contractors benefit from using welding tank holders to keep bottles of dangerous gases such as acetylene and nitrogen secure and upright in an accident or rollover.
Bottle holders are available to accommodate different sizes and numbers of bottles, to allow you to secure them and prevent them from falling over, which are two of the safety tips outlined for compressed gas cylinder safety by the Compressed Gas Association.
3. Hooks and Wire Holders
In your trade van, you can mount convenient and durable utility hooks on shelf end panels, partitions or any other viable flat surface. Hooks are great for hanging various work items, such as electrical cords, tool belts, hoses and hard hats. They help keep your van organized, with often-used equipment off the ground and in easy reach.
Save essential space by storing equipment in a hanging position, making items accessible while saving shelving space and decluttering your service van. If you are an electrician, installing electrical wire reel holders prevents wires from tangling and provides easy viewing and access to ensure you grab the right reel every time.
4. Parts Cases
Cases can stow only one part or multiple parts. Being able to separate components into designated cases will make it easier for you to find what you need when you need it. It will also enable you to keep better track of the parts on hand and allow you to replenish your inventory more promptly when necessary.
Introducing convenient single to eight-piece parts cases to your work van will speed up the job process, as you can take entire cases to job sites.
5. Tool Bins and Drawers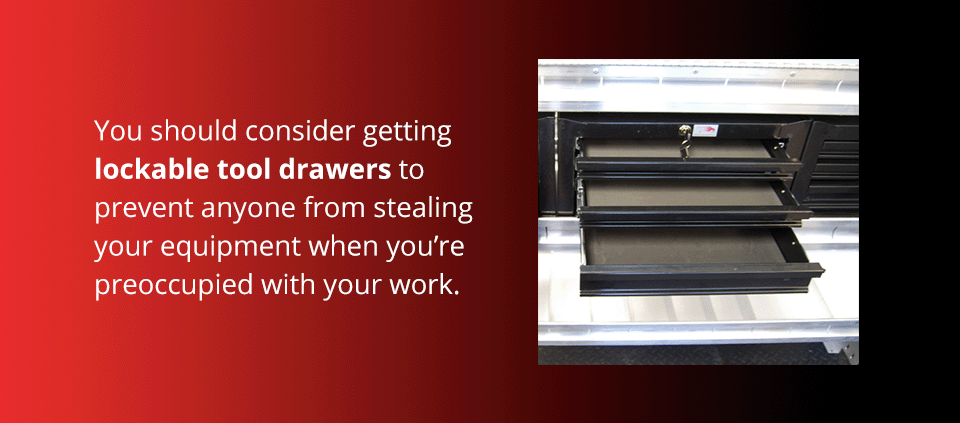 Tool bins and drawers are an effective way to keep your tools organized and accessible. Additionally, they can protect your tools and van from damage during transit. When you're on a job site, your attention should be on the task, not the gear in your van. That's why you should consider getting lockable tool drawers to prevent anyone from stealing your equipment when you're preoccupied with your work.
Several tool bins and drawer configurations can accommodate your tools no matter what type of contracting you do. You can also add bin drawer cabinets, saving storage space by keeping bins off shelves while still enjoying the practicality of removing them as needed.
6. Conduit Carrier Tube
If you regularly transport conduits such as copper pipe or other lengthy building materials, installing a conduit carrier tube can help you keep your materials intact and undamaged while traveling to job sites. By design, these organizational features specifically protect tube-shaped products or materials. These service van accessories are applicable across many industries, but some of the biggest buyers work in general construction, plumbing, HVAC and electric services.
7. Ladder Racks and Cargo Racks
What do you do when you have limited space in your cargo area? The same thing warehouse managers do when their facilities run out of floor space to store more products — use vertical storage space. Installing and using commercial van roof equipment, such as ladder racks and cargo racks, enables you to securely store equipment on top of your van. They also protect the top of your vehicle from scrapes and dents when you keep things on your roof.
Cargo racks enable you to store various equipment on your roof. They often have ladder stops and straps to make loading and unloading your gear much more effortless. A cargo rack gives you more space when the back of your van is full of your other supplies.
8. Roof Decks and Catwalks
Like ladder racks, a roof deck can protect the top of your vehicle from damage. Additionally, roof decks have multiple cross bars and side rails to prevent your items from falling off. You can use a roof deck to store equipment such as ladders. Often, the last crossbar is a roller, making it a breeze to slide the ladder down when needed. Roof decks have multiple points where you can secure hooks and ratchet sets, which can help you keep your cargo area uncluttered.
While ladder racks and roof decks can protect the top of your van from scrapes and dents caused by your equipment, they cannot prevent damage caused by walking on it. Since it allows you to navigate the space on top of your vehicle without making unnecessary contact with your equipment, a roof deck catwalk can protect your tools and roof from damage.
9. Drop-Down Ladder Racks
A drop-down ladder rack can improve your van's ergonomics because it requires less physical strain and effort when you want to retrieve or stow a ladder. Highly convenient drop-down ladder racks provide an easy means of lowering heavy ladders to a comfortable height for convenient and safe loading and unloading.
This investment can help you avoid storing a ladder or another heavy tool on your vehicle's roof, giving you more options. Also, these cool work van accessories are perfect for tradespeople who frequently use their ladders — saving them time, helping them avoid unnecessary strain that leads to injury and preserving their energy.
10. Work Van Access Ladders
Work van access ladders are for accessibility and maximum safety. The ideal rear door access ladder makes reaching the equipment you store on your roof much more manageable. An access ladder is one of the most innovative service van accessories to upfit your van. It enables you to seamlessly load and unload items from your roof storage while preventing injury to yourself and avoiding damaging your commercial van.
11. Rear Roller Bars
Like an access ladder, a rear roller bar simplifies loading and unloading equipment from your van roof storage. Once you have fitted your roof bars, installing a van rear roller bar will allow you to smoothly slide items on and off the roof racks.
Moreover, the roller bar helps prevent objects from slamming into the vehicle's rear, thus avoiding unnecessary damage to the van. It is a vital work van accessory for contractors and tradespeople who frequently store items on a roof rack.
12. Interior Van Lighting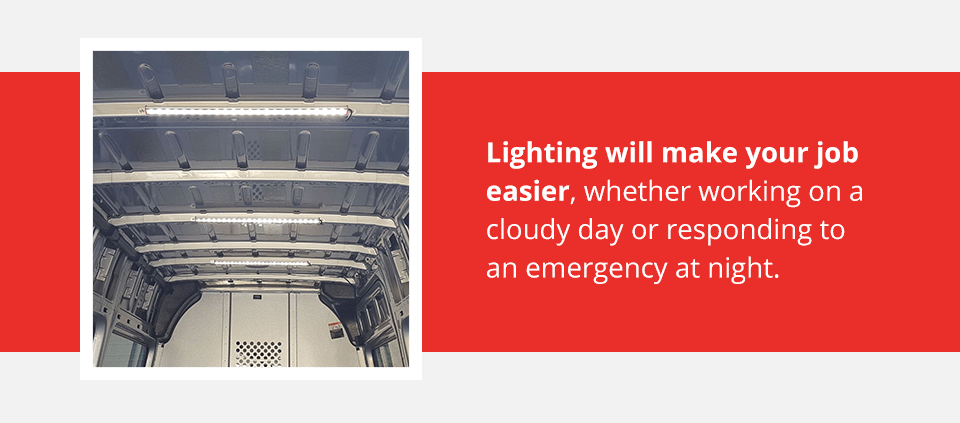 Work van interior lighting is a highly recommended work van accessory, as it can make it safer for you to move around in your van by enabling you to see your shelving, products and tools' locations. Additionally, interior lighting helps when unloading equipment, making it easier to repack items neatly instead of depositing them haphazardly.
If you upfit your van with interior LED lighting strips, ensure they sufficiently illuminate both sides of your vehicle's shelving and the center aisle. Lighting will make your job easier, whether working on a cloudy day or responding to an emergency at night.
13. Van Seat Covers
Those who drive personal vehicles can attest to how easily seats become dirtied and damaged — how much more applicable are van bucket seat covers for delivery drivers, tradespeople and service companies? Adding this simple work van accessory to your vehicles gives work crews the confidence to get in after a job without worrying about dirtying the seats.
Moreover, van seat covers make for easy and convenient washing and help prolong your van seats' life. Having machine-washable and dryer-safe seat covers also ensures your van is always presentable, and once they age, you can replace them instead of recovering the van seats.
14. Van Partitions
Van partitions are sometimes an overlooked cargo van accessory, though they offer several benefits and functions. The primary beneficial aspect of commercial van cab partitions is undoubtedly safety, as the bulkhead acts as a barrier between drivers in the cabin and any potential flying objects in the load space.
Despite careful packing and securing, mistakes happen and items can come loose. That is why a protective layer is essential to preventing injury. Another advantage of installing a van bulkhead is keeping your van contents out of sight to deter thieves from taking inventory of what you carry.
Depending on your specific needs, you can also upfit your cargo van with different types of partitions, including solid, windowed, doored and perforated.
15. Van Shelving and Shelf Dividers
Shelving is a great way to keep the things you haul organized in your cargo bay. Van shelving typically consists of either steel or aluminum. When shopping for commercial van shelving and accessories, you'll discover different options, including general service packages and configurations designed for people who work in specific industries.
For instance, if you're in the delivery business, you can get a shelving package with plenty of room and strength to support your heavier deliveries. Your package can also include shelves you can fold to clear the aisle in your cargo area as you work your way through your delivery route. Industry-specific shelving systems also exist for the following professions:
HVAC
Locksmith
Plumbing
Electrical
As you plan to upfit your cargo van with accessories, use tips for cargo van shelving to help you make the best decisions and get the most out of your shelving units. Including shelf dividers in your chosen work van accessories is an excellent choice as they assist with organization, prevent smaller objects from shifting and reduce load space noise levels.
Benefits of Having an Organized Cargo Van
As you continue looking for your favorite screwdriver and come across your once-contained, now-scattered drill bits, you quickly contemplate the potential benefits that some essential commercial van accessories can provide. These advantages come in terms of time-based and financial-based savings that provide a tangible return on your investment.
Increased Productivity and Revenue
You can find neatly organized items faster — enabling you to accomplish more in a set period. Since you can complete jobs more swiftly, you'll experience increased earning potential, which means it's just a matter of time before your cargo van accessories pay for themselves by enabling you to take on more jobs — and that'll be an excellent return on your investment in contractor van accessories.
Better Brand Image
An organized van and workspace demonstrate to your clients that you're a trustworthy professional ready to tackle a job, no matter how challenging. Work quality and customer service are paramount, but presentation and appearances leave a lasting impression. Therefore, capitalize on this benefit of introducing cargo van accessories to your vehicle and solidify your business as one that understands the importance of brand image and lasting impressions.
More Accurate Inventory
When you use work van essentials like storage bins and other accessories to keep your things in order, you can see your entire inventory of tools and supplies with a simple glance. You'll know if you have everything you need in the right quantities in seconds instead of spending extra time rummaging through your cargo area.
Improved Ergonomics
Some tool drawers for work vans and other accessories can improve your ergonomics. Using these items, you can retrieve the tools you use most often while putting less strain on your body. For instance, you can configure your accessories to store your heavier tools closest to your cargo doors instead of a foot away.
Having a drop-down ladder rack instead of a fixed rack can help you reduce the strain on your body. Other accessories, like custom shelving and hooks, make your items easier to reach. Getting the right equipment can make your daily routine much more straightforward.
Superior Protection
When you leave your tools and materials unsecured in your cargo area, it increases the likelihood of damage, especially if they're fragile. Your van is also at risk of damage when things aren't secure. For example, a small screw or nail can scratch your paint, while a heavy piece of equipment may dent the sides of your cargo area or even your cargo bay doors.
It's also easier for someone to steal loose work items in your cargo area. With lockable storage solutions, you can prevent theft and protect your supplies, tools and van from avoidable damage. Upfitted flooring can help protect your interior from damage and shelving sets organize your items, keeping them off the floor and easy to retrieve.
Improved Visibility
Upfitting your van with certain accessories can improve visibility and help create a more comfortable driving experience. For example, if you install commercial-grade lighting, you can optimize your cargo area, which will be particularly helpful when working at night.
Increased Safety
Adding work van accessories such as convex spot mirrors, a rearview camera, parking sensors and grab handles can help keep you safer on the road and while working. Many upfitting accessories can enhance your workers' safety or the security of your equipment, tools and products.
How Advantage Outfitters, LLC, Can Assist You
At Advantage Outfitters, our motto is "work vehicles that work better" — and that's what we do. We make work vehicles work better every day.
We are a full-service outfitter who can provide the commercial van accessories you need to do your job right. You can organize your equipment and materials in your work van and safely transport the necessary items. We have ladder racks, practical commercial van flooring, industry-customized shelving packages, tool drawers and boxes and many more products. We're your one-stop shop for upfitting your van.
With the proper storage configuration, you can reduce or eliminate return trips to the shop or job site. You can quickly take inventory of your truck's equipment and supplies to ensure you always have what you need. With our storage solutions, your clients and prospects will always see you as an organized, capable professional who takes your work and their needs seriously.
Our contractor van accessories will help save you time, increase your productivity and efficiency and ultimately boost your bottom line. The correct combination of cargo van accessories can keep you safer while you work and protect your tools and van from unnecessary damage.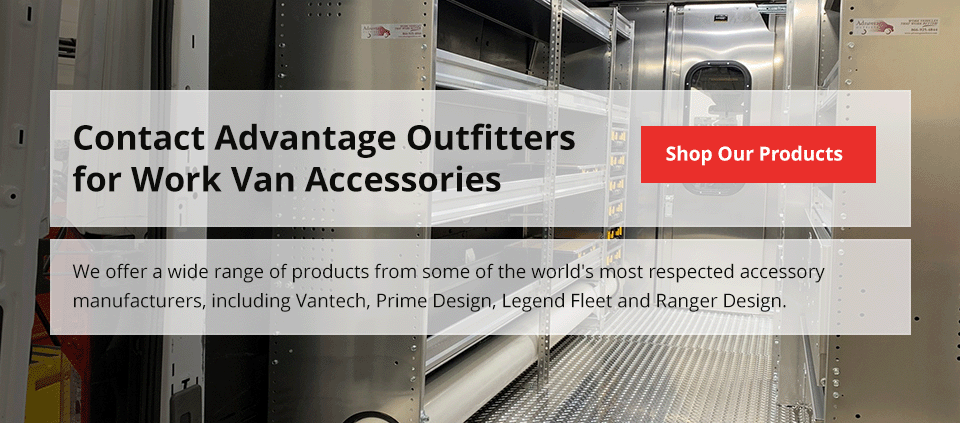 Contact Advantage Outfitters for Work Van Accessories
If you're ready to start enjoying all of the ways an investment in cargo van accessories can benefit you but aren't sure what work van accessories you need to see a meaningful return on your investment, contact Advantage Outfitters. We'll discuss your business and precise needs to help you determine which work van accessory components will yield the most significant, immediate and lasting ROI for you.
We offer a wide range of products from some of the world's most respected accessory manufacturers, including Vantech, Prime Design, Legend Fleet and Ranger Design. Our solutions are perfect for many popular work vans, such as Mercedes Sprinter vans, the Ram ProMaster vans, the Ford Transit vans and prominent GM vans such as the Chevrolet Express and GMC Savana. You'll always know the van accessories you get from us are top-shelf and the right ones for your work van.
To learn more about our extensive product line or to discuss your individual needs, contact Advantage Outfitters. We're eager to make your work vehicle work better for you. Give us a call at 866-925-4844 or contact us online today!