Anyone who relies on a work van understands the importance of safety and comfort that custom outfitting can provide. A work van can function as a toolbox, office and transportation from one job to another. If you spend a lot of time in your work van, it should be customized for your business. Ford Transit van partitions come in many different configurations for any line of work — plumbers, electricians and other tradespeople can benefit from fitting their vehicles with Transit van partitions.
This guide will explain the importance of partitions and help you find the best option for your utility van.
What Are Van Partitions?
A van partition, also known as a bulkhead or divider, is a solid barrier made to separate the people in the front of the van from the equipment and tools in the cargo space. The primary purpose of a van partition is to protect passengers from shifting supplies while the van is in motion, but they also promote comfort and organization.
Typically, van partitions go a few feet behind the vehicle's front seats, allowing enough room to recline and store a few items at easy reach. While some versions can be welded to the vehicle's interior, most can be bolted in place for a less permanent option. These partitions are configured with different materials and features to make your space functional and efficient.
Ford Transit Van Partition Types
The best van partition for your Ford Transit will vary depending on your intended use and individual needs.
Here are some of the most common van partition types:
5 Reasons to Install a Transit Van Partition
The benefit of working with a Ford Transit van is stashing all of your essential tools and equipment in the cargo space. However, you must secure the contents properly to withstand bumps and sharp turns when your utility van is on the move. A van partition allows you to fill your van safely and efficiently.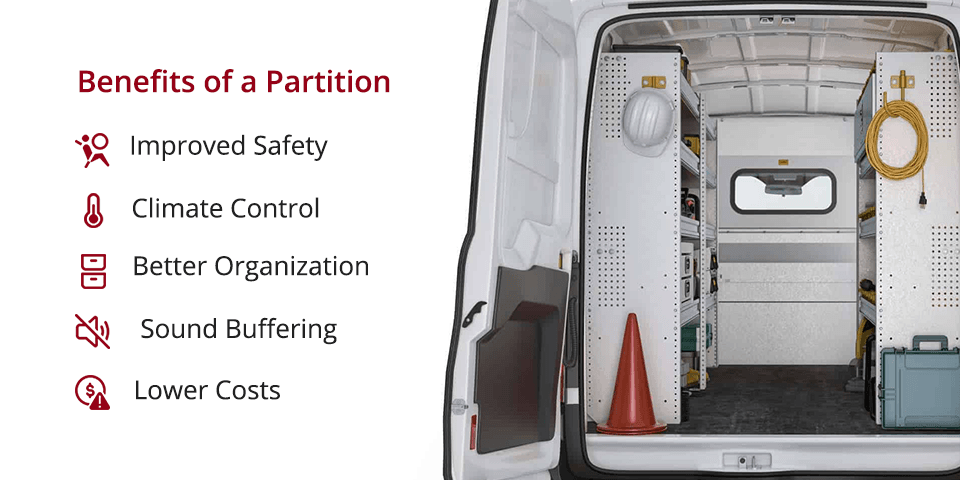 The following van partition benefits can make life easier no matter what you store in your Ford Transit:
1. Improved Safety
If you store your supplies loosely in the back of your van, they can roll and slide around freely. Both sharp tools and heavy equipment transform into dangerous projectiles during a sudden stop. If your van is hit from behind, your cargo will go hurtling towards the passengers in the front of the van.
A bulkhead creates a barrier so that heavy equipment is secured behind your seats. This barrier prevents injuries and allows the driver to focus on the road rather than dodging loose items.
2. Climate Control
If you often travel long distances in your van, staying cool in the summer and warm in the winter is essential. A Ford Transit has a larger interior, so your heating and cooling are often lost to the cargo area.
Why waste precious air conditioning on hammers and nails that don't mind the heat? A solid van partition insulates the cab area so you can enjoy a comfortable commute. As a result, climate control is more efficient in a confined space that's blocked off with a partition.
3. Better Organization
Using van partitions can help separate the space inside your work vehicle to improve your organization and boost your efficiency. Blocking off the front of the van allows you to place materials right behind the cab area without having to worry about it sliding up between the seats. Mount other van accessories and organizers on and around the partition to maximize your cargo space.
Maintaining an organized van will ensure you always know where to find your supplies so you can get back to work.
4. Sound Buffering
Even if your cargo space is organized and you secure loose parts, there's bound to be some rattling and other sounds when your van is in motion. These noises are disruptive and distracting, which reduces your ability to drive safely.
Fortunately, partitions seal off the front of the van and absorb noises from the rear, creating a much quieter cab area. As a result, you'll be able to hear yourself think and focus on the road for a much more pleasant driving experience. Specifically, composite partitions are ideal for maximum sound dampening.
5. Lower Costs
While partitions are an investment, they can save you money in the long run. These barriers are tough and durable to protect your employees and keep your equipment secure. When loose equipment is tossed around the interior of your work van, it can wear out faster or break completely. As a solution, partitions help keep your supplies in place so they last longer.
These barriers also protect you and your employees. Injuries are devastating, and costly medical bills can make the situation even more challenging. Installing a divider will protect your tools and crew so you can continue with business as usual.
Shop Transit Partitions and Accessories
A partition will improve your work van safety, comfort, organization and productivity. Browse a wide variety of partitions, dividers and bulkheads for Ford Transit vans at Advantage Outfitters, LLC. We offer a complete range of high-quality accessories to customize your work van fully.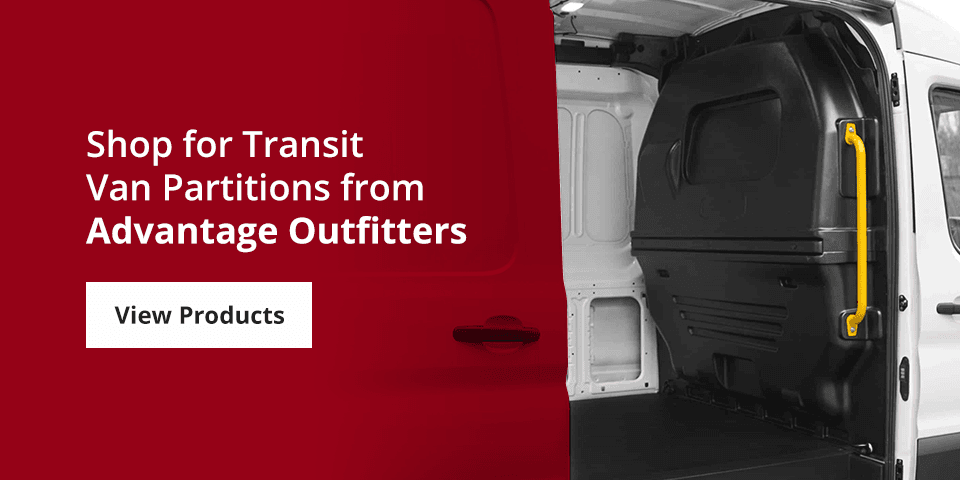 Our products are custom-fit for easy installation and made of durable materials that will last for years. Ordering is simple, and shipping is fast so you can enjoy the benefits of custom upfitting as soon as possible.
For help choosing the ideal partition for your Ford Transit, contact the experts at Advantage Outfitters today!
{ "@context": "https://schema.org", "@type": "FAQPage", "mainEntity": { "@type": "Question", "name": "What Are Van Partitions?", "acceptedAnswer": { "@type": "Answer", "text": "A van partition, also known as a bulkhead or divider, is a solid barrier made to separate the people in the front of the van from the equipment and tools in the cargo space." } } }