When you're on the job, your work van may as well be a member of your crew. As a vital part of your day-to-day operations, it can either make your life easier or, if it's not tended to, make your job that much harder. If tools are missing, rolling around, damaged from travel or in absolute disarray, precious time gets wasted looking for the tool you just had in your hand or that ever elusive 10mm socket. But there's more to an organized van than keeping things neat. How you organize your van can impact how your customers see you, the longevity of your tools and the amount of time spent on a job.
Organization isn't just for cleaning out home closets and deciding which things spark joy. We've compiled 12 tips for how to organize your work van that will maximize your efficiency and cut down on your work van frustrations. But before we get into that, let's take a closer look at why every worker should prioritize their van storage in the first place.

Why It's Important to Keep Your Work Van Organized
Keeping your tools and equipment organized isn't just a matter of principle. It's a matter of professionalism. When you choose the right storage system for your business, you project a brand image. First impressions are valuable, and a van that conveys efficiency and tidiness instills confidence and puts customers at ease. They'll know they're working with a good contractor when they look at your orderliness. It also will keep workers and employees happy, since they'll be able to find tools quickly and won't have to ask around or squabble when they can't find what they're looking for — that also means they'll bug you less about where things went.
Organization boosts efficiency, and efficiency means more work gets done. Easy access to equipment improves your workflow and ability to transition between tools. When you know where everything is, you don't have to root through boxes and bins. You can just pick out what you're looking for and get to work! Freeing up space in your van allows you to walk in and out without tripping over boxes too. With the right system, you'll maximize the space you have to work with and the amount of tools, supplies and equipment you can bring with you. More work getting done makes everyone happy — customers, bosses, managers and crew members alike!
Lastly, upfitting your van protects your investments. Tools aren't cheap, and properly caring for them can promote their good condition for years to come. When your equipment is kept on strong shelves and in lightweight bins designed to handle the rigors of the road, you can drive with confidence that your tools are safe and secured.
12 Steps to Designing an Organized and Efficient Work Van
We've covered the why. Let's look at the how. A work van is like a blank canvas, meaning it can be anything you want it to be. But clearing all your stuff out of a van and then wondering how it's all supposed to get back in there in an orderly fashion can be an intimidating prospect. Don't worry. These work van organizer ideas are the perfect place to start.

Utilize Your Surface Areas
When you look at the cargo space in your van, try to imagine the possibilities of all the surface areas you have to work with. Take a trick out of an interior designer's book and utilize that vertical space, even the ceiling! Build your storage from the bottom up, placing heavier, bulkier objects toward the floor and smaller, lighter objects higher up. You can even hang lightweight cords or straps on the ceiling to keep them close at hands but out from under your feet. Take advantage of every inch of open space, just so long as you can keep an open path to access each tool or bin you've organized.
Another place to take advantage of is door interiors! Hang work hats, tool belts or even stash cleaning supplies. You could even hang magnetic strips for easy access to frequently used screw drivers, wrenches and socket sets.
Install Adequate Lighting
Have you ever been in a dimly lit room when someone turns the light on? It's like a whole new world opens up. Sometimes, we think we have adequate lighting, but it may surprise you what an additional, appropriately placed bulb can to do illuminate a workspace, especially when you're working late hours or when the sun sets early in winter. Better lighting still matters during the day, and well-lit areas are safer spaces for you and your crewmen.
Separate the Driver Section From the Cargo Area
Use a van partition to keep the driver and the cargo area separate. This boundary helps establish two work areas with distinct purposes — one for storing equipment, supplies and materials and the other for forms, manuals, laptops and a few personal belongings. The driver's portion of the van will be tighter and therefore prone to more clutter, so a bit of extra organization in this space will make a big impact!
Consider Your Workflow
When you're organizing your tools and equipment in the cargo area, don't just haphazardly stack your items on shelves. Even if you make it tidy, you still may have room to increase your efficiency. Before you start stocking the cargo area at random, visualize how you use your van from day to day. Maybe you have a predetermined process for your service calls or just a personal preference of how you prefer to unload your supplies. A little bit of forethought and ingenuity can help direct the system you put into place. This can be extra important if you're planning a workbench.
Another important consideration, regardless of your profession, is to keep the doorway clutter-free and to establish a safe walkway through the van. Keeping a path clear in a tight space is both a safety precaution and a stress reducer.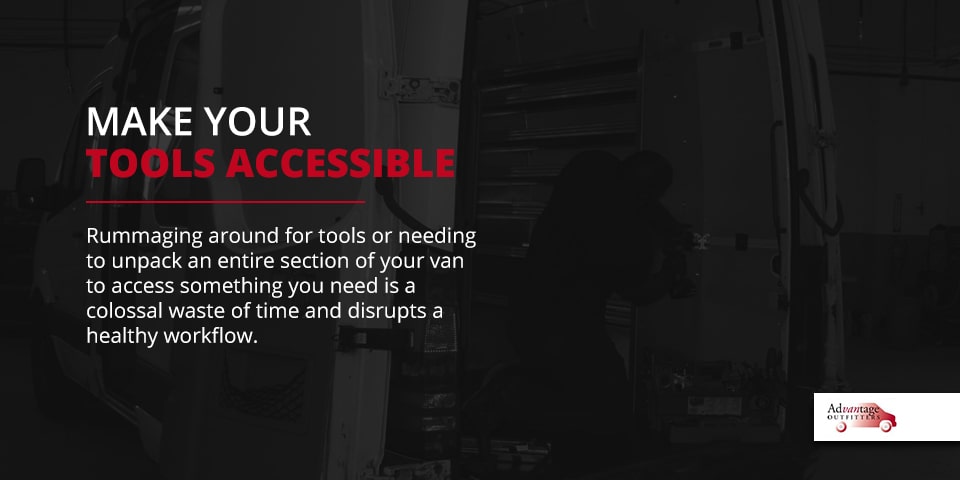 Make Your Tools Accessible
Rummaging around for tools or needing to unpack an entire section of your van to access something you need is a colossal waste of time and disrupts a healthy workflow. In the same way you imagine your workflow, imagine taking tools down off shelves, off hooks or out of bins. You could also consider grouping tools that are frequently needed together into kits that can be easily placed in a portable toolbox. Just be sure to ask yourself these questions as you organize your van: Is it quick and painless to get to or are key items blocked by complicated latches, straps or barriers? Make sure everything you need is accessible in a single, fluid motion.
Also, do yourself a favor and position bulky or heavy equipment near the doors of your van. That way, you won't have to drag, lift or pull it through tight spaces to get it out and ready to use. It also makes it easier when it's time to pack up for the day!
Prioritize Putting Things Back Where They Belong
A simple yet overlooked strategy for keeping your van organized is putting things back where they belong. In other words, give everything a home and then make sure it gets back there at the end of the day. This can be as easy as putting a tool back after you're finished using it, especially if you work in a step-by-step process, or after the day is done. Taking just a few extra minutes to return tools and equipment to their proper places can set you up for your next work day. Even if you're planning to return to a job site, you can't leave your tools lying around to be stolen or caught in the elements. By just taking a few extra minutes, you can cut through a whole lot of hassle and maintain the system you established.
Label, Label, Label
One way to help you and your crew put things back where they belong is to label everything. Everything. Cut down on misplaced items or an unintentional reorganization of your van. If a wrench can hang in multiple places, then rest assured it will rarely end up in the same place two days in a row. But with a labeling system, crew members will know where things are and where they go when they're done using them, which can be especially handy for training new workers. It also helps you to do a visual inventory to check if anything's missing and cut down on lost items in between job sites and headquarters.
Promote Cleanliness
Project sites and vans get messy, whether it's mud tracked across the floor or takeout bags strewn around the cargo area or driver's seat. Organization systems, well-placed trashcans and easy access to cleaning supplies can help keep things in order more often. Train yourself, and ask your crew, to throw out their trash in waste baskets and make it a habit to dump them at the company dumpster or at gas stations. A broom attached to the ceiling can be brought down for a swift sweep, and a stash of wipes and paper towels can be used to quickly wash down benches, tools or dirty hands. The more you maintain your system, the quicker these things can happen. Imagine just a few minutes a day or a few times a week spent running over surfaces, as opposed to those long sessions of pulling apart the van to get things back in shape!
Secure Your Equipment
Work vans are meant for travel, which can subject your equipment to jostling, bumps and shifting. Tools that aren't properly secured are easily damaged in these kinds of conditions, especially if they're left to roll on the floor or hang precariously from insecure hooks or shelves. It also could put you at risk if you step into the cargo portion of your van and something heavy topples down on your head. Securing your equipment with upfitting products promotes safety and keeps everything in its proper place.

Make Room for Multiples
Frequently used tools can break or get misplaced, so having multiple sets is a good practice, especially if you need multiples for your crew to work with. When you're developing your storage options, make sure you leave room on racks and in drawers for spares, replacements and extra parts. For instance, choose larger or longer hooks where you can hang several tools at once instead of just one.
Lock Down Expensive Equipment
Some tools are more expensive than others. A stolen screwdriver is not nearly as upsetting as a stolen impact wrench. Sometimes, it's easiest to leave the van door open as you unload or bring things to a job site, but that could leave it vulnerable to anyone that passes by. No one wants to lose tools or be on the hook with the company for items that are stolen. Locking down valuable assets and testing equipment can deter sticky fingers and give you peace of mind on the job site. Steel and aluminum lockable drawers can be a valuable addition, especially for commercial work vans!
Use a Van Storage System
Creating your own shelving units can be a hassle. A mish-mash of containers, shelving, hooks, straps and other makeshift solutions can turn into a disaster. At the very least, they convey disorderliness and disorganization. Plus, if you don't use sturdy or professional-grade materials, your equipment's bulk and weight can wreak havoc on the systems you set up. Investing in a van storage system can alleviate all these problems. With well-made upfitting products, you can customize your workflow, make the most of your space and tailor your van to your profession. Don't settle for "good enough." Use professional quality bins, shelves, hooks, floor mats and other accessories to outfit and organize your work van!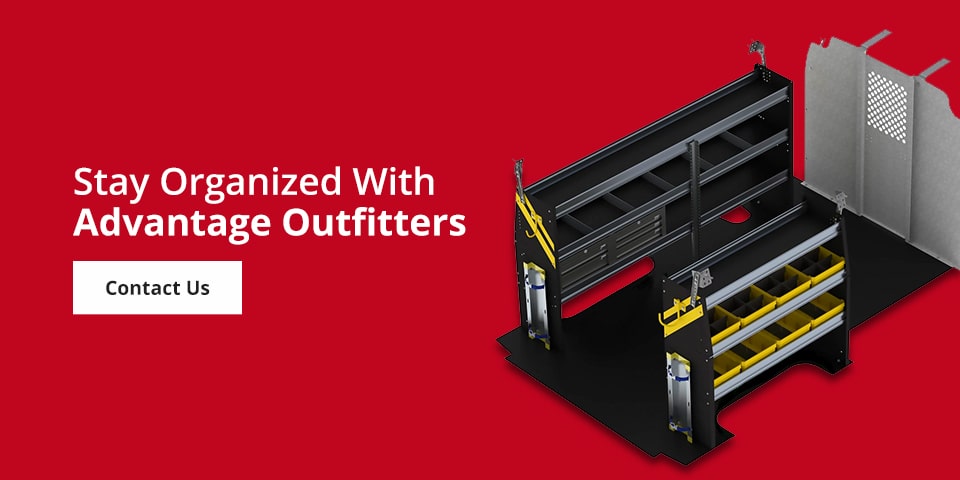 Stay Organized With Advantage Outfitters
Advantage Outfitters, LLC can help you outfit your van top to bottom. Choose from a diverse catalog of products that are lightweight, durable and custom-fit! Whether you're looking for shelving packages or wall, ceiling or door liner kits, we can upfit your van with the best equipment. When you order with us, you'll get fast shipping, an easy ordering process and any technical assistance you may need. We offer new specials every month and custom shelving packages, helping carpenters, construction workers, locksmiths, HVAC technicians, plumbers and electricians install the storage solutions they need to get the job done!
Invest in your work van organization! To learn more about our upfitting products, fill out our online form or give us a call at 866-925-4844.