In any field that involves onsite service and repair work, a van is essential. In addition to the function your van serves as a vehicle, the van is where you store all your equipment for the jobs for the day. As such, your van functions in much the same way as a tool shed.
As with a stationary tool shed, you should organize your van so nothing gets lost between your company's headquarters and the address of a commercial or residential client. After all, the purpose of the van is to accommodate a range of tools that wouldn't fit into a standard-sized car. Therefore, your work van is one of the key components of your business.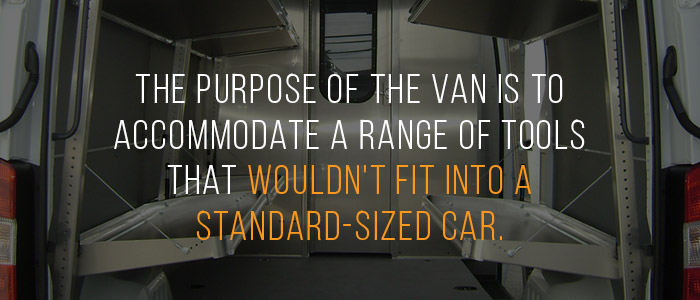 When you arrive to perform a service, it's crucial to have all the necessary tools at your immediate disposal. This way, you're able to finish the job in good time without complications. This, in turn, allows you to complete work sooner and make more money in less time, while leaving each customer satisfied and happy to spread the word about the service that you offer.
Van shelving ideas have been developed for service professionals in a range of industries. From carpenters and construction workers to locksmiths, plumbers and electricians, van storage systems make it possible to arrange work tools in an organized manner. This way, there are no complications with messy or disorganized toolboxes when you arrive on a job site.
In addition to the better organization and tidiness of van storage systems, the long, tall shelves contained with each storage package — which align to the driver- and passenger-side interior walls of vans — make it easier to walk through your van without tripping over tools or straining to reach over stacks of boxes or crates.
Organized Vans Make Business More Efficient
When things are well-organized, more work gets done. This is especially true in jobs that involve maintenance and repair work at different locations, where organization is key to a job well done. With the right kind of van storage system, practically every job you perform can be hassle-free.
In any job that involves onsite woodwork, for example, you're liable to need various types of tools and fasteners throughout the course of a given day. Most of these objects are small, and could easily be misplaced without an organized system of filing. With a van storage system, small fasteners such as nuts, bolts, screws and nails can be divided by types and size into separate containers across neatly organized shelves.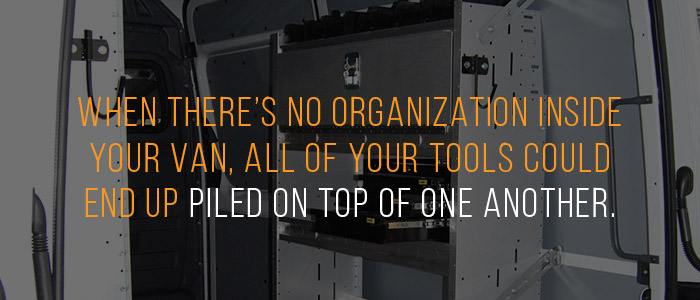 In maintenance work, you'll need various items to finish a particular task. When there's no organization inside your van, all these tools could end up piled on top of one another. One of the most important tools for a given job could easily wind up buried within such a pile, and this could lead to wasted time and strained arms in the effort to find the tool in question.
Fortunately, van storage solutions eliminate these problems. Instead of fumbling for tools and picking up loose fasteners along the floor of your van, you can access important gear the moment you need it. Rather than struggling to locate items under a large pile of entangled tools, each tool can have its own place along a van storage shelf.
The benefits that come with improved organization extend far beyond the conveniences van storage systems can offer you as an onsite service professional. With a neat and organized tool arsenal, you can make a better impression on the people you serve, which can boost your brand image as more clients give you their highest recommendation. This, in turn, could lead to more clients and a higher income potential.
Van Storage Systems for Plumbing Professionals
In the plumbing business, van storage systems should be arranged in a manner that makes each tool accessible with no complications. If you arrive at a home with a backed-up set of pipes, for example, you'll need to have the tools available for the basic work of unclogging. Should any additional complications arise, you'll also need access to the tools that handle such issues.
With van storage solutions such as the Promaster Plumbing Package, you can arrange all of your tools in an orderly manner for easy access at each location. No longer will you have to sort through cases in search of specially sized tools for those hard-to-fix plumbing issues, because everything can be neatly filed according to the size and scope of a given project. The Promaster Plumbing Package allows you to place tools into dedicated containers across rows of shelves, which can fit into plumbing trucks of various sizes.
Shelves for Work Vans in the HVAC Industry
HVAC contractors need work vans for maximum efficiency at each location. Whether you're called to a residence or business building, various tools should be handy at a moment's notice. After all, disorganization leads to wasted time as you try to find where you last left something.
At Advantage Outfitters, we sell shelving for vans and trucks that HVAC contractors use to service buildings of all types. With the proper van shelving system, you can arrive at every job with all your tools neatly organized and at your disposal. In the eyes of business and residential clients, this will make your operation look more professional, and in turn help further your good standing in the HVAC service industry while allowing you to finish more jobs and bring in more revenue in the same work day.
Van Shelving Ideas for Electricians
Few professions demand the same level of resourcefulness as that required of an electrician. Simply put, the world needs electricity at all hours of the day, and when a power line goes down, the problem must be rectified immediately. Therefore, it's imperative that electricians use van storage systems that keep all tools neat and tidy for quick access in every situation. At Advantage Outfitters, we sell van storage solutions that make it easier for electricians to get each job done with greater efficiency.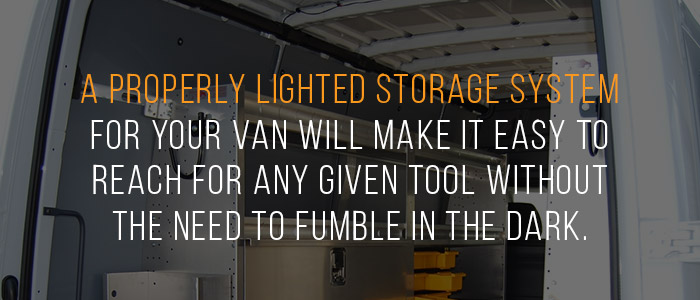 Unlike many other trades, electricians often get called out after dark to fix downed power lines and restore electricity to neighborhoods — and sometimes whole cities. In situations like these, a properly lighted storage system for your van will make it easy to reach for any given tool without the need to fumble in the dark. That way, problems can be fixed much faster, and everyone can be happy.
Van Storage Solutions for Locksmith Professionals
For professional locksmiths, it's crucial to have a cargo van shelving package that organizes all the essential tools and parts in their proper places. Otherwise, things could get misplaced while on the way to a given destination. For example, if you answer a call to a distressed resident in some hard-to-reach part of town — be it high on a hill or across long stretches of gravelly road — tools can easily get strewn or tossed about as your van rides over bumps and up steep inclines.
For obvious reasons, the tools of the locksmith trade need to be filed into small containers and organized across shelves for work van vehicles. That way, when you arrive at a house, apartment or commercial property to change out a lock and save the day for a client, all your essential tools will be at your disposal with no lost time.
The Importance of Van Shelving for Carpenters and Drywallers
In professions that require hands-on work at various locations throughout the course of a typical week, it's essential to have all the necessary tools neatly organized at each destination. If you work in carpentry, construction, painting or drywalling, for example, each different type of fastener should be in its own container and stored in a way that won't allow spilling or loss as you drive your work van from one location to another. The same applies to the tools of the trade, which can cause noise and damage in a moving vehicle if not properly contained.
The Key Benefits of Van Shelving
Shelves for work van vehicles have been designed to take the burden out of tool organization for carpenters, electricians, plumbers and a vast range of other professions in which vans are necessary. With van storage systems, workers reap the following benefits:
Better organization. With van storage systems, each tool is easy to find the moment it's needed. Instead of fumbling through boxes or cases in search of the right wrench, screw or box of fasteners, you can simply go to the shelves where tools can be organized by size and category. This keeps your tools lasting longer and minimizes replacement costs as tools will be less likely to become lost or damaged.
Improved image. When clients see a neat, tidy work van, they know that they're dealing with a good contractor. Van storage solutions can boost your brand image in the eyes of your client base and lead to good word of mouth. The improved timeliness will only further contribute to happier clients who tell more people about your business.
Boosted productivity. When it's easy to reach for the necessary tool at a moment's notice, you save time that would otherwise be consumed fumbling around through boxes, crates or even under the seats of your van. This saves time, allowing you to complete jobs faster – bringing in more revenue – and satisfying more customers.
More space. A cargo van shelving package can free up van space. Without shelves, many contractors end up with boxes scattered across the van floor. Shelves, on the other hand, can be placed along the inside walls of a van, which frees up walking space in between.
Cargo Van Shelving Packages for Each Industry
For large vans, the Sprinter Base Package is one of the most ideal van shelving solutions on the market. With aluminum shelves and galvanized steel end panels, the Sprinter Base Package consists of two 58"H shelving units, each with four shelves, complete with rattle-free dividers.
Van shelving ideas have also been devised for more compact needs. One of the best options in this regard is the 8-Piece Parts Case — a case with eight removable bins. With its 14"D x 18"W x 43"H measurements, the 8-Piece Parts Case is ideal for those with a large assortment of small tools and fasteners.
At Advantage Outfitters, we sell general service packages, as well as specialized packages that are designed for vans in specific industries, such as HVAC repair and locksmith servicing. Examples include the following package types:
Sprinter HVAC Package — available in steel and aluminum for the busy HVAC contractor with bundles of tools to sort and file.
Sprinter Locksmith Package — designed for the tidy organization of fasteners and tools used by locksmiths on business and residential calls.
These packages are also available for van models including Metris, ProMaster, ProMaster City, Transit, Transit Connect, and Savana/Express GM vans. Whether you carry a heavy or regular load, the packages in our inventory can provide you with the shelving solutions necessary for a better-organized and more efficient business.
Van Storage Solutions from Advantage Outfitters
A work van is one of the most important investments you can make in your business. As the vehicle that transports every piece of work equipment between job sites, the van makes it possible to conduct business and perform services in plumbing, carpentry and various other industries.
Each time you show up to meet a new client, you should be ready to wow them with your work. First impressions begin with a well-organized van, because a van storage system puts all the necessary tools at your fingertips. With a properly organized work van, time can be maximized to everyone's satisfaction.
At Advantage Outfitters, we offer shelves for work vans in a variety of styles that include industry-specific as well as general service options. Whether you offer a specific service or serve as a jack of all trades, our van storage solutions can enhance the quality and efficiency of your business.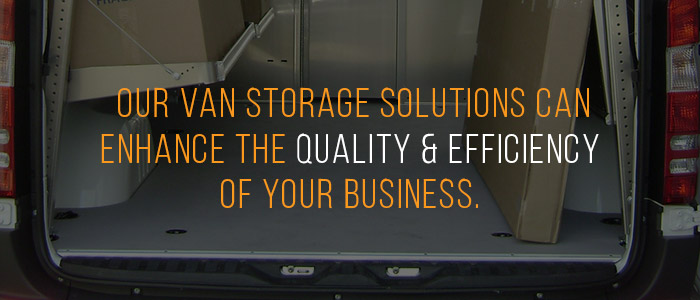 The van storage systems in our catalog can make it easier to organize and access tools and fasteners as needed, with none of the time-consuming hassles that often accompany a hastily organized work van.
As the fields of plumbing, carpentry and various other professions that involve onsite work become increasingly competitive, it's crucial to have all the aspects of your business together. When you think of your van as your moving workshop, a cargo van shelving package is the natural next step.
At Advantage Outfitters, we've assisted professionals on the best, most efficient van shelving ideas for a variety of services. To learn more about our shelving packages and hear about our current specials, contact the experts here at Advantage Outfitters today!