You have been driving around in your van all day, going from job to job. The work has gone well, but truth be told, you're ready to tear your hair out. Why? Because your van is so noisy from all your tools rumbling around in the back that you've had a headache all day.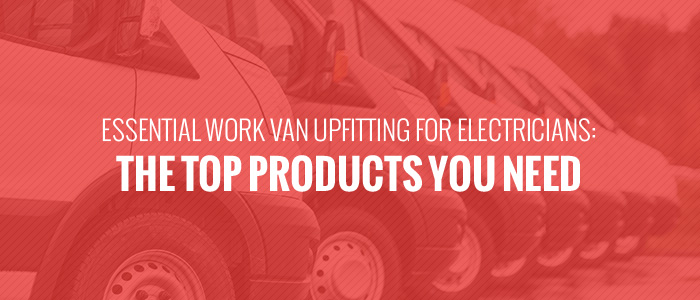 It might also be hard to find the important tools and parts you need to finish a job. When you don't know where everything is, you spend far too much time looking for the right tool or going back and forth to your van because you're only able to find one thing you need at a time.
Electricians put in long hours and long days. You don't need the irritation of not being able to find a tool quickly. Worse, not being organized means you don't get to do as many jobs in a day as you or your boss would like. In the end, you're just costing yourself, or your employer, money.
Keeping an Electrician's Van Organized
Organizing your van so that your tools are readily available and stored properly results in at least three positive outcomes:
You spend less time on each job looking for the right tool, which can mean more income since you'll be faster on each job.
When you properly store your tools and accessories, they last longer, which saves you money in the long run.
You'll likely have fewer headaches and annoying driving experiences because your van is not so noisy.
An electrician's van is their office. It is important to think of it that way. You don't have an office job where you sit behind a desk every day. Your van is your place of business. Like an office, your electrician van equipment should be well organized with everything you need to do your job within easy reach.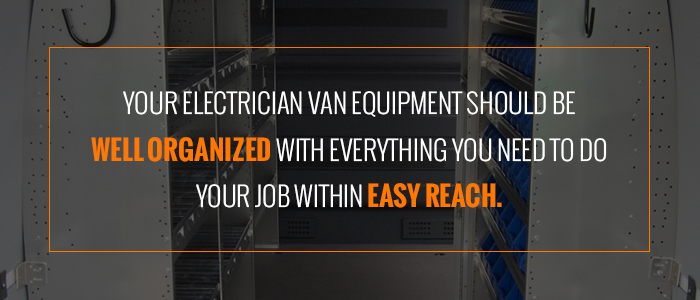 Here's another way to look at it. Let's say you were about to give a big proposal to a new client. You've invited them to your office to give them the pitch — but they have been sitting in the conference room, nursing yet another cup of coffee because you're still back in your office trying to locate the materials you spent all week working on.
That client is only going to wait so long and is certainly not going to recommend you to any of their friends.
Think about the clients whose homes or businesses you work in each day as being like that person sitting in the conference room. You really don't want to keep them waiting too long. Your van needs to be organized so that, like the office worker in the above example, you don't spend all day looking for what you need to fix your client's problem.
It's time to think about up fitting your van so that you can organize your tools, your accessories and your records efficiently. Whether you own your own van and run your own business, or you employ several people and run several trucks at a time, Advantage Outfitters can help you find solutions to attain that new level of organization that increases profits.
Essential Work Van Equipment for Electricians
Let's take a look at the tools that every electrician needs to have in their van.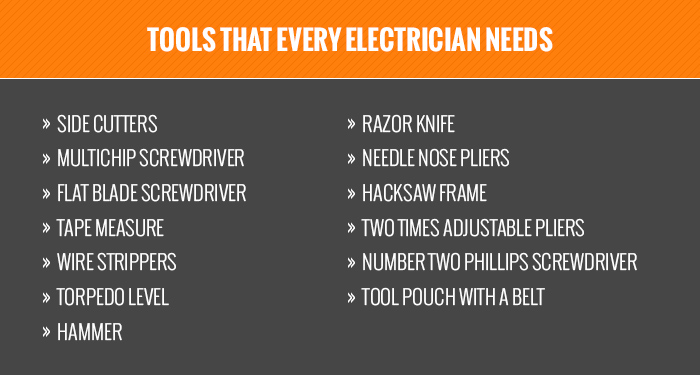 Many electricians are members of the International Brotherhood of Electrical Workers (IBEW). If you've started an apprenticeship as an electrician, here's a list of what the union recommends for apprentices, although the list works just as well for non-union members:
Side cutters
Multichip screwdriver
Flat blade screwdriver
Tape measure
Wire strippers
Torpedo level
Hammer
Razor knife
Needle nose pliers
Hacksaw frame
Two times adjustable pliers
Number two Phillips screwdriver
Tool pouch with a belt
Other recommended tools for all electricians include:
Fishing tools
Power drills and drivers
Labeling machines
Drills
Power saws
Paper towels
Gloves
Extension cords
An electrician may also need other tools and accessories during the course of a job, but the above list provides a good starting point.
When looking at this list of essential tools, it's easy to see why they need to be well organized and stored in efficient ways. When you talk to Advantage Outfitters about the many different electrician van shelving packages we offer, you can see how it would make it much easier to find just the right tool at just the right time.
Also, these tools cost money. Very few, if any, electricians can afford to just replace their important tools regularly. When you use shelving and racking to store tools and accessories, they are better protected than when they are just lying around loose in the back of the van and will last much longer as a result.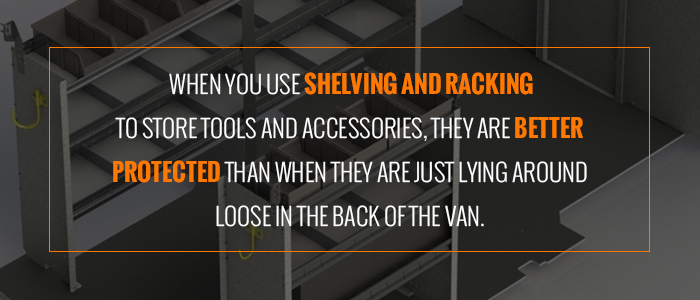 This organization also gives you another advantage. How many times have you asked yourself where you put a particular tool? It's easy for things to disappear when you're dealing with a mess. You put a tool to the side, and your attention is diverted for a second. When you go back to look for it, you can't find it.
That's why you want to create a system, using shelving and racks and other essential organization tools, that will help you make your electrician's van the very model of an efficient layout.
Make a Plan
Before you buy any electrician van shelving package, it's a good idea to sit down and think about the organizational map you want to create. The idea is to create a van layout that increases your productivity. How will you use shelving and racking to their best advantage? How do you keep your electrician van organized so the things you need on a regular basis are readily available and not hard to find.
Get a piece of paper and draw an outline of your truck and its cargo space. Now break that cargo space into zones. Where do you want to store your power drills? What about your ladders? Electricians always need a lot of wiring, so where's the best place to hang or store it? By putting a little forethought into your organizational map, it will make it that much easier to select just the right shelving and racking system when you move to the next step.
An organizational map is particularly important if you own more than one work van. Electricians are creatures of habit, and they like to know where everything is in an organized model. Having a uniform organizational structure no matter how many vehicles you operate is beneficial for you and your employees. If a van breaks down and you need to swap it out for another one or if you or your employees use a different van each day, there's no confusion as to where necessary items are.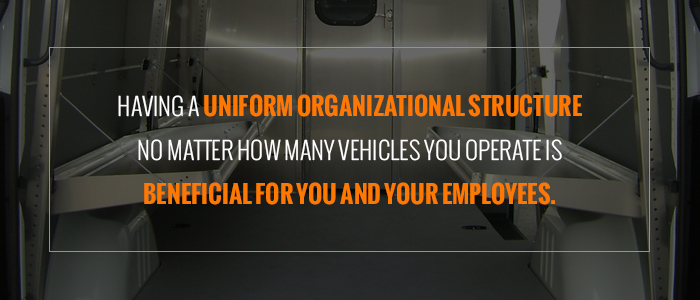 This common organizational model also makes it easy to do inventories and restock the vans with parts. In a cluttered, messy van, you have no idea when you may be out of something because you are unsure of how many you have of them in the first place.
But here's a tip. If you run a fleet of vans and are moving to an organizational model with shelves and racking, always leave room for your employee's own tools in the van. Not only will they appreciate the allocation of space, but it can help give them the feeling that the van is their personal "office."
So what are the things you need to consider when you're creating a new organizational model?
Take inventory. What are the tools or accessories you really need to have the van? What tools are nice to have, but in reality, just take up space and can probably be left in the main office until needed for a specific job? After you select the crucial tools, you can see how much space you have left over for extras.
Note the tools needed for every job. There are a number of tools, regardless of what job you're doing, that will be required again and again. Store these tools near the doors so that they are easy to reach and can found quickly.
Make sure you have some lighting. Not every day will have bright sunshine. Electricians need to work when it's rainy, overcast and in the dead of night. If the back of your van is a dark, foreboding place, not only will it be difficult to find tools, but it can be dangerous. To help, you can place touch-activated lights in key locations that can be accessed easily.
Consider your personal health. Electricians sometimes need to carry portable generators or other heavy equipment. You don't want to store these in some back corner of the van where they are exceedingly difficult to remove and load. Once again, store them in places near doors where they can be easily removed. You can also talk to us at Advantage Outfitters about equipping your van with a sliding unit that can be pulled out, giving you better access to heavy pieces.
Save gas. Advantage Outfitters carries both aluminum and steel shelves and racks. If you want to save money on the overall cost of updating your van, you'll probably want to use steel. If better gas mileage is important to your company, aluminum shelves and racking will help you achieve improved fuel efficiency.
It's a good idea to build your system from the ground up. Put heavier items or tools or accessories you use less often on bottom shelves. As you build your organizational map, work your way up so that smaller and more frequently used tools and accessories are available on top shelves where they can be quickly reached when needed.
You might also want to consider using a label machine to help you find items quickly. If you have drawers or other enclosed spaces, label what's inside. Even with shelves and racking, if you don't know what's in each drawer, you'll spend just as much time looking for an item as you would in a disorganized van.
When you're finished creating your organizational map, make copies you can place prominently in each van. That way, you or your employees only have to give that map a quick glance to know exactly where to look.
True, it sounds like a lot of work. However, the extra time that you will put into creating an organized and efficient van model will pay big dividends. Here's how:
No more rummaging around for tools or accessories. Not only will you be able to complete jobs more quickly, but you'll be less frustrated. Shelving and racking from Advantage Outfitters can help to do a better job, and it can help you feel better about the job as well.
Looking good for your customers. Think about how you feel when you walk into a neighbor' s house. If it's neat and tidy, you see them as highly organized and efficient people. If there's a mess everywhere, you may feel uncomfortable and less likely to return for a visit. Customers can think the same thing when they see your van, and they frequently will. If your van is organized, and everything is in its place, they will have a higher opinion of you and your ability to do the job. That means they're more likely to recommend you to their friends, which is something every electrician desires.
Improving productivity. When you arrive to do a job, you need to already be thinking about the next one. An organized van means you will spend less time searching for tools or going back and forth between the job site and your van to find what you need. Organization can save you many minutes or even hours during the day, which enables you to answer more calls.
Having less loss and longer tool life. When your tools are properly stored, they are less likely to be damaged, and you will "lose" them less often. An important tool or accessory can disappear in the back of a messy van. When your van is organized with shelves and racking from Advantage Outfitters, you'll know right away if you left a tool on another job site or back at the office.
Having more satisfied customers. Every customer wants their electrical problems fixed as quickly as possible. However, they likely won't be impressed if you can't help them because of a lack of organization. Satisfied customers lead to more business from them and positive referrals to their friends and neighbors.

Best Work Van Organizational Equipment for Electricians
Your organizational map is all created. You developed a system where you or your employees will easily be able to find the tools and the accessories needed to do a good job quickly and efficiently. So let's take a moment to look at the components that can make that organizational map a reality:

Let Advantage Outfitters Help You Find Equipment for Your Electrician's Van
A better-organized van means greater productivity, less lost time and more jobs per day — all features that will improve your company's bottom line.
At Advantage Outfitters, our shelves, storage bins, partitions and other components are designed to improve the organization and efficiency of your electrician van. When you contact us about your storage and organizational issues, you can take advantage of our many years of designing similar systems for other electricians.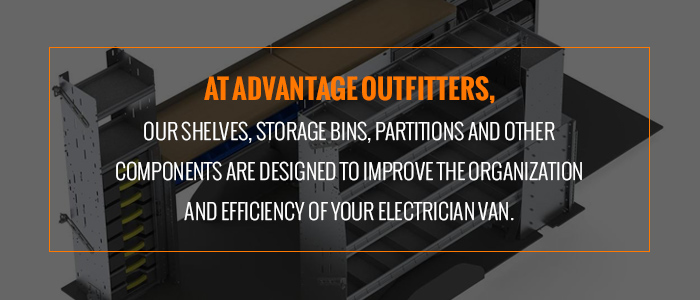 Over the years, we've learned what works and what doesn't work for electricians and other tradespeople. Each van and each operation is different, though, so we will help you find the best electrician van accessories for your particular vehicle. Our goal is to help you create an organized work environment that contains the tools you need on every job.
You can call our team of experts at 866-925-4844, and they will use their knowledge and expertise, developed over many years, to help you find a solution to upfit your electrician van. You can also visit our website where you will be able to live chat with one of our staff or submit a form describing your needs. One of our team will get back to you as quickly as possible.
We are located at 255 West St., South Hackensack, New Jersey and at 107 E. Hawthorne Ave., Valley Stream, New York. If you're in the neighborhood, drop by, and we will show you our products and talk to you about how they can help your business.