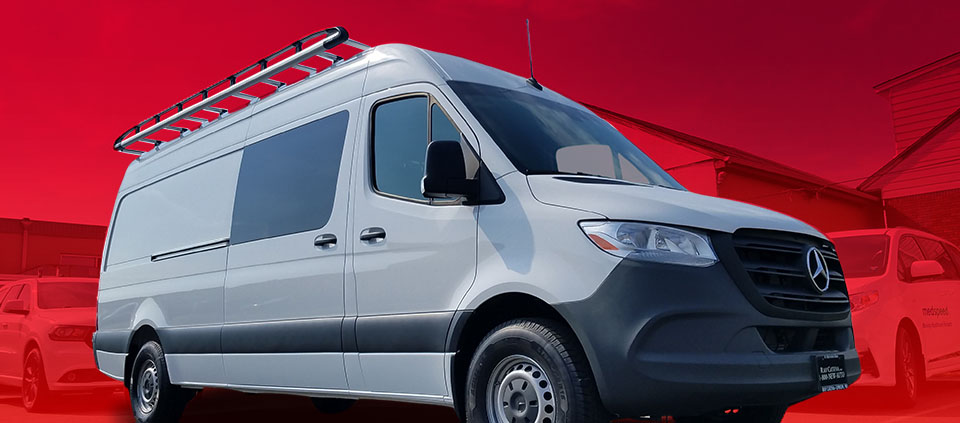 Cargo vans have plenty of space to transport bulky and long equipment. A ladder rack can help you optimize that space by securing your ladder on the roof of your van. Ladder racks also secure your ladders, increasing the safety of you and nearby vehicles.
Choosing a ladder rack that fits your needs and meets all your requirements is key to getting the most out of this equipment. Use our guide on how to choose the right ladder rack for your cargo van to help you make an informed choice.
What to Consider When Choosing a Cargo Van Ladder Rack
The ladder rack you choose must meet your transportation, equipment and safety requirements. Consider your current needs and how you'll use it now. You should also consider the future of your business. When your business expands, you need a ladder rack that will grow with your company.
Here are a few more points to consider before investing in a ladder rack:
1. What You'll Transport
Assess the size, weight and number of ladders you'll transport. When transporting more than one ladder, choose a ladder rack that can adjust to hold all your equipment without any safety concerns.
Also, consider what you'll transport with your ladder rack aside from your ladders. These items might include heavy equipment and cargo you can't place in the back of your cargo van. Your ladder rack will help you increase the space in your van if you need to transport many goods simultaneously.
2. How Much Weight the Ladder Rack Needs to Hold
The ladder rack you choose must hold your ladder's weight and equipment. You can check the specifications of each ladder rack you look at to ensure that it can withstand the weight of your ladders and goods. Anything more than the required weight can become a safety concern for you and motorists around you.
You should also determine your cargo van's payload capacity. If the ladder rack, your ladder and equipment are too heavy, it can strain your vehicle. Too much weight is also a safety concern, as it can impact steering and speed.
When transporting lighter equipment, you can choose a lightweight ladder rack. For heavier loads, a sturdier ladder rack is a better option.
3. How Often You'll Use the Ladder Rack
When using a ladder rack daily, you must consider the environmental exposure it may face. Your ladder rack must be weather-resistant to withstand heat, snow, rain and any other elements you may encounter. Galvanized steel and powder-coated ladder racks offer increased durability for daily use, so you can rely on them to last a long time.
4. When You'll Use the Ladder Rack
Think about the various situations that can affect the usage of your ladder rack. If you use your ladder rack daily, it must withstand consistent wear and meet all your requirements. In comparison, you may need your ladder rack only in specific situations, such as transporting an especially heavy, large ladder. Additionally, you'll want to note your potential future needs. If you change equipment or take on different jobs, you'll want your ladder rack to meet those requirements.
5. Ease of Use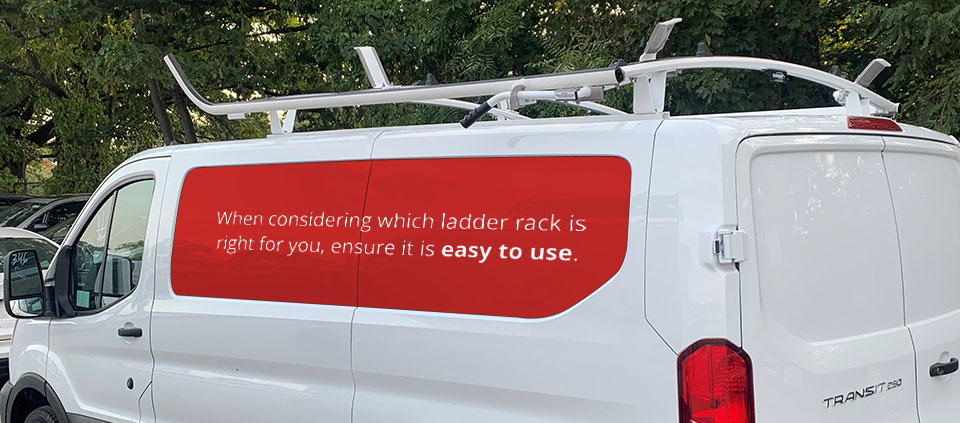 When considering which ladder rack is right for you, ensure it is easy to use. Your ladder rack must make your operations efficient and easy. Various cargo van ladder racks offer different benefits and features catering to your needs. The best ladder racks for cargo vans have these features:
Involve simple installation with minimal adjustments that can affect functionality.
Make it easy to load and unload your ladder and goods.
Increase productivity by saving time and energy.
Reduce strain on your team members to load and unload your ladders.
Materials Used to Make Ladder Racks
Your cargo van ladder rack allows for optimal van top storage. However, exposure to harsh elements can cause wear. You must choose a ladder rack with high-quality materials that will help you get the job done while also increasing the safety of yourself and those around you.
Two of the best materials to use for ladder racks are aluminum and steel. Each material offers many advantages, making them a great choice:
Aluminum: Ladder racks created with aluminum experience minimal rust and corrosion. These racks are lightweight, long-lasting and easy to install.
Steel: Steel is a sturdy material that offers great resistance to heavy ladders and equipment. Steel ladder racks are often powder coated, which limits corrosion.
Universal vs. Model-Specific Ladder Racks
With the many options available, consider choosing between universal and model-specific ladder racks. Your van type could help you determine the best one to purchase. Here are the differences between the two options:
Universal ladder racks: These ladder racks fit many models of cargo vans. They are a good option if you replace or upgrade your cargo van every few years but would like to keep your ladder rack. These ladder racks come with standard sizes and features that will help you adjust the ladder rack to your van.
Model-specific ladder racks: These ladder racks are tailor-made for your cargo van. This type of ladder rack will have a better fit since it is made specifically for your van type and requirements. Model-specific ladder racks require minimal adjustments to install.
Additional Accessories to Coordinate With Ladder Racks
Ladder racks offer a range of features that will help you secure your ladder and make it easy to use. Additional ladder rack accessories also add to your rack's usability and safety. Below are a few ladder rack accessories you can invest in:
Roof rails
Tie downs
Cargo rack roller bar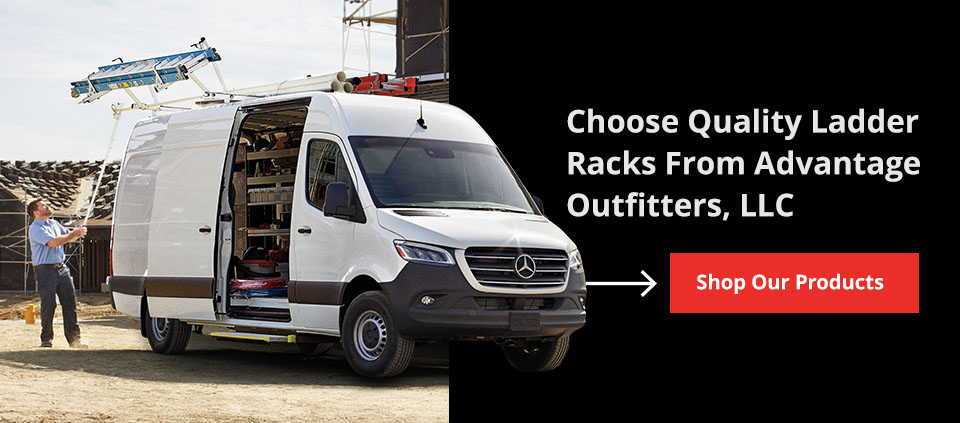 Choose Quality Ladder Racks From Advantage Outfitters, LLC
Optimize the space of your cargo van with high-quality ladder racks from Advantage Outfitters. We create upfitting equipment for cargo vans, including durable and custom-fit ladder racks and accessories that offer security and help you complete your duties efficiently. Our ergonomic ladder racks will help boost productivity and benefit your entire team.
At Advantage Outfitters, we offer a selection of ladder racks to meet your needs:
Drop-down ladder racks: Our drop-down ladder racks are easy to use. Hydraulic assistance makes accessing your ladder effortless. Our drop-down ladder racks are made from aluminum, so they're highly durable and will last years.
Clamp-down ladder racks: These racks are an ideal option for easy-to-use cargo van top storage. The lightweight aluminum material makes this product weather-resistant and straightforward to operate. There is also no use for tie downs, as the clamps will secure your ladder.
When you choose our products, you get fast shipping and reliable assistance to ensure you get your products promptly. Shop our product catalog today to get started. Interested in learning more about how we can help you upfit your van for better productivity and organization? Contact us by calling 866-925-4844 or completing our contact form.