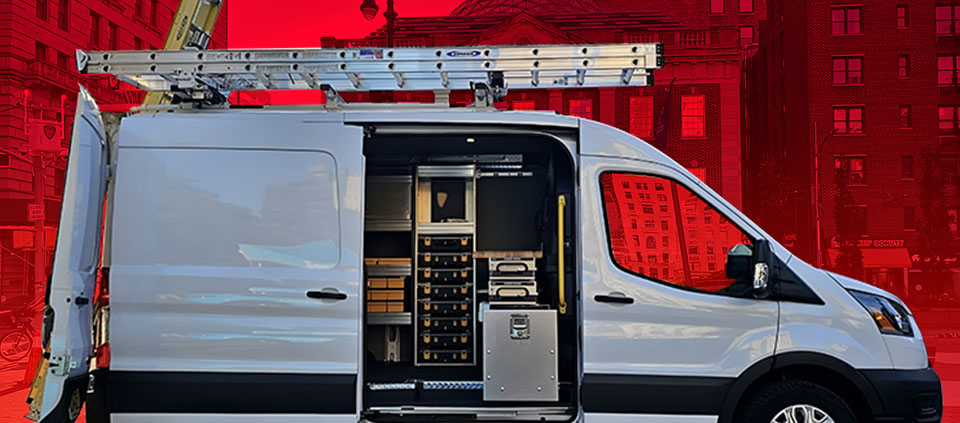 Cleaning and maintaining your work van protects your equipment, boosts efficiency and keeps your cargo van organized. Upfitting equipment will benefit your business whether you're a contractor or caterer.
Use our helpful commercial van shelving maintenance tips to keep your van well-maintained.
Tips on How to Clean Your Van Shelving
A tidy work van helps you maintain safety and productivity, which encourages your customers to keep using your services. Ensure you keep your work van fresh and tidy to use the space efficiently. Here are a few tips to keep your van clean and organized:
Create a cleaning schedule: Cleaning your work van will prevent dirt and dust build-up. A cleaning schedule will help you focus on what part to clean daily. Pack away equipment each day and do a deep cleaning weekly. It includes wiping shelves and cleaning flooring.
Keep your van shelving organized: Disorganized shelving can leave your work van cluttered. Organize your shelves according to usage to create a clean space and boost efficiency. It also helps you take stock of supplies you need.
Remove clutter: Clear any clutter and equipment you no longer need in your van. Check items you use daily and weekly and consider storing the rest.
Add trash cans: Remove garbage or debris by placing waste bins in your work van. It lets you keep what you've cleaned up in one place so you can easily throw it away later.
Wipe up spills: If you spill any chemical or liquid on your shelves, wipe it right away. Even if your metal shelves are durable, cleaning moisture limits wear, stains and corrosion.
How to Preserve Van Shelving Organization
Having all your tools in place will help you complete your work effectively. You have a few options available to keep your work van organized: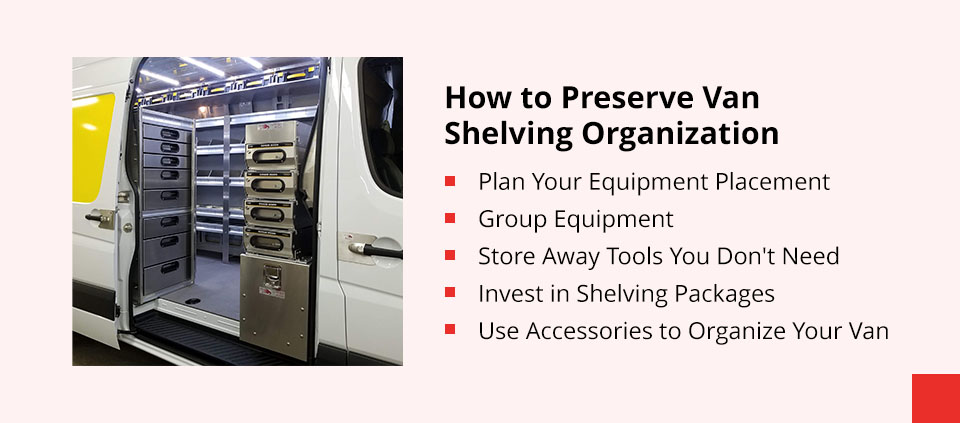 Plan Your Equipment Placement
Plan where you need to store your equipment before you start organizing your work van. Place the items you use daily near the back door of your cargo van. It makes your equipment accessible without needing to search in the deep corners between tools. Pack tools you use a few times weekly further into the back of your van.
Group Equipment
Optimize your storage and keep your tools organized by grouping your equipment. You can group them by category or usage. For example, you can place all your cleaning supplies together and store your hand tools in a drawer. It saves you time searching for tools since everything you need is in one place, and it streamlines taking a tool inventory.
Store Away Tools You Don't Need
Items you use less can take up valuable room in a cargo van with limited space. If you cannot remove them from your work van, store equipment you don't use much away. Lock them in drawers or containers on shelves, keeping them out of sight yet still within reach.
Invest in Shelving Packages
Buy shelving packages instead of single shelves when choosing storage for your van. A cargo van has limited space, so you need to choose shelving that will use any available space to maximize your storage. You can find shelving packages specific to the model of your work van. It ensures the storage system fits your vehicle with minimal adjustments.
Use Accessories to Organize Your Van
Accessories make it easy to organize fittings in your van. Each addition allows you to manage your tools and create the feeling of a bigger space. Ladder racks and roof racks help you remove ladders and bulky goods from the inside of your van. That gives you more room for the following interior accessories:
Shelf dividers: These allow you to keep tools and equipment separate. You can adjust your shelf dividers to your specifications, and they help prevent goods from sliding around while driving.
Shelf-locking doors: Lock away valuable tools and harmful chemicals with shelf-locking doors. Install them on an open shelf to create closed storage.
Plastic storage bins: Store your equipment and tools in deep plastic storage bins. Some containers include dividers to prevent tools and small equipment from mixing. It makes items easy to find.
Parts case: Pack vital parts you need in a single parts case. It is highly customizable, allowing you to mount it under your shelf or stack it together.
Bottle holder: Limit spills, leaks and punctures when placing your bottles in a holder. Choose from options like a single holder to a five-shelf holder to create your ideal storage.
LED light strips: Without proper light, you run the risk of rummaging through your work van to find tools. Brighten your space with LED light strips you can mount to your roof supports.
Paper holder: Keep vital documents and files safe in a steel paper holder. It is easy to install and has plenty of paper storage.
Wire reel holder: Wires can become tangled, damaging the cable. An electrical wire reel holder lets you store many reels in one place. It enhances storage and limits safety concerns.
How to Maintain Your Commercial Vehicle Van Shelving
Proper care will make your shelving and accessories last long and limit wear, saving money on buying new equipment or fixing your upfittings. Here are a few ways you can maintain your commercial vehicle van shelving:
Resources Available if Your Van Shelving Breaks
Replace your damaged and broken shelves with Advantage Outfitters. We have a range of package shelving options to best use the space in your van and increase organization. You can enjoy excellent storage solutions to boost productivity and keep your area clean and functional.
Our package shelving units are made from aluminum and steel. Below are some of the features depending on the shelving package you choose:
Plastic bins
Shelving dividers
Bottle holders
Tool drawers
Optimize Your Van's Organization With Accessories From Advantage Outfitters, LLC
Invest in durable and quality shelves for commercial vans from Advantage Outfitters. We specialize in high-quality storage solutions that will help you keep your work van uncluttered and organized. With us, you will find custom package shelving options suited to a variety of industries so you get upfittings that fit your specific needs.
For commercial van shelving near you, you can visit our South Hackensack, New Jersey, or Valley Stream, New York, showrooms.
Shop our wide range of products or contact us online with any questions.