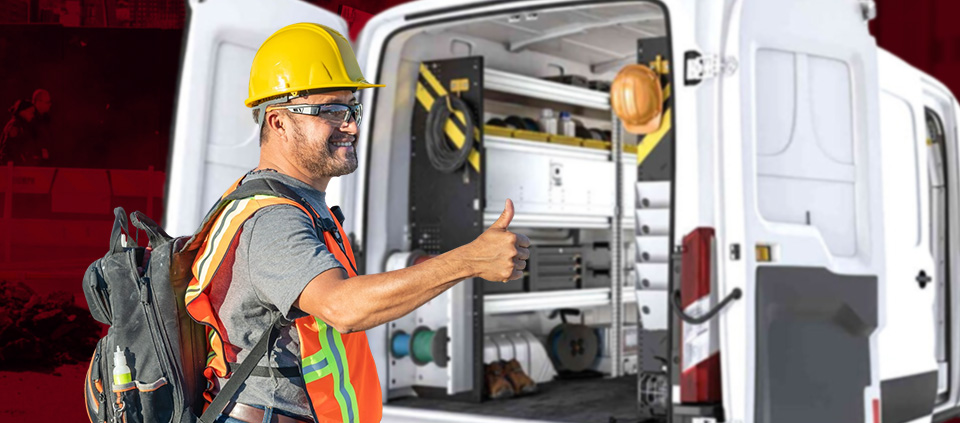 Electricians rely on work vans to carry workers to and from job sites and store equipment, optimizing the efficiency of projects. Upfitting your vehicle allows you to create a space that suits your daily needs and makes your journeys comfortable and enjoyable. In this guide, we'll address the essential things to consider to help you design the ideal van for your business operations.
What Is Vehicle Upfitting?
Upfitting is the process of making modifications to vehicles for a specific purpose. It includes a wide range of customization options, such as creating storage compartments and installing ramps, partitions, shelves, cooling units, roofing and new floors to make the van more suitable for the worker. Upfitting improves organization, efficiency and safety. It streamlines your operations, enabling your workers to perform optimally.
Best Vehicles for Electrician Upfits
The type of van you have can determine what upfitting equipment you can get, so it helps to choose carefully. The vehicle should allow you to customize your space without significant restrictions. Here are examples of good vans you can choose from: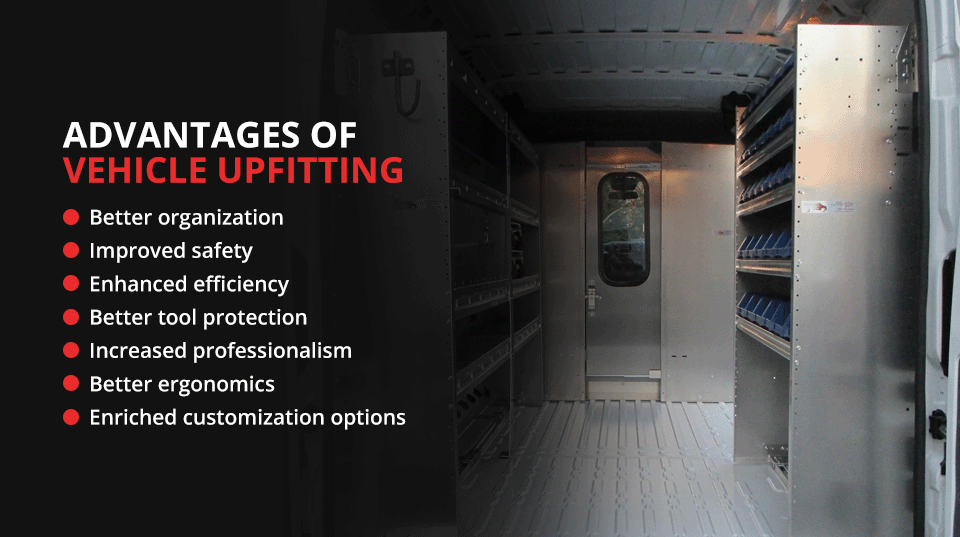 Advantages of Vehicle Upfitting
Here are some benefits of upfitting your electrician work van:
Improved safety: Upfitting your vehicle helps reduce workplace injuries. For example, you can set up the flooring to avoid slips and falls and organize your tools to prevent accidental cuts.
Better organization: Upfitting allows you to arrange your items strategically to facilitate productivity. Instead of leaving your equipment around, use shelves, cabinets and storage bins to organize your space. Also, label each compartment for easy identification.
Improved efficiency: A well-organized storage space lets you quickly and effortlessly locate items. This directly impacts how much time you spend working. It can also enhance job quality by channeling your energy and attention to important tasks rather than searching for a missing tool for hours.
Enhanced ergonomics: Installing upfits can prevent workers from bending or straining too often. Shelves, drawers and cabinets provide better access to equipment.
Improved tool protection: Upfitting your electrician van protects your tools against accidental falls, which can damage the equipment and your van. It saves you the time and money spent on replacements and repairs.
Increased professionalism: Your work van is an extension of your business, so it helps to invest in it. Upfitting showcases your brand and speaks to your expertise and preparation. That is an excellent way to acquire new clients and retain the existing ones.
Enriched customization options: Every business is unique, making it crucial to personalize your work van to suit your needs. Upfitting lets you plan and build a structure that helps you and your team perform optimally without compromising quality.
Common Electrician Work Van Inventory
Identifying your inventory is one of the most critical considerations when upfitting an electrician work van. The tools you use will determine your organizational layout. Here is some standard electrician equipment that can influence your work van upfitting:
Side cutters
Tape measure
Needle nose pliers
Multi-tip screwdriver
Wire strippers
Torpedo level
Digital multimeter
Power drills and drivers
Power saws
Headlamp
Extension cords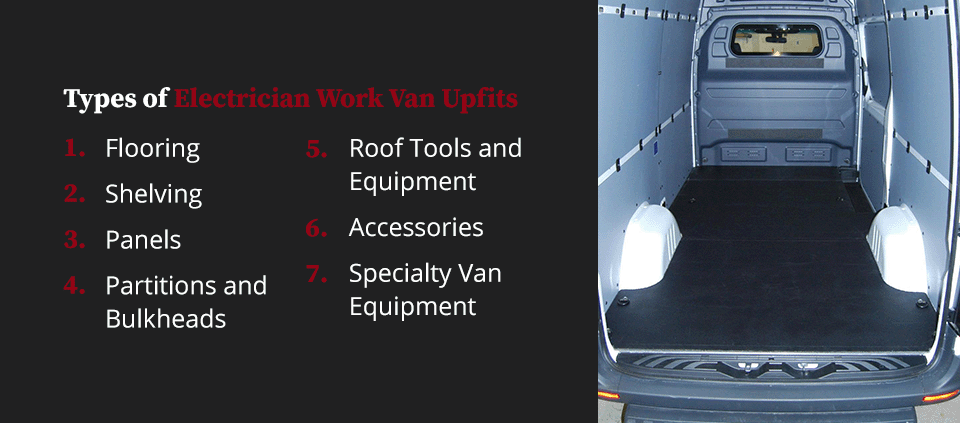 Types of Electrician Work Van Upfits
There are various upfits to consider for your electrician work van. Here are some examples:
1. Flooring
The van's flooring is the foundation on which everything else stands, serving a functional and aesthetic purpose. It protects your investments, provides a safe working environment for your employees, reduces noise and makes it easy to clean your van. Your van's flooring is customizable depending on the nature of your work and the kind of vehicle you have.
For example, rubber mats are ideal for upfitters who prioritize floor protection and traction on their cargo vans. They are strong, shock-absorbent, sturdy and capable of surviving several years.
Composite van flooring materials provide added protection for dropped tools and enhanced safety with the anti-slip surface. Depending on the vehicle's wheelbase, they are available in two or three panels for easy installation.
2. Shelving
The best van tool storage ideas begin with proper shelving, especially for electricians. Shelves provide an organized and safe way of keeping your equipment and tools, making your day-to-day activities more efficient. There are many options you can choose from, including storage drawers, cabinets, bins and dividers. Each of these plays a unique function.
Storage drawers accommodate your most commonly used materials and tools, such as strippers, pliers, crimps and multimeters. Storage cabinets are ideal for devices your workers want to keep readily available. For the smaller parts like electrical connections and nuts or bolts, utilize dividers and storage bins.
3. Panels
Panels or wall liners help transport valuable items without causing damage to your work van. They help maintain adequate climate control by providing insulation and reducing noise in the van. There are two guidelines to follow when choosing interior liners.
First, select lightweight materials for your panels. This helps you optimize van and equipment protection while maintaining fuel efficiency. Second, choose quality brands that can last years without damage when subjected to reasonable impacts. The aim is to increase your return on investment.
4. Partitions and Bulkheads
Electricians carry equipment of varying shapes and sizes daily, making it essential to separate the passengers and driver from the cargo in the back. Bulkheads enhance comfort and increase security and safety. There are different types of partitions available, including:
Straight partition: These primarily protect electricians against knocks by cargo in the rear with a galvanized steel partition. A steel mesh option lets you see through to the back of your van. Straight partitions are available for all full-sized vans.
Pass-thru partition: Besides the visual access, pass-thru compartments let you enter from the cabin without climbing out of the van and opening the back door. They are best suited for large electrician work vans. Pass-thru partitions are available for all full-sized vans.
Swing door partitions: These are one of the most versatile partition options for electricians. Your cargo area is easily accessible through the door, but it remains locked while you drive, unlike the pass-thru alternative. Steel swing door bulkheads are available for full-sized vans.
Contoured partition: Contoured bulkheads are designed for electricians who prioritize comfort when moving across different locations. They separate the passengers and driver from the cargo with aluminum or steel barriers — like the straight partition but curved to maximize operator space. Contoured partitions are available for all vans.
Sliding door partition: These bulkheads are stylish and provide access to your cargo without the door getting in the way, especially when the van is packed almost to the total capacity. There are different choices depending on your van's height. Sliding door partitions are available for most full-sized vans.
Composite partition: These are relatively heavier, offering added soundproofing within the cabin. They are made with tough molded plastic with steel reinforcement and are contoured specifically for the driver's seat and vehicle model. Composite partitions are available for most full-sized vans.
Wire mesh partition: These complete mesh partitions allow adequate visuals from the cabin. They are lightweight and easy to install. Wire mesh partitions are available for most midsize and compact vans.
MaxView partition: Like wire mesh partition, the MaxView bulkhead prioritizes visibility. It has a molded plastic base with a clear Lexan upper that lets you see through the barrier. MaxView bulkheads have a contoured design for operator comfort and are available for most midsize and compact vans.
5. Roof Tools and Equipment
Most electrician storage ideas often exclude the roof, forgetting the vast opportunity it offers. Whether you transport ladders, electrical conduits, pipes or other equipment too long for the cab, the roof becomes the ideal space.
When it comes to ladders, clamp-down options are more cost-effective than drop-down ones, but drop-down models are ergonomic, safe and efficient. Both are used for onsite electrical projects. Access ladders are the ideal solution when you want to reach the top of your work van. You can also leverage cargo accessories, bars, roof decks and conduit carriers to expand your storage space.
6. Accessories
Besides the standard upfits, other crucial accessories streamline workflow for electricians, like:
7. Specialty Van Equipment
Besides the standard setups and accessories, there is specialized equipment that can improve your operations even more, including:
DC and AC power inverter systems: A power inverter converts direct current (DC) from your vehicle into an alternative current (AC) to power your devices. This transforms your van into a self-sufficient mobile workstation.
Liftgates and ramps: These help you load heavy machinery and materials with ease. They can also reduce the risk of injuries and save time.
Cargo area heating and air conditioner: Rear HVAC equipment helps you control the climate in your cargo area. There are many options available depending on your preference, including a tie-in system, extreme climate system and fuel-fired system.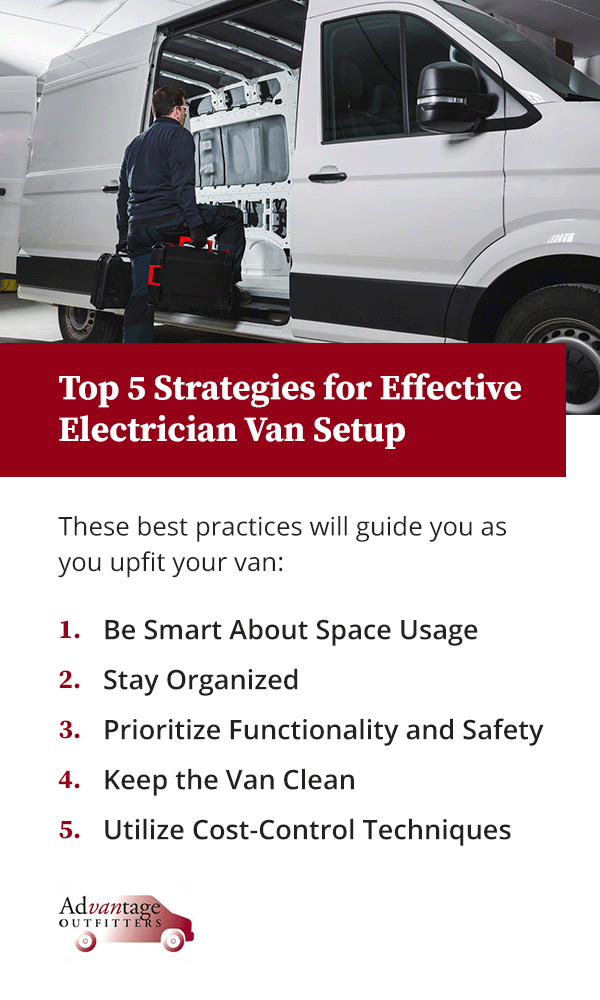 Top 5 Strategies for Effective Electrician Van Setup
An efficient electrician van setup considers many factors, including space, organization, functionality, cost and safety. The van's layout should be carefully designed to enable your workers to locate what they need quickly and perform their tasks as safely as possible. These best practices will guide you as you upfit your van:
1. Be Smart About Space Usage
The size of your van matters — so does your ability to manage space. That explains why an experienced upfitter with a small van can create a better-functioning work van space than a beginner with the largest vehicle. The trick is to consider both the external and internal parts when upfitting your van, ensuring you can carry as many vital items as possible without compromising safety.
Typically, the first thing to do is empty your van. This gives you a clear idea of how much space you have and where to place each item or fixture. Separate the small things from the larger ones and do the same according to weight. Generally, you should put the large items where they are easily accessible so you use less effort to retrieve them. However, you can consider the external space for those tools and materials too big to fit into your van.
Keep in mind that every space is usable. For example, you can hang small hooks and racking units at the inside walls of the doors while the exterior part accommodates the roof access ladders. If the space behind the door is full, you can move the access ladder to the side of the vehicle.
2. Stay Organized
Begin the upfitting process with an organizational map that details the complete setup plan. The map should take into account the goal you want to achieve with the upfit, which typically includes easy access to equipment and safety. Organization may seem daunting at first, but once completed, it saves you tremendous time and effort.
Storage drawers offer the best solutions for storing and organizing commonly used equipment, while storage bins let you classify and store similar tools. Label each compartment to help with easy identification and build a task-oriented toolbox.
3. Prioritize Functionality and Safety
Different businesses may have unique goals for upfitting work vans. However, it helps when functionality and safety are the core considerations. First, you should create a system that reduces the need to spend countless hours searching for simple items. The equipment and fixtures you choose should help improve your daily activities and solve particular problems. For example, if you often have difficulty locating clients, installing a GPS is an excellent solution.
Second, upfit your vehicle with safety in mind. This applies to passengers, drivers and other persons likely to come into contact with your car. A helpful tip is to keep all sharp objects inside the van safely placed in a well-labeled compartment.
4. Keep the Van Clean
Keep your work van clean at all times. Your cargo van is an extension of your workspace— it speaks directly about your brand. Thus, ensuring the interior and exterior are tidy leaves clients with a good impression of your business. It also reduces the risk of injury. Since you work with the van daily, adding a garbage bin and bags to your accessories will be ideal. Clean your tools regularly to retain their original form, and always put items back where they belong after a job.
5. Utilize Cost-Control Techniques
Upfitting your electrician work van might seem expensive, but it's worth the investment. It saves time and reduces injuries that can lead to other expenses. However, there is a way to work within a tight budget.
Focus on the primary aspects depending on your goals. Create a priority list to help you make decisions efficiently and strategize your purchases. Have an end goal in mind for your van, but purchase upfits in order of what you need most when you can afford them.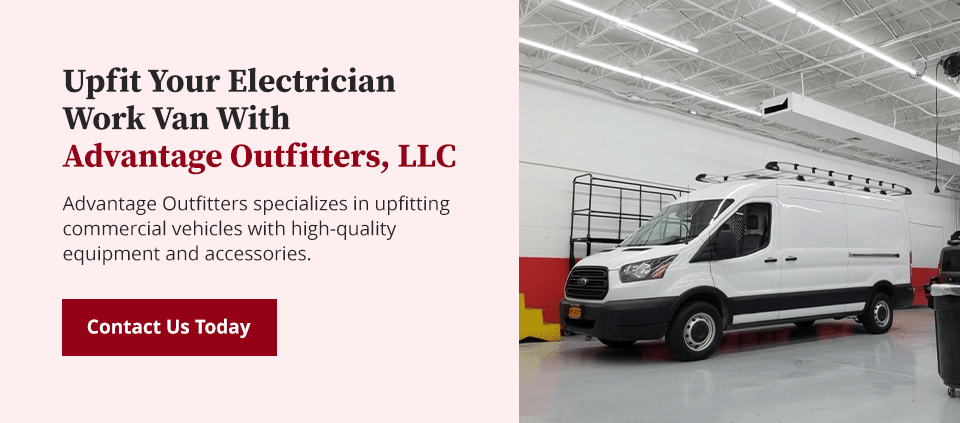 Upfit Your Electrician Work Van With Advantage Outfitters, LLC
Advantage Outfitters specializes in upfitting commercial vehicles with high-quality equipment and accessories. We aim to help customers design and build work vans that improve efficiency and keep workers safer. You can choose from our standard models or customize a van according to your specific needs. Contact us today and take advantage of our premium services!