If you want to get the most out of your van's storage space, you need to install van shelving. Work and cargo van shelving comes in various types with many accessories. There's no one-size-fits-all storage layout since the ideal solution depends on the items you need to store and the dimensions of your van.
One of the best ways to create the perfect storage setup for your needs is to understand the types of shelving at your disposal. The right combination of bin shelving, drawer systems, fold-away shelving and custom-fit shelves can help you make the absolute most of your van's storage space so you can keep everything you need on hand and well-organized at all times. Let's take a look at each of these shelving types and their applications.
1. Bin Shelving
Bin shelving is a great solution for storing items that may move around during transit if they're sitting on a shelf unrestrained. Bins are typically open on the top, which allows for easy access and visibility, but they come up high enough on the sides to keep tools and other items contained.
You can include dividers inside bins to separate them into smaller compartments if you're storing smaller items. This is a great organizational tool and helps you customize your bin shelving so it works for your needs.
Bins are convenient storage containers for many types of items you may need to transport. Some examples include:
Power tools: Bin shelving is a great option for storing power tools like drills and sanders, which many tradespeople want to keep on hand. Leaving these tools out loose could cause them to get damaged.
Cables: Bins are also the right size to hold coiled cords and cables. You may also be able to hang cables on hooks affixed to the ends of your shelving units.
Pipe fittings: Plumbers use bins to store pipe fittings. Keeping a variety of fitting materials, sizes and configurations on hand can help you avoid a trip back to the office or hardware store when you're on a job.
Paint cans and brushes: Painters can store paint cans, brushes and other supplies in bins. Paint cans would slide around in a van if kept out loose and could even spill if lids aren't tightly sealed.
2. Drawer Systems
Drawer systems work best for the smallest items you may have to store in your van. Like bins, they keep items in place so they don't slide around the van. The main difference is that drawers surround items on all sides when they are closed. Some drawers even come equipped with a locking mechanism, requiring a key to open them.
Drawers come in many different sizes and styles. You can choose drawers that are the right fit for whatever items you want to store securely. In addition to securing items, drawers also help you organize small items that would otherwise make for a cluttered mess in the back of your van.
For instance, you can use drawers to store:
Fasteners: Nails, screws, nuts, bolts, washers and other small objects are the perfect candidates for drawers. Keeping these items in your van and well-organized means you always know where to find what you need.
Hand tools: Drawers are a great way to store tools like screwdrivers, wrenches, tape measures and more. You may want to use a toolbox or bag for the tools you expect to use on a job but keep other tools nearby in your van just in case.
Electrical equipment: Drawers are handy for electricians. You can store small pieces of electrical equipment like outlets, light switches and wire nuts in a way that's tidy and easily accessible.
Medical supplies: Whatever your profession, keeping a first aid kit in your van is a smart idea. If you have drawers, you can dedicate one of these drawers to storing essentials like bandages, antiseptic wipes and pain killers.

3. Fold-Away Shelving
Shelving units can be extremely helpful, but in some cases, you may benefit from more open space in your van for one or two large objects placed on the floor rather than shelving for smaller objects. Fold-away shelving is one of the most flexible storage solutions for vans because it gives you access to shelving when you need it and folds out of the way when you don't.
When you need to store things on shelves, you have strong, reliable shelving ready to go. And when you don't need shelving, you can just fold the shelves up, opening up more floor space. You can also fold up some shelves when you need to store taller objects. For example, a delivery service can use shelves to store small and mid-sized packages in transit and can fold the shelves out of the way when they need room to store a larger package on the floor.
Fold-away shelves feature a cantilever design, meaning the shelf is only connected to the vertical frame at the back. These shelves resemble trays with lips along the edges to keep items from sliding off. Fold-away shelves are strong, lightweight and versatile. They can support various items, including tools, equipment and parcels.
4. Custom Shelving
Vans don't come outfitted with shelving already because every company's storage needs may be different. You want a storage system that combines the types of shelving you need to help you store all your essentials, big and small.
Advantage Outfitters, LLC makes it easy to find your ideal solution since you can browse through shelving packages designed for your vehicle make and model. You can find packages designed with different industries in mind. For example, the delivery package focuses on fold-away shelves while packages for electricians or telecom companies include plenty of bins and drawers for small objects along with accessories like a wire reel holder.
You're likely to find your ideal setup among these options, but you can also customize your setup further. Whatever combination of racks, drawers, bins and accessories you need, Advantage Outfitters can deliver your ideal storage solution. With custom shelving, you can pinpoint exactly the storage solutions you need to maximize your van's space.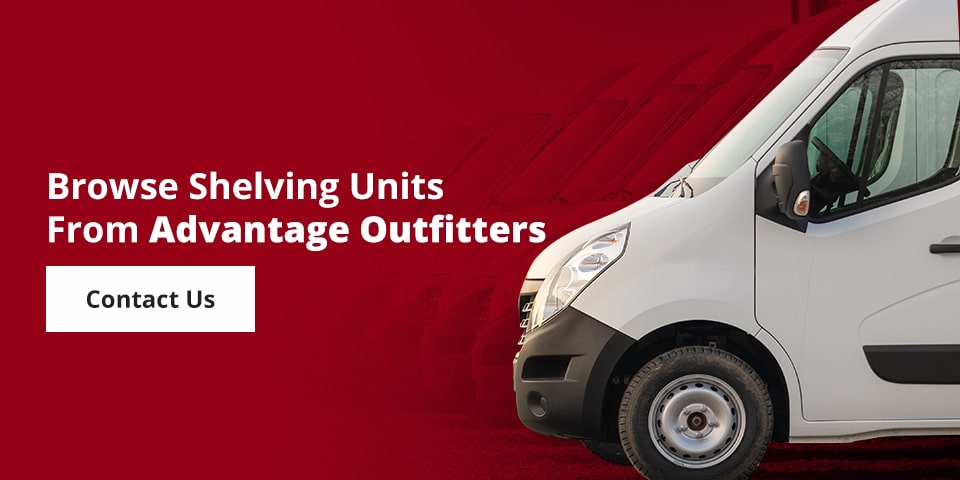 Browse Shelving Units From Advantage Outfitters
Now that you know more about your work van shelving options, consider taking some time to learn about some important van shelving do's and don'ts. If you're ready to maximize your van's storage with the right shelving set-up, browse our selection of quality shelving units and accessories online from Advantage Outfitters. Or, if you want to learn more about creating your ideal shelving package, contact us today.