When you want to protect your fleet of work vans and provide your crews with a better experience out in the field, van outfitting is a go-to choice. By choosing the right products from the best cargo van equipment brands, you can significantly raise your fleet's value. Top van upfitting brands include Legend Fleet, Prime Design and Ranger Design, each providing unique, high-quality products used by fleets all around the country.
Learn more about the need to invest in top brands and some of the best van equipment manufacturers producing van outfitting products today.
The Importance of Investing in Quality Brands
Before you gear up your work van with equipment and products, it's crucial to ensure you're purchasing from a high-quality brand. When you select a brand with a stellar reputation, you can receive several advantages you may not get from other sellers. As you look for the right van outfitting equipment for your business, you may want to know more about the many benefits top brands can provide you.
Below are some of the main reasons you may want to invest in high-quality brands.
Long-lasting: When you select equipment from the best in the business, you can expect it to last longer. Top brands produce their equipment for maximum durability, using high-quality materials and the best construction practices. By choosing a quality brand, you can trust your equipment to hold up far into the future.
Protects van and equipment: As you transport crews, tools and materials around in your van, it will likely incur some damage. The best wall, ceiling and roof liners will provide top-tier protection to your van, preventing dents and scratches. Due to these liners' high-quality design, they can absorb a great deal of damage without endangering your van.
Custom fits for your van: A great brand will feature multiple products designed to fit your van's unique design. These brands carry products for different van styles and types. You can easily add new equipment, like partitions or shelving, to your van.
Easy installation: Top brands know that their customers want to get to work fast and not have to spend lots of time installing new equipment. Taking buyers' concerns into account, these manufacturers ensure their products are easy to install without requiring any expert assistance. Quick installability means you can get back to work faster.
Better customer service: The best brands made their way to the top for a reason. Part of their stellar reputation comes down to their quality service. When you buy from one of these brands, you can expect to receive unmatched customer service throughout the buying process and after.

Top Van Outfitting Brands
With all the benefits coming from high-quality brands, you're probably interested in knowing the top van outfitting brands on the market today. Ranger Design, Legend Fleet and Prime Design are all exceptional van equipment manufacturers. Each of these brands excels in different areas, allowing you to combine their products to customize your work van to your crew's needs.
Check out three of the top brands and some of their best products below.
Ranger Design
Ranger Design is one of the best brands you can turn to for shelving, partitions, seat covers and accessories. You can find multiple Ranger Design products that increase your van's value and improve your crew's work experience. Below are some of the best options from Ranger Design.
Shelving: Shelving is one of the most prominent products from Ranger Design. Their shelving systems and packages allow companies to customize their storage options to fit their crew's specific needs. You can select packages designed for general service, electrical, delivery and plumbing work vans. Additionally, you can choose storage units with as many shelves, bins and drawers as you want.
Partitions: Ranger Design also produces several high-quality partitions many companies rely on. Their bulkheads come in several designs, with some closing off the cab from the cargo area and others leaving areas open or featuring a door. You can select between open, closed, mesh and glass windows, allowing you to customize your visibility into the van's rear. They come in composite, aluminum and steel constructions.
Seat covers: Many companies like to invest in seat covers for their work van. Since crews can get dirty during the day, they can track dirt, water and other materials into the van, which can harm your seats and reduce your van's value. Ranger Design seat covers protect your seats from dirty conditions and keep your van's overall value high.
Accessories: Ranger Design accessories include shelf dividers, parts cases, rear steps, bottle holders and cab organizer boxes, among many other products to help clients customize their van as much as possible. This vast variety of accessories gives you the tools to design your van's interior to your needs exactly.
Legend Fleet
Legend Fleet is another primary van outfitting supplier delivering high-quality wall, ceiling and floor liners. The company makes these liners out of high-quality materials designed to protect the cargo area of your van from damages, like scratches and dents, incurred in the daily course of work. You can find several Legend Fleet Products perfect for your cargo van.
Plastic wall and door panels feature rigid wall and door protection. They're also precision-cut to fit in various vehicles and incredibly easy to install. Besides plastic liner options, you can also select Duratherm wall, ceiling and door liners made to provide superior insulation to your cargo van, preventing air from escaping the vehicle, which keeps the heat in during winter and saves on fuel costs. These premium liners also provide sound deadening and ultimate protection.
Floor liners are another popular option, as floors tend to take the brunt of the damage from dropped or dragged tools and materials. By placing rubber mats on the floor, you can protect your van's flooring from harm and maintain your vehicle's value. They also feature materials resistant to chemical and oil damage. If you upgrade to StabiliGrip composite flooring, you'll receive ultimate protection and excellent floor traction. This extra traction can protect your crews from slipping and falling when the floor's wet.
Prime Design
Prime Design is another popular van outfitter. They offer premium roof equipment and ladder racks, making ladders and other materials easier to transport. Some popular Prime Design ladder racks are the ERGORACK products, whose design makes it easier to access ladders. For example, an ERGORACK Drop Down Ladder Rack automatically restrain ladders and uses hydraulic assist to drop down the ladder from the roof to an easy-to-reach location.
You can also install other products, like conduit carrier tubes and roof rails, on a van's roof to customize your storage abilities and secure your materials. To make the roof more reachable, Prime Design offers several rear door access ladders designed for different kinds of vans, with low, medium and high roof options. These ladders fit perfectly on the van's rear, allowing crews to climb them to reach materials stored on the roof.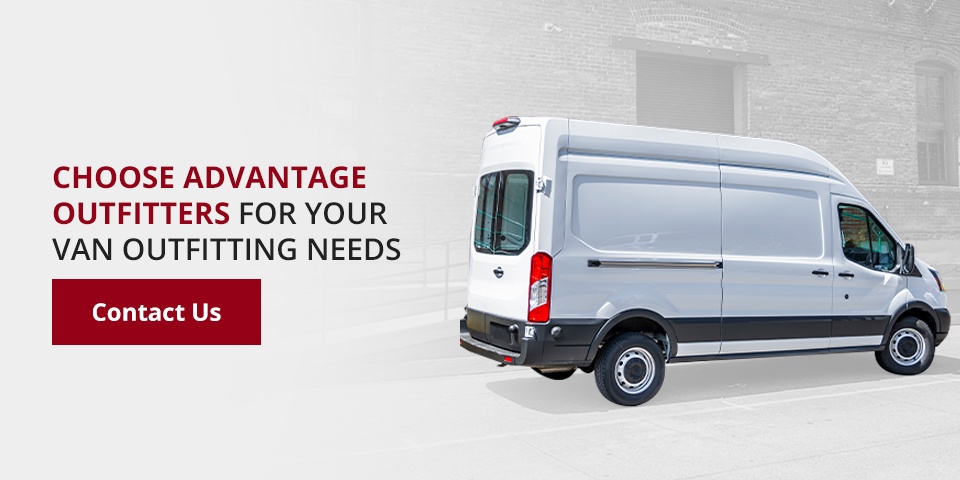 Choose Advantage Outfitters for Your Van Outfitting Needs
At Advantage Outfitters, we know how much value top brands can provide our customers. As a result, we're proud to only carry the best products from top-of-the-line manufacturers. We offer tons of products from Prime Design, Legend Fleet and Ranger Design, with items designed for specific vehicles. When you choose us, you'll love our 48-hour shipping, new specials every month and custom-fit products.
Take a moment to browse our van outfitting products by vehicle. If you have any questions, don't hesitate to contact us.