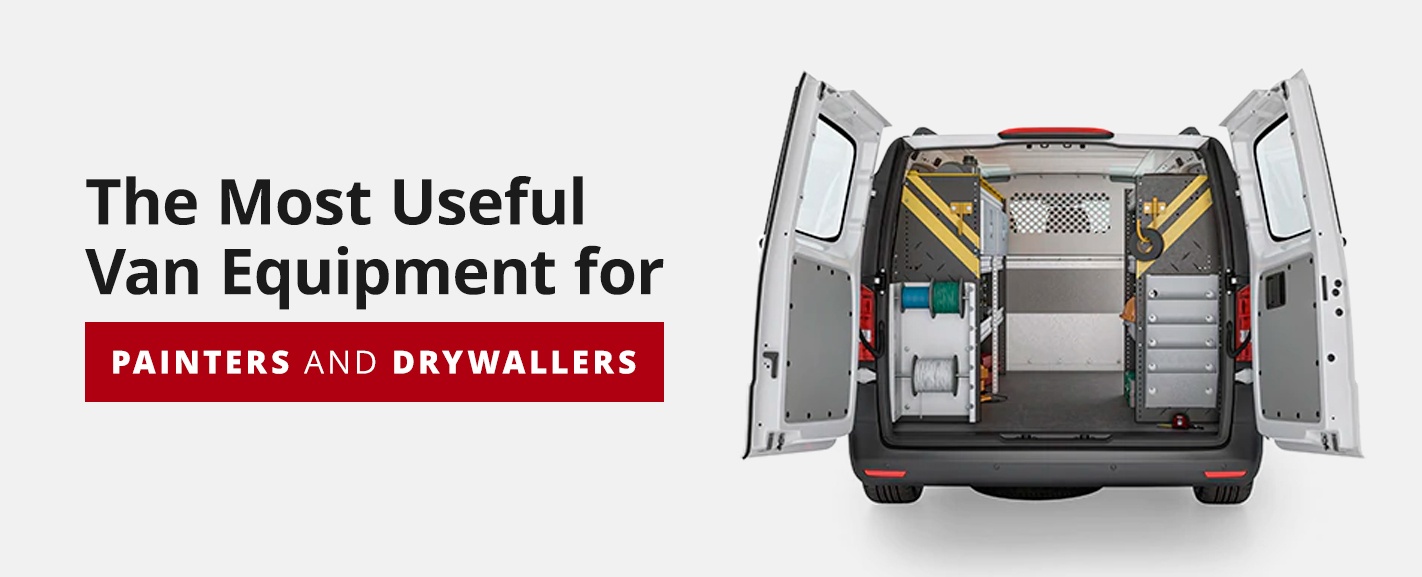 If you're a painter or drywaller, your work van isn't just four tires and an engine — it's your workshop on wheels. You depend on it to carry the paints, brushes, ladders and all the other tools you use to do your job every day. This is why knowing how to organize a painting or drywaller van is so important. By making a well-organized mobile storage system, you will no longer waste time on the job searching for the equipment you need.
This article shares some organizing tips for a painter's van, discusses the benefits of van organization and recommends some useful van equipment for painters and drywallers.
Van Organizing Ideas for Painters and Drywallers
As a painter or drywaller, you have to work fast, so locating the tool you need quickly is extremely important. In this first section, we share some tried and true drywaller and painter van storage ideas so you can find every tool you need right away.
Determine Your Tool Hierarchy
The first thing you should do is figure out how important each tool is, which will help determine your van's layout. Place items you use regularly by the door and items you only use on occasion in the back.
Use Plastic Containers
One great way to store your tools is in plastic containers — small containers are light, mobile and flexible, which is useful since you can easily bring them to a work site. For example, if you need lots of tape for a project, you can just bring your entire tape container.
Stay extra organized by labeling the containers. For instance, make a container for your touch-up kit, coverups, and varying widths of tape. For items that you use together, put them all in a single container and fill them up to the max. In cargo vans, space is limited, so you don't want to waste it.
Plastic containers are also available with drawers so you can easily access miscellaneous items as well as items you won't need to take in bulk, such as nozzles, fittings and pencils.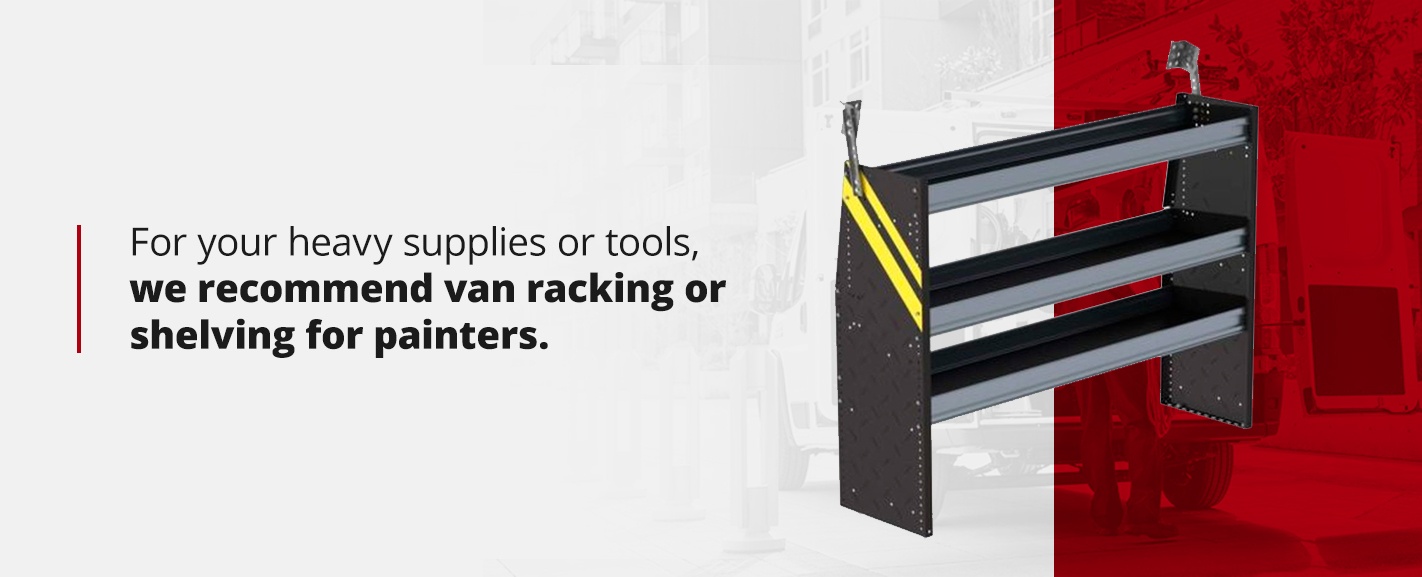 Store Heavy Items on Shelving
For your heavy supplies or tools, we recommend van racking or shelving for painters. Open shelving, which means a regular shelf with no layout, gives you flexibility with how you want to use your shelves. However, make sure your shelves have an edge to prevent heavy and expensive tools from falling off.
We recommend that your plastering and painting work van setup include shelves for the following:
Spray cans
Paint and lacquer thinners
Cardboard shields
Drop cloths
Drywall compound
Try Coat Hangers and Door Hangers
For masks, we recommend using regular door hangers, and for hanging buckets, we find that coat hangers work well. They are most conveniently installed in the back of the van, on the main shelf or bulkhead.
Consider Your General Work Van Setup
To work efficiently, you need to be able to find all your tools quickly, which is only possible with a good setup. If you just lay your items randomly around in your van, you and your coworkers may end up spending several minutes searching for each item. Over the course of a day, this can result in a lot of wasted time.
In this section, we'll discuss the van's areas and recommend what you should store in each.
Top: The top of your van is a great place to store long tools, including power washing wands, extension poles and brooms. You can also keep a 6- or 8-foot step ladder along the ceiling with the help of an interior ladder carrier.
Sides: We recommend color-coding your paintbrushes by painting their handles certain colors. For metal tools such as screwdrivers, scissors and wrenches, we suggest using magnetic strips. You can also put hooks on the walls to hang buckets and other lightweight items.
Bulkhead shelf: This is a good place for storing cloths, masks and tools you use infrequently.
Floor: Anything that's not in a container, hanging from a hook or on a shelf should be on your floor. These things tend to include heavy sprayers, power washers, paints and drywall compound. Place items you frequently use closer to the door so they're more accessible. Items you use less often should be farther away.
Doors: Don't forget that door panels provide lots of space, too.
Now, we'll share with you the best places to store some of the most common painting and drywalling tools:
Paints: Considering how often you use paints, they should be in the most accessible place: on the floor near the door. Many people's first instinct is to install shelving to store their paint, but these heavy cans are better off on the floor. Keep in mind that you'll be taking them in and out at every single job site, so they should be easily accessible. Also, by storing the cans on the floor, you won't have to go to the trouble of taking them in and out of your shelving.
Paintbrushes: We recommend hanging paintbrushes on your wall, where you can easily find the one you need. As mentioned above, color coding your brushes will make finding them even easier.
Masks: Masks are best hung from your van's bulkhead shelf.
Ladders, poles and scaffolds: Long tools such as poles are most easily stored at the top of your van with a ladder rack.
Drop cloths: The drop cloths are best stored on your bulkhead shelf together with the masks.
Finishing tools: We advise that you store your finishing tools in a container on the floor.
Once you've mapped out the perfect storage system for you and your team, try to keep it. If your company has multiple vans, use the same system for all of them. By doing this, if your workers ever have to use a different van, they'll still be able to find everything they need right away.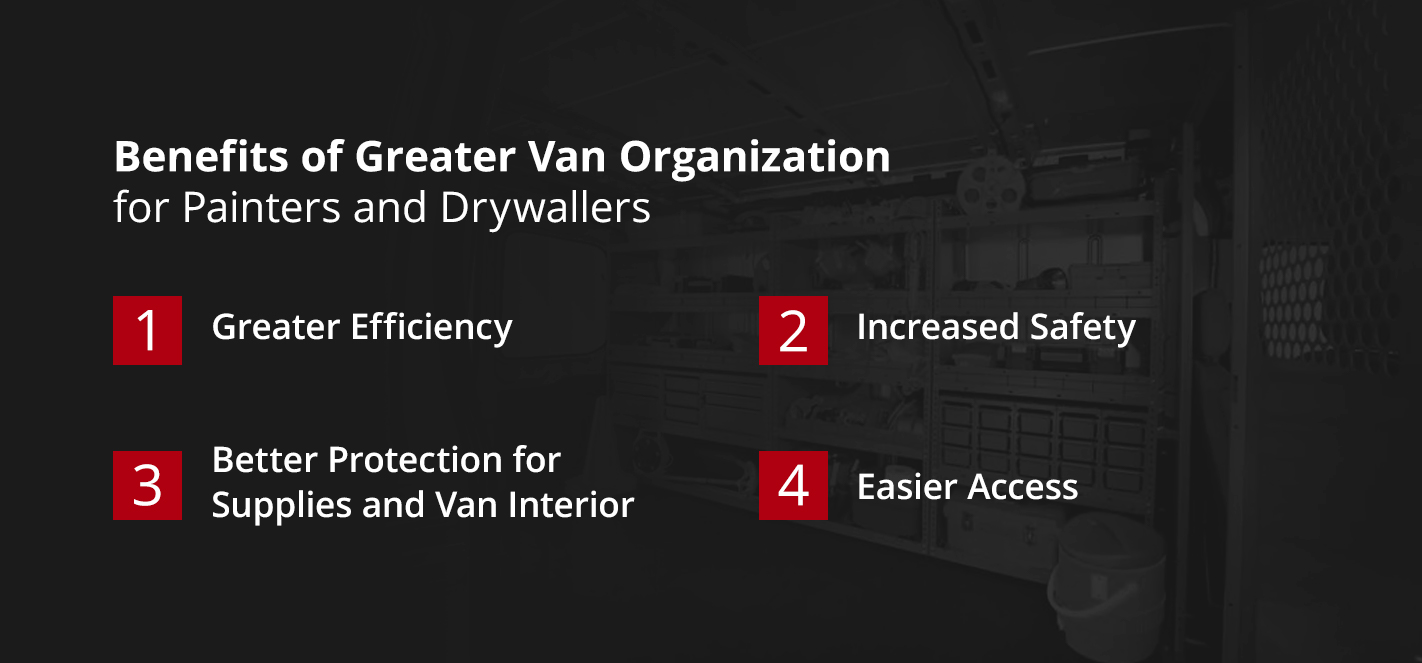 Benefits of Greater Van Organization for Painters and Drywallers
One of the greatest benefits of organizing a painter's van is how good it looks. To clients, an organized van looks professional, and to workers, it's calming and less stress-inducing. Other benefits of a well-organized van include:
Greater Efficiency
If you have many tools and they're not well organized, you probably spend more time than you'd like searching for them, especially if several employees use the tools and put them back in different places. If your tools are well organized, however, you'll know exactly where to go to retrieve each one, making your workday more efficient.
In addition to organizing painting tools in your van, we recommend that you map your van's contents and label each shelf, cabinet and drawer clearly to make it even easier for you and others to find what they're looking for quickly. This can also help with inventory management, as it will be easier to tell when you're out of something and need to restock.
Increased Safety
Well-organized vans are safe vans. If your van has loose equipment, this can present a serious danger if you are involved in an accident or have to stop suddenly, in which case these unrestrained tools may become flying objects and hurl towards you. This is why it's important to have your tools stored away safety in containers, tied up or restrained in some other fashion.
Better Protection for Supplies and Van Interior
Loose equipment isn't just a danger to you — it can also damage your van or the tools themselves. To avoid equipment flying all over the place, organizing your tools in storage modules, partitions and drawers will keep the cargo area safe.
Easier Access
When tools are disorganized, you often have to rummage through lots of them before you find what you're looking for. When everything is organized in its own compartment, accessing what you want becomes much easier.
Other Useful Cargo Van Equipment for Painters And Drywallers
While every painter and drywaller has ladders and masks, there are other items that, while not strictly necessary, could make your work safer, more efficient and more enjoyable. Examples of these items are:
Ladder Racks
Ladder racks enable you to store your ladder securely on the top of your van, which frees up space inside for other things. Other benefits of ladder racks include:
Reduced risk of injury: With a ladder rack, loading and unloading become much safer.
Increased productivity: You can drop your ladder to the ground and shift it up onto the rooftop of your van in a few short minutes. You can repeat this action with little effort throughout your workday.
Wide compatibility: Ladder racks are usually compatible with the vast majority of ladder models.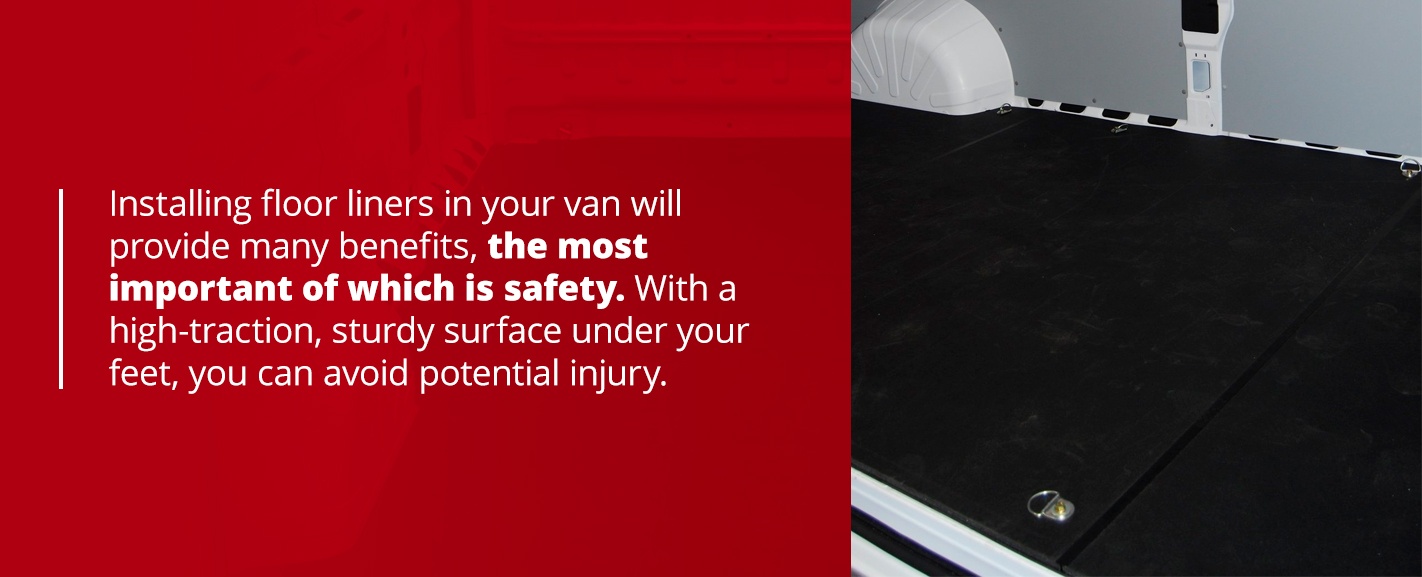 Floor Liners
Installing floor liners in your van will provide many benefits, the most important of which is safety. While loading and unloading, a slip or fall could be dangerous, especially if you're carrying sharp or heavy tools. However, with a high-traction, sturdy surface under your feet, you can avoid potential injury. Some other benefits of floor liners are:
Protection of your equipment: The rubber floor liner will protect your equipment and tools if they fall to the floor.
Protection of your van: If a heavy tool falls to the floor, the rubberized surface will protect the van itself from damage. It can also protect against paint spills and other messes.
Quieter ride: The rubber liner also provides a degree of insulation on your van's flooring, which will make the cargo area much quieter.
Professional look: A rubber liner also gives a van a professional, clean appearance.
Improved traction: Walking on a slippery floor is unpleasant and often dangerous, especially if you're carrying equipment. Floor liners feature patterns and ridges that improve traction, which makes moving around easier.
Wall, Door and Ceiling Liners
Like floor liners, wall, door and ceiling liners protect your interior from the dents, dings, scrapes and scuffs as your equipment rattles around throughout the day. Other benefits include:
Sound deadening: In vans with lots of equipment, some tools are likely to rattle around while you drive, producing a headache-inducing noise. Wall and door liners absorb this noise, making your ride quieter and more comfortable.
Heat retention: Used together, wall door and ceiling liners will make your van more energy-efficient because they help to insulate your van, keeping you warmer during the winter and reducing fuel costs that otherwise would be spent on heating.
Clean appearance: When you open your doors to get out your tools, your clients won't see dirty, dented up doors or walls, which looks much more professional. You can also order liners that are precision-cut to fit your van perfectly.
Lighting Strips for Visibility Inside Van
Lighting strips, or LED strip lights, are a versatile new form of lighting that consists of many LEDs on a narrow metal frame. They have a wide variety of applications, including in cargo vans, where they make it much easier to find your equipment and tools, as stock ceiling lights in vans tend to be limited and not produce enough light on their own. Here are some other reasons why lighting strips are one of the most popular cargo van accessories for painters and drywallers:
Ease of installation: Strip lights are easy to mount to light shelving, countertops or cabinets. We recommend installing them on the roof ribs, but their thin design means you can mount them almost anywhere.
Durable: LED strip lights are resistant to shock, vibrations and impacts from other objects. In contrast, halogen lights are very sensitive to vibrations and often break when installed in vehicles.
Cool temperature: LED lights don't radiate heat, so you won't have to worry about them making your van hotter.
Long-lasting: LEDs tend to last for tens of thousands of hours.
Lower amp usage: LEDs use much fewer amps than halogen or fluorescent lighting, so they won't drain your battery if you accidentally leave them on overnight.
Affordable: LEDs are very reasonably priced, especially considering how long they last.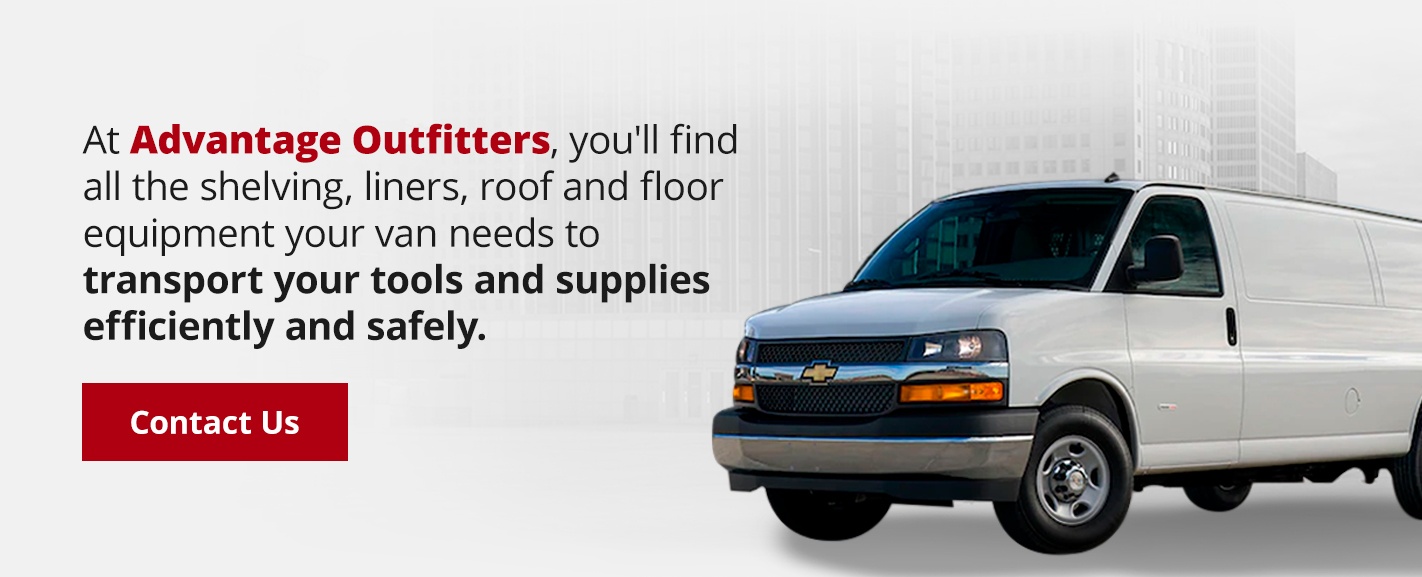 Maximize the Efficiency and Safety of Your Van
At Advantage Outfitters, you'll find all the shelving, liners, roof and floor equipment your van needs to transport your tools and supplies efficiently and safely. Our products can boost your speed, lower your expenses and make a better impression on your clients.
If you need custom solutions for your painter's cargo van, contact us by using our online form or calling us at 866-925-4844.