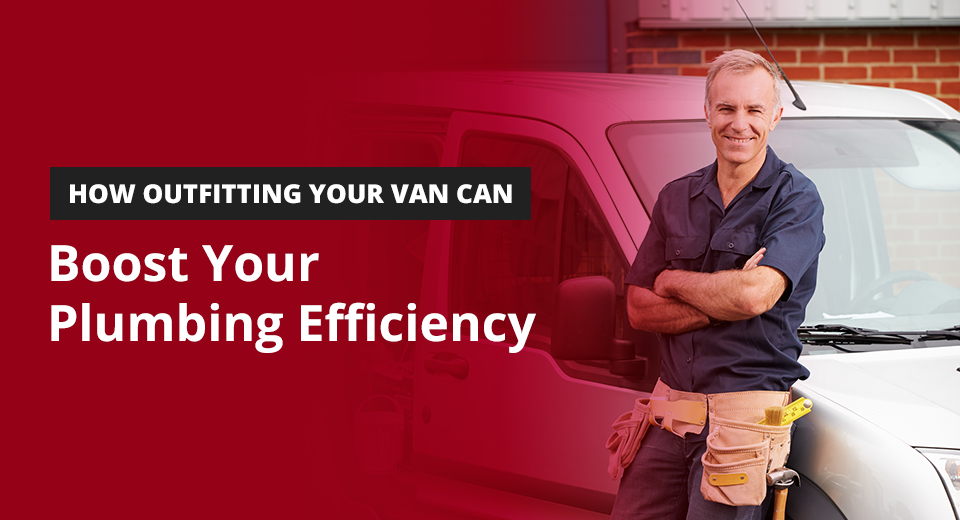 No one likes waiting, which is especially true if they need something fixed immediately. As a plumber, you need to have an organized vehicle when you arrive at a job, so you don't waste time looking for the right tool.
Often, this isn't as simple as it sounds. Staying organized can be difficult between a busy schedule and a large stockpile of tools and parts. Having a system for keeping your van in order means easy access to anything you need and an accurate inventory of everything you have.
Being well-organized can mean success for your plumbing business. Quickly finding the right tool helps avoid costly searching, especially in an emergency where time is sensitive.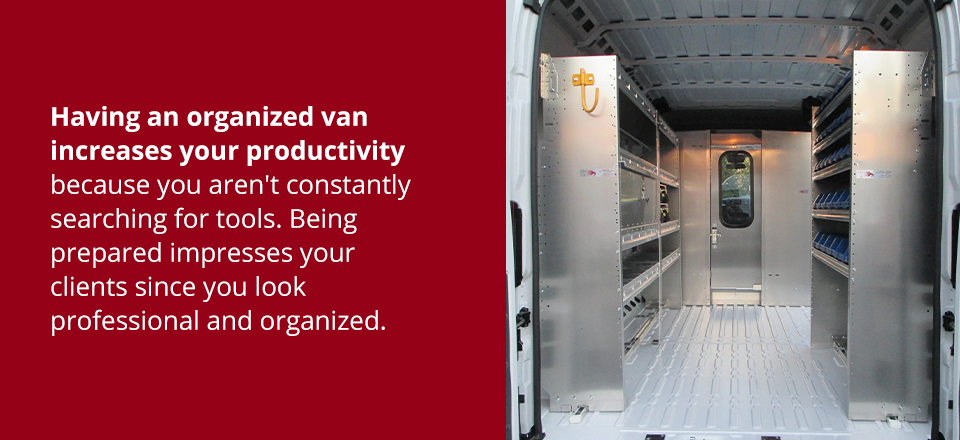 Streamline Your Work Day
Sometimes, the direct benefits of an organized work van can be challenging to identify if you don't consider what being organized could mean for your efficiency. What are the benefits of an organized van? Here are some top advantages:
Increase your productivity: Having an organized van increases your productivity because you aren't constantly searching for tools. Being prepared impresses your clients since you look professional and organized.
Do your job safely: Driving to job sites, especially in rural settings, can cause your tools to move around, which can be dangerous if you're ever in an accident or have a hard stop. Those tools can come flying into the cab before you can protect yourself, but securing your tools and parts keeps you safer and protects them from damage.
Increase your profits: One significant change you could see is an increase in your bottom line. Working more efficiently means you can complete jobs faster and service more clients on a given day.
By outfitting for plumbing, your work van can be ready to help you rather than give you headaches. Organizing your vehicle isn't a cookie-cutter approach and may take a bit of trial and error to figure out what works best for you. The best piece of advice we can give you is to use a plumbing van setup that makes sense for you.
Organization Tips: Where to Start
Of course, every plumbing company is different, but we have some general ideas you may want to try to organize your plumbing van. Whatever strategy you use, aim to maximize your space by using a combination of shelving and other van accessories.
Work van organization should start with the foundation by storing larger objects near the floor, leaving room for smaller tools and other items on shelves or in drawers. This way, those heavier items have less chance of moving around in the back, and you won't have to lift them in a compromising position.
Put your most-used tools in easily accessible locations so you can quickly grab what you need most often. Remember that an easily accessible location can include the inside of the doors too, which are often an overlooked spot when organizing work vans.
Storage Products You'll Need
Van upfitting requires storage products that help maximize your space and leave room for oversized items like water heaters. At Advantage Outfitters, LLC, we have the products you'll need to store your plumbing tools and equipment.
Considering aluminum or steel items goes beyond just the material. Both are strong and durable. However, steel often works best with variable weight loads and multiple terrain changes, while aluminum is lighter, giving your van better gas mileage.
We also offer ladder racks, lighting options and other plumbing accessories to complete the organization you need.
Using these products for better organization helps keep an efficient and productive work van, making you seem more professional in customers' minds. If you need help deciding how to organize your van, reach out to us to get an expert's opinion on what might work best for your situation.
Essential Tools for Plumbers
We're not here to give you tool advice for a job you've probably been doing for years, but sometimes having a refresher can be valuable, especially for newer plumbers. This isn't a comprehensive list but rather a good reference point to see if you have the essentials. Here are the basic tools every plumber needs:
Tongue and groove pliers
Hacksaw
Pipe cutter
Emergency valve
Inspection camera
Pipe bender
Pipe wrench
Metal file
Snakes
Propane torch and solder
Washers
Plumber's tape
Toilet plunger
Copper and PVC pipes
Impact drill
Allen wrench set
The other essentials include personal protective equipment (PPE) like safety glasses and gloves to basics like permanent markers and sandpaper. You can see how vital organization is when traveling with all of these tools, so having a storage system can help save so much time on job sites.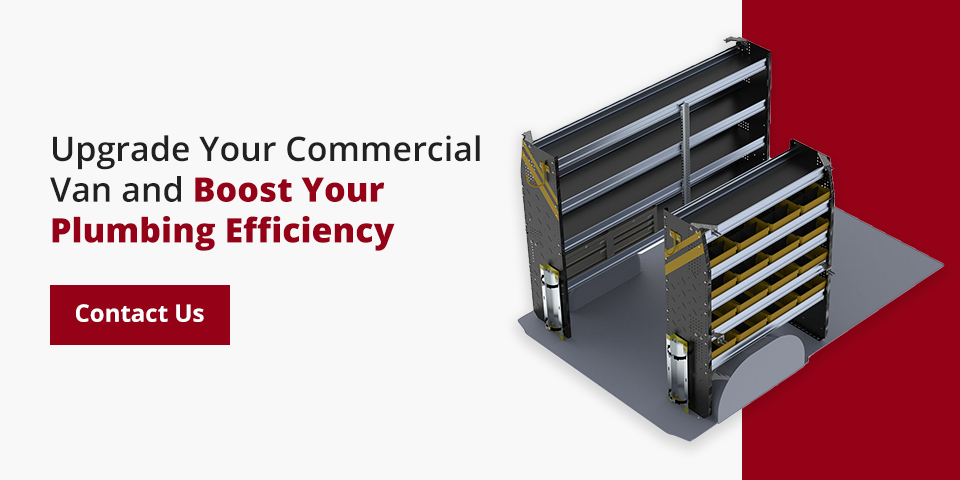 Upgrade Your Commercial Van and Boost Your Plumbing Efficiency
At Advantage Outfitters, we provide excellent equipment to make your plumbing vehicles work better. Our products can make you more efficient as a plumber and your van more valuable if you ever resell it.
Improving your efficiency through storage products like shelves and storage bins can provide several benefits for your business, both short-term and long. Our experience with upfitting work vans is extensive, so if you ever have a question about organizing your van, we've likely already solved that problem and may be able to offer you a solution you haven't thought of.
Even if a solution isn't the right fit for you, we can tailor a better solution today! We're the answer for increasing team productivity and optimizing your van's storage.
Interested in completing jobs faster and always having an accurate count of your tools? Our team is ready to service your needs and answer any questions you may have. Call today at 866-925-4844 or fill out our contact form describing how we can help you, and one of our experts will get back to you soon!
We provide the best organization for your work van, and we can help outfit your van for success. Reach out to us today!