Your work van can be customized from floor to ceiling — literally! Creating a functional work van to promote your crew's productivity starts with proper cargo van flooring. While they're often overlooked, custom work van flooring provides essential safety, protection and comfort to help you create the ultimate cargo space for your tools and equipment.
This guide explains the different types of van flooring and their benefits to help you choose the best option for your business.
6 Benefits of Installing Work Van Flooring
Most utility vans come with metal flooring that isn't always ideal. Installing custom van flooring can improve the functionality of your work vehicle in the following ways:
1. It Protects the Interior
If you're an electrician, plumber, HVAC technician or any other special trade contractor, you probably keep a collection of sharp and heavy tools in your cargo space. When your vehicle is in motion, loose equipment can dig into your floors or bang into the walls, leaving behind a trail of scratches and dents in your work van's interior.
Work van flooring is thick and durable, which creates a barrier to shield the bottom of your vehicle. The textured surface also creates traction to help hold your equipment in place while you're on the road.
2. It's Slip Resistant
Keeping your crew safe is a priority for all tradespeople. Smooth metal flooring becomes a slipping hazard if something spills or your boots get wet. Losing your footing around sharp tools can cause serious injuries.
Work van flooring provides traction to prevent slips and keep your team safe.
3. It Absorbs Sound
Installing work van flooring insulates the bottom of your vehicle, which helps block out sound from the road and absorbs the clanging of tools in the cargo space. A quiet work van is more enjoyable, and more importantly, it allows the driver to focus on the road ahead.
4. It's Easy to Maintain
From muddy work boots to dusty tools and equipment, your work van can collect a lot of dirt and debris. Standard cargo van flooring often has divets and grooves that are challenging to keep clean.
Covering the bottom of your vehicle with work van flooring will create a smooth surface that is liquid-resistant and easy to maintain.
5. It Looks Professional
An organized and professional-looking van sends a message about the quality of your work. If your client catches a glimpse inside your van, you want them to be impressed by how clean and sleek it looks. Installing custom flooring helps you maintain the interior of your van and make a good impression. It shows that you take care of your workspace and your clients.
6. It Boosts Your Productivity
If you want to get more done during the day, maintaining your work van can help boost your productivity. Searching for a missing hammer can take several minutes and leave you feeling frustrated. A clean and organized van makes it easier to find your tools and supplies so you can spend more time on the job.
Work van flooring is easy to clean and holds your equipment in place so you can focus on more important tasks.
Which Flooring Type Is Best for Work Vans?
The best flooring for your work van depends on which model you have, how you use your vehicle and the kind of equipment you carry. At Advantage Outfitters, LLC, we offer work van flooring in three different custom-fit materials for the most popular vans. Whether you're searching for Ram ProMaster, Ford Transit or Mercedes-Benz Sprinter van flooring, we have products that can meet your needs. Here are the benefits of each one to help you choose the best option for your vehicle: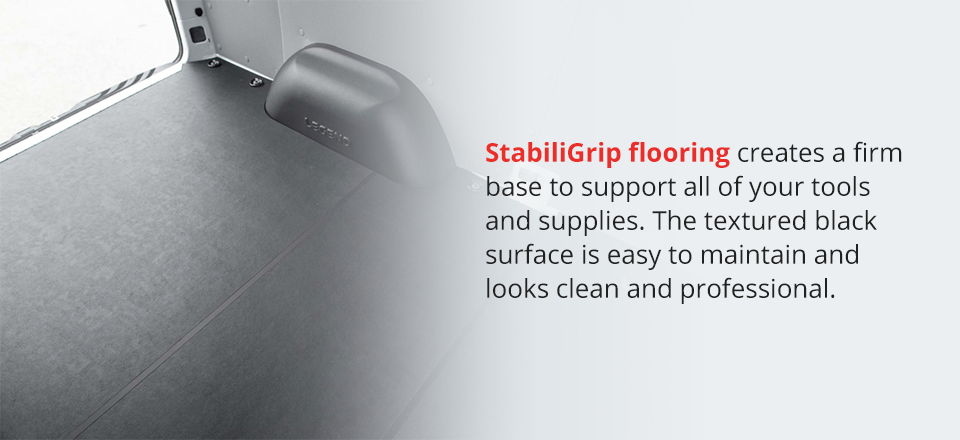 1. StabiliGrip Floor
StabiliGrip composite is extremely durable with a high-traction surface that feels like sandpaper. The hard plastic material is 3/8 of an inch thick and reinforced with fiberglass. It can sustain heavy wear and tear, perfect for vans that carry large equipment or harsh chemicals. The rigid material is impact and puncture-resistant. It maintains its shape and will not expand or bubble in extreme temperatures. It's moisture-resistant and rot-proof so it can outlast rainy weather or wet equipment.
StabiliGrip flooring creates a firm base to support all of your tools and supplies. The textured black surface is easy to maintain and looks clean and professional. Advantage Outfitters offers StabiliGrip composite floors custom-fit to seven of the most popular work vans.
2. Aluminum Diamond Plate
Aluminum diamond plate flooring offers the ultimate resistance against wear and tear. It provides heavy-duty protection with a rigid 1/8 of an inch aluminum barrier. The diamond pattern tread is non-slip with superior puncture and impact resistance. The silver finish gives a polished look that is waterproof and easy to clean.
You can also choose aluminum diamond plate side and rear door sills to protect the edges of your floor in those high traffic areas. Aluminum sills can be installed with StabiliGrip or rubber flooring to achieve your desired level of strength and durability.
3. Rubber Floor Mat
Rubber floor mats are ideal for work vans exposed to lighter wear and tear. The rubber material is 1/4 of an inch thick with a diamond tread pattern for traction. If you spend a lot of time standing in your van, rubber floor mats provide padding that can save your knees. It's available in multiple custom-fit sizes that are compatible with several of the most popular trade vans. The rubber is shock absorbant and sturdy to protect your interior from sharp tools and heavy equipment.
How to Install Flooring in a Van
The installation process varies slightly depending on which material you choose for your work van flooring. StabiliGrip composite flooring is rigid, so it comes in several panels that connect with a simple rail system. You can install it yourself in under 6 minutes with a few basic tools. Aluminum flooring arrives in several pieces as well and requires a similar installation process.
Rubber mat flooring is flexible, so it comes in one large piece. It's custom-fit to your van's interior, so all you have to do is roll it out and secure it with your existing floor D-rings.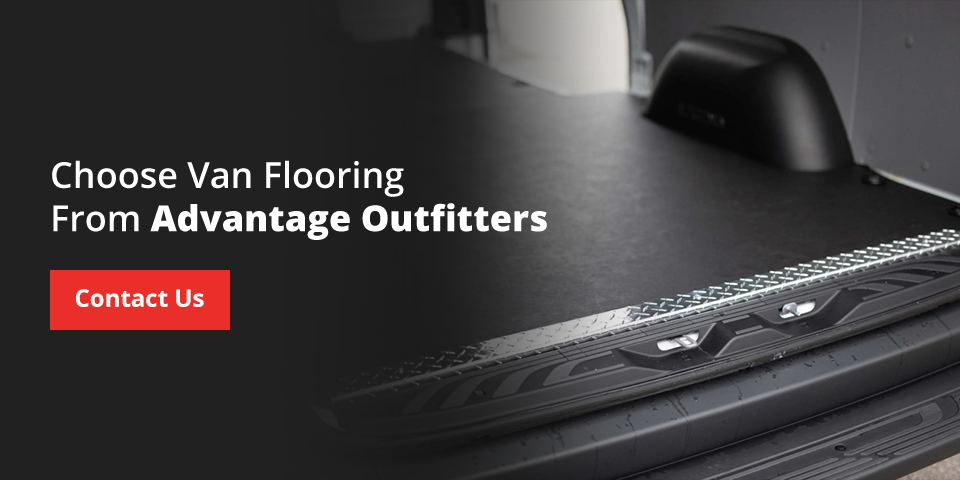 Choose Van Flooring From Advantage Outfitters
Advantage Outfitters provides custom-fit flooring for the most popular utility vans. We offer several different flooring options so you can choose the ideal material for your trade.
Our industry-leading products are strong and durable to protect your work van for years to come. Ordering is simple, and shipping is fast, with helpful customer service to guide you through the process.
Our expert technicians can answer any of your questions to help you choose the right option for your custom outfit. Contact Advantage Outfitters today to order your new work van flooring!
{ "@context": "https://schema.org", "@type": "FAQPage", "mainEntity": { "@type": "Question", "name": "Which Flooring Type Is Best for Work Vans?", "acceptedAnswer": { "@type": "Answer", "text": "The best flooring for your work van depends on which model you have, how you use your vehicle and the kind of equipment you carry. At Advantage Outfitters, LLC, we offer work van flooring in three different custom-fit materials for the most popular vans." } } }