Your work van functions as a mobile office, taking you to the job site and carrying your tools, parts and other equipment, storing everything you need daily.
Organizing your tools may not seem like a priority, but the proper storage system can make your life much easier. Outfitting your van with the appropriate shelving and accessories for your equipment can also boost your productivity. In addition to making it easier to locate your supplies, installing partitions and storage accessories can keep you safe while working.
Outfit your van with crucial storage and safety features like shelves and barriers to keep your employees protected and your tools secure. Learn which items will protect you and your crew with these tips for van safety.
Keep Your Tools Secure
If you are keeping loose tools and equipment in the back of your work van, you may be in more danger than you think. In an accident or sudden stop, unsecured hammers, power tools and other equipment can become high-speed projectiles.
One study found that unrestrained items inside motor vehicles are responsible for 13,000 injuries each year. These injuries were caused by ordinary lightweight objects like cell phones, soda bottles and luggage. An average-sized bottle of water that goes flying after a sudden halt at 50 miles per hour can impact someone with the power of a 21-pound object. Imagine the damage that heavy tools and construction equipment could cause.
You can eliminate these safety issues by installing the appropriate accessories to keep your tools restrained and your employees secure. Organize your cargo space with bin shelving and drawer systems. Create a storage system to house all of your supplies, from large items to the smallest nuts and bolts. With the help of Advantage Outfitters, LLC, you can design the perfect work van organization for your individual needs.
Use Partitions to Create Natural Division
For maximum work van safety, install a partition between the cabin and the cargo area. A partition divides the van's interior to keep potentially hazardous equipment from injuring people in the cab area. If bumps on the daily commute or an accident cause items to shift, a partition will keep you and your team protected.
Partitions can be outfitted for safety uses and other benefits such as:
Minimizing noise inside the van
Enhancing temperature control
Promoting organization and productivity
Eliminate distractions
Whether you just bought your work vehicle or have been using it for years, now is a great time to add a partition. At Advantage Outfitters, we offer partitions and dividers for eight of the most popular work vans, including Sprinter, Promaster, Transit and Metris. You can shop by van model to find what is available for your vehicle.
Depending on what type of work you do and which style you prefer, you can choose from our wide range of steel, aluminum or composite partitions. Investing in a partition will protect your passengers, improve organization and promote a comfortable work van.
Stay Organized With Drawers and Accessories
Outfitting your van for safety will prevent injuries while also helping you create an efficient storage system. Advantage Outfitters has designed many different storage solutions to secure the supplies you use within easy reach.
The benefits of keeping an organized work van extend beyond improving safety. Eliminate the frustration of a misplaced tool or a lost screw by creating a space for all of your supplies to go. They will last longer if they are stored safely rather than tossed onto the van floor. Keep your tools safe from wear and tear and from being lost or stolen by locking them away in their designated storage unit. Investing in proper storage solutions for your equipment will prevent costly damages and replacements.
Whether you are a plumber, electrician or HVAC contractor, you can choose from a wide range of accessories to bring order and security to your work vehicle. A tool drawer or tray with crates can store loose parts and gadgets. Maximize the vertical space in your van with a cabinet with drawers. Install a bottle holder with safety straps to prevent liquid supplies from spilling. Store small parts like nails and bolts in a slender parts drawer.
These simple storage solutions will save time and effort and create a safe work van so you can focus on producing high-quality work.
Prepare for Work Regardless of Weather
Inclimate weather, especially in the winter months, can create additional safety hazards for your crew. Snow and ice can create slick floors and surfaces in your work van. To prevent your team members from being injured in a fall, you can install a grab handle for added support entering the van. A rubber or composite floor mat can provide grip for stability and protect the bottom of the van from dirty slush and rock salt. Mucky, snow-covered boots and clothing can damage the van as well. Extend the life of your vehicle by protecting the seats and other surfaces with the appropriate coverings.
You can add simple accessories to winterize your van, so your team is protected regardless of the weather.
Benefit From Practical Lighting
The interior of your work van can be fairly dim, especially after the sun has gone down. Searching for your tools in the dark is frustrating and may even lead to unnecessary scrapes or falls. Incorporating lights in your van's cargo area will help you see better so you can locate supplies quickly and easily. You'll be able to see into every corner of your van with LED light strips.
You can install additional lights on any flat service inside your work van. Outfit your vehicle with LED light strips to illuminate your cargo area so you can locate your equipment at all times.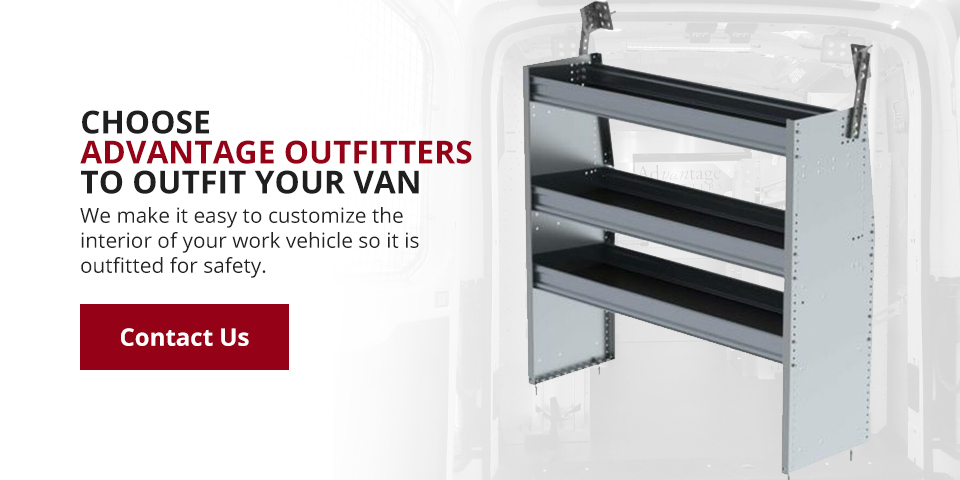 Choose Advantage Outfitters to Outfit Your Van
Easily find everything you need for a safe and organized work van at Advantage Outfitters. We understand that your work van is a vital part of your daily operations. You can create a safer and more functional work van for your team with our durable custom-fit upfitting products. Our products are perfect for securing your tools to prevent injuries and damaged equipment.
We make it easy to customize the interior of your work vehicle so it is outfitted for safety. Our accessories are organized by van make and model, so you can see a curated list of every product that will work for you.
For help choosing the right partition, flooring and other accessories, you can speak with one of our commercial van outfitting experts. Contact us today, and we will answer your questions.