When you first buy a work van, it could probably use a few tweaks. A van upfit can help you whether you need shelves or ladder racks installed, but not all upfits are created equally, and getting a stock upfit is never ideal. By outfitting your work van with the best quality products, you can transform your vehicle and create a space that allows your workers to be more productive and efficient.
Learn more about the top mistakes to avoid when outfitting your van with Advantage Outfitters, LLC.
Top 10 Van Outfitting Mistakes to Avoid
Upgrading your fleet and upfitting your vans can be a long process, but it doesn't have to be difficult. Knowing a few outfitting tips and understanding common mistakes can make the process go more smoothly. Perhaps the most important van upfitting tip is not to go in alone, as the feedback from both your team and industry experts will make it easier to transform your vehicle. Increase your fleet's organization, efficiency and productivity by avoiding the following mistakes.
1. Neglecting Safety
No matter your goals for updating your van, safety should still be number one on your priorities list. Many people make initial upfitting plans for their van without considering safety, only to find that they must radically change their plans when the time comes to actually upfit their vehicle. Preventing injury and ensuring your workers' safety is just as vital as signed contracts.
Increasing your van's safety may require installing several new features. For example, adding partitions to your vans can decrease driver distraction by reducing noise. Partitions may even save your drivers' lives by preventing cargo from invading the cab area when forced to make a sudden stop or during a collision. No matter what, make sure you choose features that keep your materials secure and prevent them from hitting you or your workers. Your van's safety is also integral to keeping your van covered by your insurance plan.
2. Prioritizing Cost Over Quality
Everybody likes to save money, but prioritizing cost over quality in your upfitting can cost you significantly more money in the long run. Remember that your fleet is the lifeline of your business, and invest in it as such. Cutting corners to pinch pennies upfront can cause your business to risk downtime and component failure in the future. By upfitting your van with high-quality products, your fleet will have the advantage of improved organization, efficiency and safety for years to come.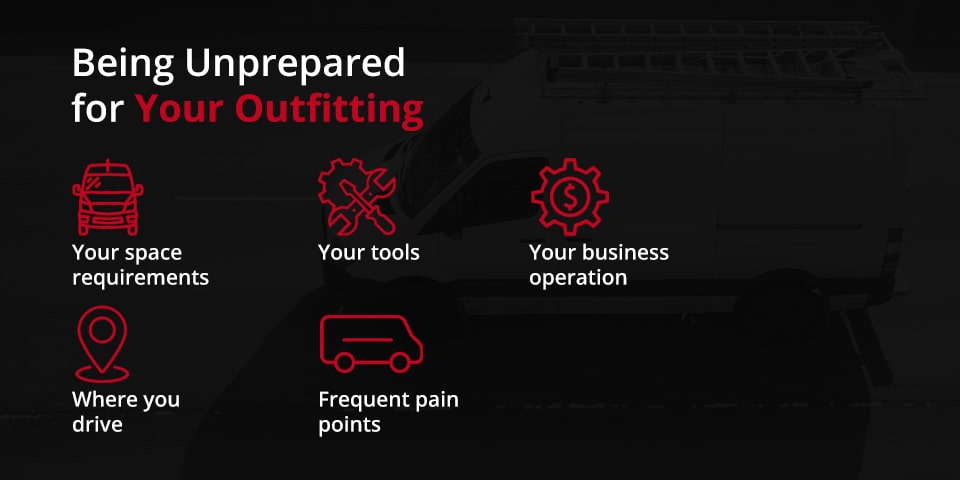 3. Being Unprepared for Your Outfitting
Before upfitting your van, you must have the exact specifications of your van and pay close attention to the inside details of your vehicle. It's important to inspect the specifications sheet that comes with your vehicle and note any damage or scuffs that may have happened to your vehicle since you first purchased it. You should know your vehicle's maximum weight capacity, dry weight, full material capacity and occupant capacity.
Advantage Outfitters has created an online guide to help you find your vehicle's measurements so you can enjoy an easier outfitting process. You should consider the following items before planning your outfitting:
Your space requirements: How much space does your cargo require? Can you optimize your space in your current van, or should you invest in a new one? Most importantly, can you easily enter and exit the work van when necessary and find what you need without wasting time? Features like bins, shelving and drawer systems can maximize your van's space like never before.
Your tools: Upfitting your service vehicle allows you to prioritize the tools you use daily and design a space that accommodates them appropriately.
Your business operation: Each industry demands different types of storage systems to fit their materials. An upfit is the perfect time to alter your van to have the unique storage features you need, such as bins, pipe storage and shelving. You should also make sure you upfit your work van with your specific industry in mind to help increase your efficiency and productivity.
Where you drive: Depending on your routes, your vehicle may require more protection to prevent your tools and equipment from getting jostled on demanding roads. With the right shelving and organization systems, you can even the weight distribution in your service van and prevent your materials from becoming damaged while traveling or harming yourself or your workers.
Frequent pain points: What do you find the most irritating about your current service vehicle setup? Do you find yourself wasting countless hours searching for materials? Are certain sections of your van prone to damage? Now's the time to take thorough stock of your service van's issues so you can rectify the pain points that impact you every day.
Once you have all of your van's exact specs and understand the features your fleet needs to succeed, you'll be ready to start upfitting. Knowing all of your vehicle's specifications and limits will prevent you from going overboard and adding features that your van can't support without going over the weight limit or becoming cluttered.
4. Getting a Stock Upfit
Not every upfit is created equal, and you deserve an upfit that's built specifically for your industry's demands. Stock upfits tend not to take your personal experience or business specifications into account and may lead to your van being outfitted with features that only get in your way or ill-fitting products that still leave you lacking the organizational equipment you need.
Customizing your work van's upfit yourself is the only way to ensure you're getting the exact results you need. For example, the shelf and ladder rack you install has a purpose and is installed in the most efficient place possible. You can also maximize the space inside your vans according to your fleet's unique working demands so you improve efficiency and organization without ever wasting money on unnecessary features. A well-done custom upfit will improve your fleet's usefulness and pay for itself over time.

5. Performing a DIY Upfit Without Proper Planning or Skills
You need to make sure you know what you're doing before you start upfitting your work vans with new parts. Even high-quality parts can only reach their full potential if you install them correctly. Understand the upfitting process before you begin or get some help from a certified technician or trusted individual who can ensure your new van parts are installed correctly.
It's also important not to approach your upfitting process without planning. Many people have experienced frustrating results when trying to upfit their vans themselves, but this is mostly a result of a lack of planning. Thankfully, Advantage Outfitters makes the process as easy as possible with intuitive upfitting parts and a staff who is always willing to answer your questions every step of the way.
6. Over-Complicating the Design Process
With countless options for design interiors, it can be easy to get overambitious. You might opt for expensive add-ons that seem practical but won't really be useful to most of your workers. Worse still, an over-complicated design could impede your technician's workplaces and lead to inefficiencies. The best way to prevent yourself from getting overwhelmed with your options is to talk to your staff and seek the opinion of an experienced expert.
At the forefront of your design process should always be a plan that addresses your fleet's most significant concerns and problems. Consider sitting down with a traditional pen and paper and sketching your ideal cargo area with enough room for all your essential tools. Do you need more wall space? Does your van require a weight redistribution? Can you easily enter and exit your service vehicle and find the equipment you need easily? When you're ready, it's time to take your plans to an expert.
Considering the limited space inside service vans, it's important to remember that more is usually less. If you find that a feature you want is unnecessary, it's best to save it for later and avoid investing in it at the moment.
7. Not Comparing Organizational Materials
Unfortunately, not all upfitting materials are created equal. The large amount of organizational materials available on the marketplace means you should do extensive research before choosing one for your van. Experts are always ready to help you choose the best material for your vehicle and can help you install it correctly the first time. Your organizational materials usually come down to two factors — metal choice and shelving style.
Most upfitting material choices come down to the type of metal. Steel and aluminum are both strong and durable options for shelving, and which you choose is largely dependent on the amount of weight your van can carry. Aluminum is the lighter of the two materials, making it a great choice for fuel efficiency and lessening your van's total weight. Steel is just as strong, and it's perfect for vehicles that drive on demanding terrain or experience frequent terrain changes. An expert outfitter can help you determine which of the two is right for your operation.
The other most important aspect of comparing organizational materials is choosing the right shelving for your van. Depending on your vehicle's make and model, you may find customized shelving packages to be the most efficient method of outfitting your van. However, if your van is already mostly outfitted and you just need a few more shelves to finish the project, individual shelving units may be right for you. Many shelving companies also create industry-specific van shelving for HVAC technicians, electricians, plumbers, caterers and more.

8. Not Consulting Your Team or an Expert
Upfits generally don't work as well if you forget to talk about the project with your team and an expert. With your staff's input, you can maximize efficiency and come up with solutions to problems that you may have never anticipated on your own. Always consult your workers when making decisions about your upfitting to avoid investing in the wrong features.
Everyone has blind spots when it comes to their knowledge. You and your team may think that you have all your future upgrades and features planned and covered but could be unaware of unique solutions that could boost your productivity and efficiency. With their wealth of knowledge about the industry, experts can propose solutions and ideas that your team may not have considered. Your upfitting materials supplier probably has the experience of hundreds — if not thousands — of upfits before and can ensure that your upfit design puts safety first and foremost.
9. Partnering With the Wrong Upfitter
When investing in an upfitting, you'll want to find a provider with a keen focus on quality and detail. Just because an upfitter may be located near your business or offer the lowest cost service doesn't mean they're an appropriate fit. Since finding the right upfitter can take a significant amount of time, it's important to begin reaching out well before your project starts. Don't be afraid to talk to your fleet, partners and contractors about who they recommend for van upfitting.
The right upfitter will know far more than just installation information — they'll be up to date on the latest safety standards and the most technologically advanced options. A good upfitter will also trust and recommend the best brands in van outfitting.
10. Not Checking With Insurance
Every insurance plan has different liability coverage, and it's essential to know your policy inside and out before you begin planning your van's upfitting. By adding too much weight or too many shelves, you can quickly make your vehicle non-compliant with safety standards and sabotage your vehicle's insurance coverage. Always talk to an expert and your insurance company before going through with a vehicle upfitting.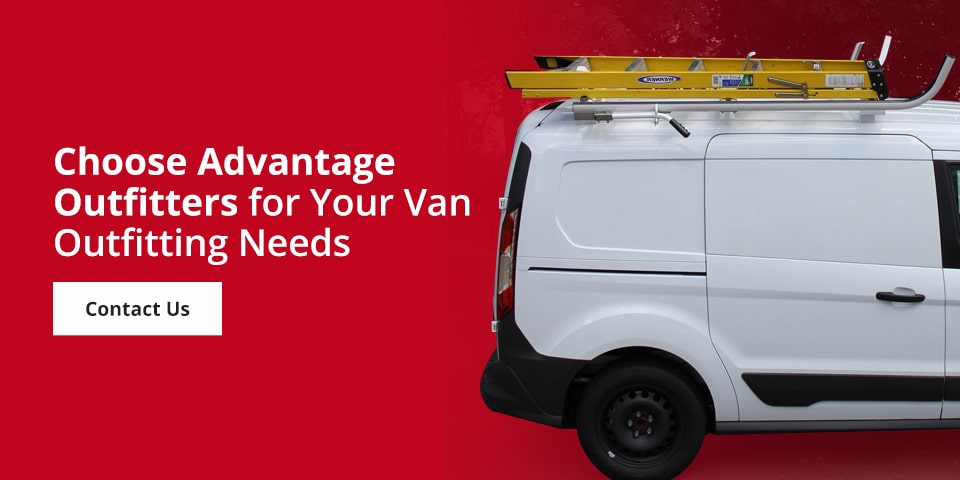 Choose Advantage Outfitters for Your Van Outfitting Needs
At Advantage Outfitters, we're a team of professional van outfitting experts that have taken our operation nationwide. We're defined by our passion and strong team spirit and are always guided by accountability, integrity, respect, passion and teamwork. Our team's dedication allows us to consistently do what's best for our customers.
We understand that your work vans are the most important tools of your business and that you depend on them for success. We help businesses upfit their work vans by providing them with features such as partitions, shelving and storage solutions. Our team works with Sprinter vans, Metris vans, Promaster and ProMaster City vans, Transit and Transit Connect vans, Savana and Express vans and Nissan NV vans.
Visit our website and shop by vehicle to see our current selection, and contact us online today.