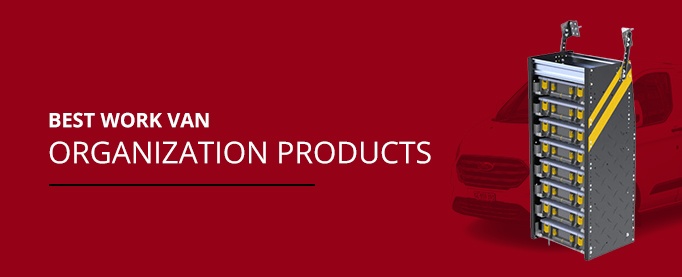 Your work van is an integral part of your business. It gets you from point A to point B and holds all the necessary equipment needed to complete your job. A disorganized work van slows productivity and sends the wrong message to customers about how you do business.
This blog post will provide tips for staying organized in a work van, along with our best vehicle organization products you should add to your work van.
Work Van Organization Tips
Before making any final decisions on a storage system, you want to first think about how you use your work van. Is there already an organizational layout in place? What do you like about your setup so far? Thinking about times when you couldn't find what you were looking for helps pinpoint your exact needs for staying organized in your work van. The below tips have additional ideas:
Lighting: Dimly lit vans make finding your equipment more difficult and pose a significant safety hazard. Consider upgrading to energy-efficient LED lights you can easily install into dimmer areas of your work van to help you find tools or read labels. These lights are an inexpensive way to improve your van's overall appearance.
Labeling: Labeling all your drawers and bins ensures there is a place for everything and each item is in its designated space. This way of organizing your van means you can quickly see when you are running low on a particular item, enabling easier reordering. Plus, people who aren't as familiar with your van setup can find exactly what they're looking for inside. These labels are a great benefit for new employees to get up to speed on the job site.
Tool storage: Store frequently used tools near the doors for easier access. Doing this prevents you from constantly entering the van and spending extra time searching for whatever you're looking for.
Small Parts Storage: Another way to store your tools is with Partskeeper cabinets. You can organize small parts or hardware in your van for easy access and use labels to designate tools for a certain cabinet. The removable tool cases allow you to carry tools on the job site so you have everything on hand and ready to go.
Shelf dividers: Using shelf dividers allows you to customize your shelving units to fit your specific needs. You can create unique spaces for all your tools and elevate your organizational layout. Use your new labeling system on your dividers to make it easier to find what you need.
Ladder Racks: Don't forget the roof! Cargo and ladder racks increase your storage space for smaller tools or equipment. If you find yourself struggling to find space for extra tools, a roof rack may be worth the investment for your business.
Seat covers and floor mats: Last but not least, comfort is a vital factor for how to stay organized in a work van. You may be on the road for extended periods, meaning you should ensure your team is recharged and ready to go. Seat covers make the drive more comfortable and prevent dirt, water and other materials from being tracked into the van. Rubber floor mats and wheel well covers minimize noise for the driver and are easier to clean than traditional metal floors.
Vehicle Organization Products for a Streamlined Van
Now that you know what to look for, let's explore the best products for work van organization to revamp your setup and keep your business running smoothly.
1. Individual Shelving Units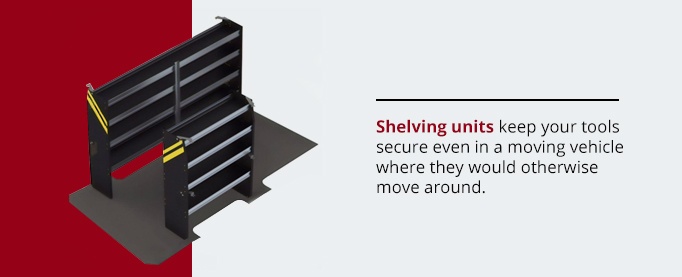 Individual shelving units are a great way to stay more organized on the job. These units streamline your van's arrangement and increase your productivity. Save time on the job site without searching for equipment or wondering if you used the last of a certain item. Shelving units keep your tools secure even in a moving vehicle where they would otherwise move around. Have peace of mind while traveling to the job site and invest in shelving units for your work van.
2. Shelving Packages
If you want to make the most of your cargo area, a shelving package may be the right fit for you. These packages are tailored to your vocation and your vehicle. These storage systems help you store work site materials and tools using an easy-to-find method. Adding hooks gives you additional space for hanging tools without them being far from your reach. Common package options include:
Base Package: typically chosen by general contractors and builders, this offers a great starter storage solution
General Service Package: this is best for companies like appliance repair, locksmiths, and other mobile service applications
HVAC Package: designed specifically for Air Conditioning contractors, this package includes efficient storage for refrigerant bottles.
Plumbing Package: this package includes lots of bins for storing and organizing various pipe fittings. It also includes restraints for welding tanks.
Electrical Package: Electricans carry expensive tools, and these are kept safe in lockable compartments. Wire reel holders provide easy access to stock spools.
Delivery Package: Fold-Away shelving provides maximum flexibility for courier companies. A pass-thru partition provides easy access to packages in the rear.
These shelving packages can custom fit your vehicle model to account for low, medium and high roofs. Choose from steel or aluminum shelving based on your primary needs. Shelving packages are excellent options for staying organized in a work van.
3. Accessories
An area that can often be overlooked when researching work van organization products is accessories. These items aren't always used for storing your tools, but they shouldn't be forgotten. Take full advantage of your commercial vehicle with these accessories:
Spending money on affordable accessories is well worth the investment of not having to dig through toolboxes or wonder if you forgot something. You can view additional accessories on our site to check out the best products for van organization and see what will fit your storage system.
Prioritize Quality Organization for Your Work Van With Advantage Outfitters
At Advantage Outfitters, we offer all the products you need to customize your work vans, whether for plumbing, construction, landscaping, HVAC or more. We offer useful on-the-job solutions, no matter if you have one van or 100. Whether you're looking for additional work van organization tips or have questions on what products are best for your organizational needs, we are here to help.
Feel free to shop for additional products like ceiling liners, mats, and roof equipment. Our experts will answer any questions you may have regarding your work van organization needs. Contact us today for more information, or visit one of our showrooms in New Jersey or New York.