Your work van is an essential tool for your business. It provides transportation, storage space and security for your equipment. When it comes to delivering impeccable service to your customers, the customization of your van shelving is essential.
Customizing your van can improve your speed, reduce your expenses, prevent loss from missing equipment and help you appear more professional to your clients. Van shelving that suits your company's needs can have a notable impact on your performance, allowing you to serve clients efficiently and boost profits.

Why Should You Customize Your Van Shelving?
The many benefits of customized van shelving make it worth the investment. It can provide you with the storage solutions you need to get the job done effectively and efficiently. For those in the vocational trades, your work van is your office, and you'll want to make sure your mobile office has everything you need. Vocational trade packages for your van could be the solution to boost your work performance and increase your profits. Here are the top reasons to customize the shelving in your work van.
Keep Your Van Products Safe and Secure
If your equipment isn't stored correctly, it can shift and move around in your van. Moving objects can be dangerous and a hazard to you, especially when you are driving. Additionally, your equipment is more likely to break when it's moving around, meaning you need to pay to replace a good piece of equipment that served you well.
Investing in van shelving and storage packages to keep your equipment safe and secure helps protect yourself, your employees and your products, saving you money in the long run.
Be Organized and Professional
Taking the time to customize your shelving allows you to be more organized and appear more professional to your clients and customers. Knowing where your equipment is and quickly finding it can help increase your productivity and reduce stress, resulting in a significant change to your everyday work schedule.
Most customers don't want to wait around for you to find an item and might have a negative first impression of your business if your van is messy and disorganized. Vocational trade shelving packages can help you turn your work van from cluttered to organized, leaving your clients impressed and boosting your professionalism.
Increase Your Profits
One of the significant benefits of customizing your work van shelving is that you can increase your profits by increasing your efficiency. Finding your equipment with ease allows you to serve your clients quickly, giving you more time to squeeze in an extra job before the end of the day. Storing your products safely and securely can also help prevent loss and damage, saving you money on replacing your equipment.
Another bonus is that you can impress new clients and customers with your organization and professionalism, keeping them coming back and recommending you to their friends and family, which earns you new customers in the process. Over time, your business can soar to new heights.
Van Shelving Customizations
If you're ready to start purchasing customizations for optimal van storage, you first need to know how much space you have for your improvements. Roof curves, wheel wells and body contours can interfere with using 100% of the available space in your van.
The easiest way to figure out how much space you have available in your van is to measure your vehicle's wheelbase and roof height. Once you know that, check out our vehicle layout guides and select your van to find detailed guidance on the measurements and storage space you have available in your van. Our guides explain just how much room you will have for your customizations down to the last inch, allowing you to plan and purchase van products that are guaranteed to fit.

Specialized Shelving Packages
Advantage Outfitters, LLC, provides various specialized shelving packages engineered to ensure the best fit for a wide range of vehicles and vocational trades. With our shelving packages, you can customize your workspace to fit the needs of your business with ease and keep your van organized and efficient. We can provide specialized packages for the following vehicles:
We also offer specialized packages for different trades, so whether you're an electrician, plumber or HVAC technician, you can find the solution that works for you.
General Service Shelving Package
Our general service shelving packages provide an organized and efficient storage solution for various vocational trades and industries such as painters, alarm installers, carpenters and roofers. We designed them for multiple vans and roof heights to ensure the best fit and storage solutions for your vehicle.
Electrical Shelving Package
Electricians need to store many different tools and electrical equipment in their vans. It's easy for wires to get tangled together or smaller parts to go missing. We specially designed our electrical shelving packages to provide electricians with the protection and organization they need for their equipment.
Our packages come with all the necessary hardware and mounting brackets that you will need to install your shelving. You also get plastic bins, shelf dividers and closed cabinets for small parts and hooks perfect for hanging wires.
Plumbing Shelving Package
At Advantage Outfitters, we understand that plumbers need space in the work van to accommodate their tools and provide the space you need to store all of your hardware, pipes and plumbing parts. It's critical to have the storage solutions you need to protect your hardware and allow you to access your items with ease.
Our plumbing shelving packages give you easy access to your equipment and include bottle holders, shelf dividers and cabinets with drawers to help you make your work van an organized haven.
HVAC Shelving Package
HVAC technicians need a lot of room for large parts and adequate space to store their tools and hardware securely in their van. Our HVAC shelving packages provide you with the space you need to keep your equipment safe and secure. They also include dividers, bins and cabinets so you have strategic storage space for your smaller tools and hardware.
Delivery Van Shelving Package
If you work in a delivery service trade, you might need space for various packages or items such as flowers, catering or different types of containers. Our delivery van shelving packages feature folding shelves to give your work van the space it needs to hold different weights and sizes of packages and equipment.
Dividers
Using a divider or partition between the cab and the cargo area is the best way to keep your equipment, tools and supplies from getting into the cabin while you're driving. We offer customized dividers for multiple vehicles and vans so you can choose the partition wall that is the best fit for your van.
Dividers and partition walls offer several benefits for work vans:
Protection for drivers and passengers: It's essential to keep yourself and others on the road safe while you are driving in your van. Partitions prevent your equipment and hardware from shuffling and moving around the cabin, keeping you and your passengers safe.
Enhanced containment for equipment: Dividers help your equipment and tools safe and secure, preventing damaged equipment.
Silent and peaceful drives: Say goodbye to noisy drives filled with tools jostling about. Dividers designed for your van help keep noises in the back, allowing you to enjoy a peaceful ride to your destination.
At Advantage Outfitters, we provide dividers and partitions that are easy to install and lightweight for better fuel economy. Some partitions have windows for increased visibility, and all promote the safety of you, your passengers and your equipment.

Bins and Drawers
Bins and drawers are great storage solutions to help you further organize your equipment and tools for your work van. You can get the most out of your van storage space by using bin and drawer shelving.
Bin Shelving
Bin shelving could be an excellent solution for storing items that are prone to moving around in transit. Bins are open on the top with tall sides, designed for quick and easy access and keeping your equipment contained. To optimize your organization, you can add dividers to your bins to separate your tools and hardware into smaller compartments that suit your needs.
Use bin shelving to transport multiple items such as cables, paint cans and brushes, power tools, pipe fittings and other loose equipment.
Drawer Shelving
Drawers come in many different sizes and styles, with some requiring a key to open them, allowing you to choose a type that will best fit your storage needs. They are perfect for storing your smaller tools and equipment and help organize those items that would otherwise create a cluttered mess in your van.
Like bins, drawers enable you to keep your equipment secure and prevent them from moving around. The differentiating factor between them is that drawers surround the tools on all sides once they are closed. Drawers work well for storing items such as hammers, screwdrivers, tape measures, electrical equipment, nails, bolts or screws.
Fold-Away Shelving
Do you find that your need for shelves fluctuates? If you experience times when you need shelves and other times when you aren't using them, fold-away shelving could be the perfect solution for you. With fold-away shelves, the shelf is only connected to the vertical frame at the back with trays along the edges to prevent objects from falling off.
Their design allows you to fold them away when they aren't required so you can free up more space in your van. These shelves offer a flexible storage solution and are perfect for trades and businesses that transport various items, such as delivery van drivers.
If you need a durable and dependable shelf for lightweight or heavy items, then you can rest easy knowing you have a strong shelf ready to go. And when you need to maximize your floor space for larger packages or equipment, you can fold it away and create space.
Accessories
Accessories for your van can vary depending on your trade. Plumbers and electricians might benefit from different types of accessories, for example. They can go a long way in maximizing the space in your van and can help take some stress out of your day.
They can help you store and access your oversized and most essential items, as well as your smaller tools and materials. While you might think they are needless luxuries, accessories can be the key to saving you time and money in the long run.
Let's take a look at some essential accessories that could help you get the most out of your work van:
Understanding Your Shelving Options: Aluminum vs. Steel
Many of our van shelving units come with aluminum or steel options. Both are strong and durable choices for your shelving, though one might work better for you than the other, depending on your needs and trade. Choosing the best one for your van can help with its weight load and increase your gas mileage.
The main difference between the two is their weight. Aluminum is lighter than steel and might be the better choice if you are already transporting heavy equipment and tools. If you are conscious about the weight of your van and want to maximize your fuel usage, then aluminum is an excellent option. On the other hand, you might want to go with steel if you have variable weight loads and often go through multiple terrain changes.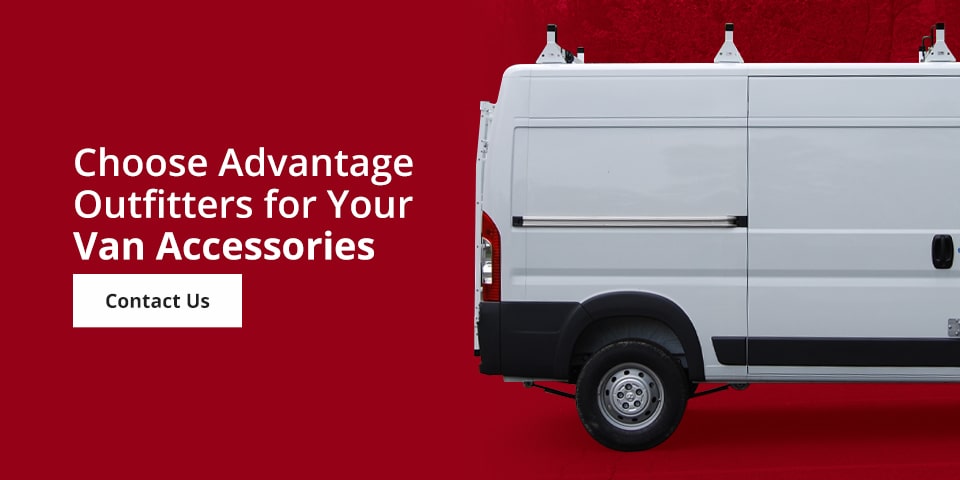 Choose Advantage Outfitters for Your Customized Van Shelving Needs
Customizing your van shelving for optimal performance can help turn your commercial work van into a highly efficient and specialized vehicle that will store and transport your supplies and equipment with professionalism and ease.
We designed our professional van shelves with your business and contractors' needs in mind. As a trusted commercial van outfitter, we provide your work van with the organization you need to boost your performance, allowing you to assist your clients more efficiently and increase your profits.
Start shopping for our van shelving packages for your van today. Have any questions or want to talk some things through? Call or live chat with one of our dedicated experts today to learn more about how we can assist with your van shelving needs.