If you're a contractor or run a delivery company, you need a perfectly organized and properly secured shelving system in your work vans, where all your equipment has designated spaces and ways to keep it from shifting around during transport to customers. The ideal shelving system ensures your van remains tidy and secure so you can drive, confident that your items and the shelves stay in place.
Whether you need to purchase suitable shelving or your van already has shelving, you can secure it properly and improve convenience and safety.
5 Tips to Keep Shelving in Place
Firstly, ensure you have the correct shelving system for your specific van. Knowing the precise measurements for popular van brands and models gives you an idea of the size and potential layout. Once you know this, you can look at different types of van shelving to improve organization.
When traveling to a job or making a delivery, the last thing you want is for your shelves to shift, make excessive noise, or loosen and topple over. When upfitting your van, review common van shelving do's and don'ts before purchasing. Once you install your commercial van shelving system, you want it to stay fixed and immovable.
1. Install the Right Flooring for Your Van
With standard van flooring, the surface is typically a smooth corrugated metal surface that offers little traction and slip resistance. Proper flooring ensures that your shelves, other items and equipment rest on durable and high-traction material. There are different types of van flooring to match your needs and budget and help ensure:
Sufficient grip and slip resistance
Protection for original van floor
Easy maintenance
Sound absorption
2. Install and Secure the Shelves Properly
You must install your commercial van interior shelving securely to prevent movement or shifting while transporting your products, gear and equipment.
Self-fitting shelves are compatible with standard fixing points in your van and don't require drilling. These shelves are sometimes slightly more restrictive and less customizable. Shelving more elaborate installation, as seen in this instructional guide to shelving installation, requires more modifications to affix bolts and brackets but generally offers more flexibility.
You can improve your shelving installation by:
Measuring everything: Before permanently changing your van walls and flooring, check alignment and clearance by measuring first.
Using adequate flooring: Have flooring installed or use a precisely fitted wood base that covers the floor to screw the shelves onto.
Assembling your shelving units properly: Do as outlined by the manufacturer's instructions and keep track of the washers, fasteners, brackets and other pieces.
Installing the shelves carefully: Line up the shelves to the correct positions, marking if needed. Then position the washers and fasten the shelf base to the flooring with the bolts and screws provided.
Inserting the brackets securely: Either use the screw ports in the van or make accurate measurements before drilling a hole for your jack nut. Incorrect or loose brackets will cause the shelves to shift and rattle.
3. Distribute the Weight Evenly
When building and installing a commercial van shelving system, you must consider the size and weight of your items. Please make sure your shelving has ample space and weight-bearing abilities.
Place the heaviest items in the lower compartments to keep the shelves from becoming top-heavy and save your back from lifting heavy objects to the top. Place smaller, lighter items toward the top of your shelves to preserve space and ensure fewer weight variations while driving and cornering.
4. Use Shelf Dividers and Shelf Locking Doors
Besides even weight distribution, using the right storage accessories to upfit your van will further improve organization and help secure your shelves, as items will stay in place and are less likely to roll around. Buying quality shelf dividers and adding convenient shelf-locking doors helps keep things from sliding around, getting mixed up, falling to the floor and making unnecessary noise.
5. Install Magnets and Use Ratchet Straps
If you predominantly have metal tools, equipment and items, consider installing magnets to better secure metal objects and small tools. If you install magnets in strategic parts of your shelves, remember magnets can affect electronic devices like camera gear and computer equipment. So make sure you dedicate these areas to securing particular items only.
If your cargo continuously moves about or falls from your shelves, secure it with ratchet straps and bungee cords. Straps help keep items in place and protect them and your shelving when in transit. You can also use ratchet straps to help keep your commercial van shelving systems secure.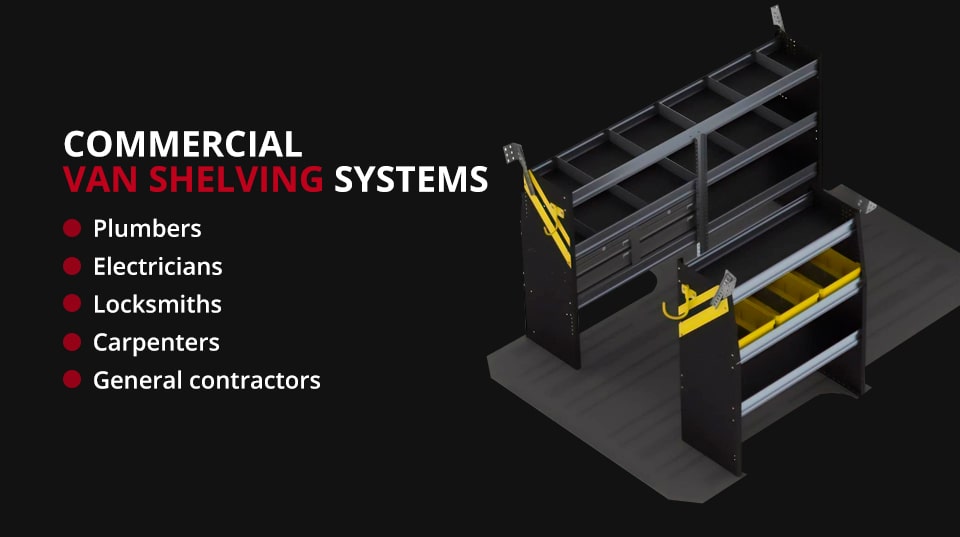 Commercial Van Shelving Systems
Once you have your van measurements, you can shop shelves by vehicle and find the perfect size and material for your van and purpose. High-quality shelving materials include steel and aluminum, and knowing which to choose for your application is essential.
In addition to commercial van shelving and storage systems, you can consider accessories such as shelves, bins, hooks and ladder racks. There are customizable packages and options specific to purpose and professions, including:
Plumbers
Electricians
Locksmiths
Carpenters
General contractors
Shop Shelving for Your Van & Industry
Commercial Vehicle Shelving Mechanisms and Safety
Every commercial van shelving system offers unique mechanisms for commercial vehicles, and the top van shelving manufacturers produce quality products to ensure safety, stability and convenience.
You can outfit your van to keep you safe and choose the shelving that best suits your needs. Then relax in knowing that the provided mechanisms will protect your driver, van and equipment:
Mounting brackets and hardware allow you to secure the shelving to the inside of your van safely.
Dividers and bins allow you to separate sections of your shelves to keep items from shifting and sliding.
Lock doors prevent equipment from falling to the floor and help protect against theft while on the job.
Shelves with a quality build will include reinforced ends and bottoms to promote stability and strength so your shelves don't collapse.
Shelf lips that are high enough and built from quality material help prevent parts from spilling on the floor.
Practical lighting can help mitigate the dimmer storage area of your work van. Lighting will ease frustration by allowing you to see what you are doing and where objects are.
Driving Safely With Cargo
While on the road, whether in the city or on the interstate, road safety is essential for your well-being and your van and equipment. There are several ways you can ensure you and your cargo have a safe journey:
Install shelving designed for your particular van and needs.
Organize your commercial work van so every item has a secure and designated place.
Distribute the cargo weight evenly across the van and try to keep heavier objects and equipment nearer the floor.
Avoid overloading your vehicle, which may cause complications while driving.
Preplan your trips so you know the routes, road quality, likely traffic and potential dangers.
Service and maintain your van regularly as your service and motor plan prescribes.
Do all relevant pre-trip vehicle checks, such as inspecting tire tread and adjusting tire pressure for the cargo weight.
Drive at an appropriate speed limit and allow adequate following distance, especially when loaded.
Refrain from rapid acceleration and hard braking.
Keep the size of your van and the space you need to load and offload in mind when parking.
Check that your insurance covers your van, including the fixed shelving and all equipment.

Shop Safe and Secure Shelving at Advantage Outfitters, LLC
At Advantage Outfitters, we specialize in upfitting commercial cargo vans with a wide range of high-quality and structurally sound equipment and accessories. We aim to help you improve your current van shelving system with our standard trade and van-specific shelving models or a customized plan according to your needs. If you would like to learn more or speak to us about upfitting your commercial van shelving system, please contact Advantage Outfitters online or call us at 866-925-4844 to discuss your commercial van interior shelving today!