Your work van is like another member of the team. It stores essential equipment and tools and carries your crew from one job site to another. It's like an office on wheels that serves as your workspace, filing cabinet and storage closet all in one. You expect a lot from your trade van, and customized organization can help you get the most out of your work vehicle.
Upfitting your utility van with functional accessories can help boost your productivity. Creating a space for all of your gear will ensure that you can access your supplies quickly and easily. You can stop wasting time digging through buckets of fasteners or shuffling through a pile of paperwork to find what you need. You'll save time and effort so you can get back to work and impress your clients.
This guide will help you understand the benefits of installing trade van accessories to improve your productivity at work.

Increasing Productivity With Commercial Vehicle Accessories
Consider how often you open the back of your work van to search for an important tool. Does it take a long time to find what you need? Even if it only takes a few minutes to locate a missing hammer, that's time away from the job. If you repeat that process several times per day, those brief moments add up quickly. In one workweek, you could be wasting hours digging through your equipment.
Contractors and tradespeople understand that time is money, and productivity often goes hand in hand with profitability. Installing practical accessories to store the tools and supplies you access the most will increase your productivity in more ways than just saving time.
You might be surprised to learn how a custom combination of shelving, storage containers and other accessories can improve your work efficiency. Commercial van accessories can help boost your productivity in the following ways:
1. Improve Your Mindset
Work van accessories can help improve your work van from top to bottom. While there are trade van accessories for organization purposes, other options improve safety and comfort. Upfitting your van with a combination of accessories to create the ideal work environment for your trade can positively impact your mindset.
An organized vehicle makes it easy to find everything and saves you the headache of searching for a missing tool. Other accessories can help improve climate control, reduce noise and improve security so you can feel safe and comfortable throughout the workday. Your work environment makes a huge impact on your productivity.
Custom organization and other accessories ensure that your work van looks clean and professional. A cluttered workspace can increase stress and anxiety, potentially diminishing your productivity. Since you rely heavily on your work van, keeping things organized can make you feel energized and ready to tackle the day.
2. Save Time and Effort
Finding your tools is effortless when there's a place for everything, including the smallest screws and every scrap of paper. You'll be able to find what you need in a matter of seconds and get right to work.
At the end of the day, it can be challenging to shove your equipment back into a cluttered van. Work van accessories also make it fast and easy to put tools away, so you spend less time in your van and more time getting the job done.
3. Ensure You're Prepared
Using drawers, storage bins and other trade van accessories for organizing will help you visualize your inventory. You'll notice when something is running low and can replenish your supplies before they're empty. You can eliminate trips to the store or office to grab items that you forgot. Checking your inventory will take less time and be more accurate, so your crew will have everything they need.
You'll have peace of mind that your supplies are fully stocked and you can get on the road to your next job. Everything you need will be ready in the van so you can work productively throughout the day.

Trade Van Accessories for Productivity
Many kinds of van accessories exist for different trade work. Choosing the ideal combination can boost your productivity on the job. Understanding the benefits of each one will help you select custom upfitting for your utility van. Here are some of the best work van accessories to help boost your productivity:
1. Shelving and Bins
Storing your supplies on the floor can quickly lead to a cluttered mess. Shelving and bins will maximize your vertical space and create more room on the floor to walk and maneuver equipment.
Storage bins come in several different sizes, and dividers can separate your shelves for further customization. You can create a space for all of your tools and smaller supplies for easy access. If you need multiple items, bins can be removed and carried to the job site to reduce trips back to the van.
Shelving and bins can help store your most used items in convenient places, so you can grab them quickly and get back to work.
2. Hooks
Hooks are a great solution for storing items that you use daily. Keeping frequently used supplies at easy reach will help boost your efficiency. It's easy to lose the items that you use every day, but having a designated hook will ensure that they're always kept in the same place.
Hooks can be installed on any flat service for items like hard hats, safety vests, cords or ladders. You can choose from different sizes and weight capacities depending on your needs.
3. Paper Holders
Plumbers, electricians and special trade contractors all use paper in some way. Whether you're storing blueprints, project schedules, receipts or contracts, a paper holder is the ideal solution for keeping it all organized.
Over time, paperwork can accumulate and clutter your work van. Sorting through pages can also take up your valuable time. It's important to maintain a clean workspace to stay focused and use your time productively.
Whether you have to keep track of a lot of paperwork or only a few important documents, paper holders with multiple slots can handle it all.
4. Bottle and Wire Holders
Bottles and wire reels come in cylindrical shapes that can be challenging to store. You could leave them on the floor, but they often roll around while the van is in motion. Liquids might spill, and wires could get tangled, creating a big mess.
Fortunately, there are work van accessories designed specifically to hold these items conveniently in place. Bottle and wire holders attach to the wall to keep your wire reels and bottles secure during transit.
They are easy to access and keep your van looking clean and orderly.
5. Tool Drawers and Parts Cases
One of the biggest benefits of using trade vans is the large open cargo area to store your supplies. While this allows you to transport everything you need for the workday, you have to create your own storage for smaller objects.
You can configure your own custom organization system with parts cases and tool drawers. Creating your own storage system lets you choose the ideal products for your particular industry. You can use multiple drawers to categorize your supplies and store like items together.
Finding the right tool and managing your inventory will take less time so you can focus on more important tasks.
6. Partitions and Liners
Partitions and liners are great for more than just organization. They help make your work van quiet and more comfortable so you can stay focused on having a productive workday.
Even the most organized cargo space will vibrate and make rattling noises while the van is in motion. Installing a partition or wall liners can help absorb the sound so you can relax or have an important conversation while you're on the road.
Working in a pleasant environment can make a big impact on your attitude and work efficiency. Staying cool in the summer and warm in the winter can help you feel comfortable and motivated to tackle the day. Partitions help insulate the cab area of your van for optimal temperature control.
7. Lighting
Work vans are typically dim, with the only sunlight coming from the back door. It can become even harder to see as the sun sets. Looking for something in the back of a dark van can make your search last a lot longer. Interior lighting will illuminate the cargo area so you can find everything you need.
You'll be able to grab your supplies with ease during the day and put things away quickly at night.
Van Accessories for Different Trade Work
Whatever your trade, you can find van accessories that work for you. Here are some things to consider for different trade work: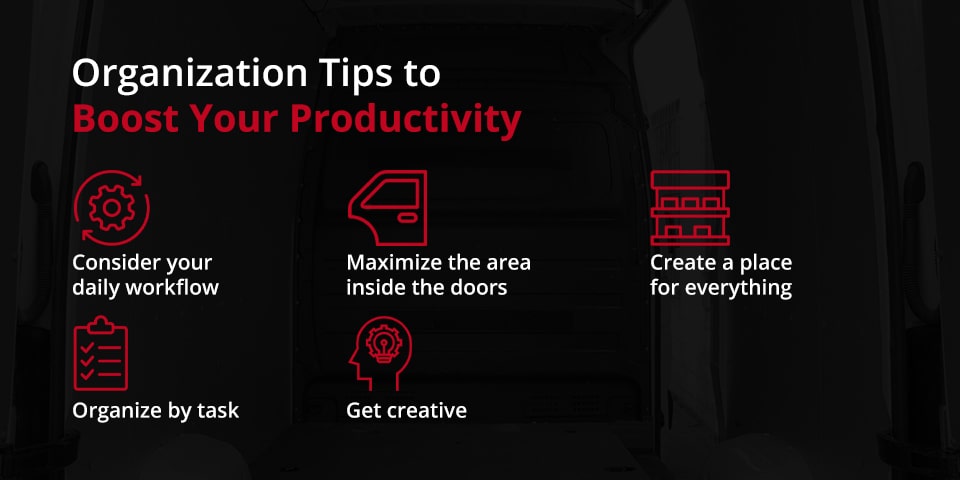 Organization Tips to Boost Your Productivity
The accessories that will help you be most productive depend on your industry and the challenges that you face. Finding the right combination and installing components in the ideal location will greatly impact your efficiency. The following organizational tips can help you get started:
Consider your daily workflow: Imagine your workday from start to finish. What tasks do you typically perform, and what tools do you use the most? Brainstorm when and how often you access your equipment throughout the day. Understanding how you work will help you design an interior to support your daily activities. You can use this information to create a storage system that flows with your work schedule.
Maximize the area inside the doors: Store your most frequently used tools and supplies directly inside the door, where you can reach them from outside the van. You can use hooks, tool drawers or parts cases to store everything you need at an arm's reach. This is also a great place to store heavy items so they are easier to access.
Create a place for everything: Use drawers, shelving, bins, cases and other accessories to store all of your supplies. You can use dividers to organize even the smallest items. When everything has a place, you and your crew are more likely to put things back where they belong and keep your work van organized. Take it one step further and label everything so supplies are easy to find and put away.
Organize by task: Most people organize items by type and keep similar supplies together. While this can be a great strategy, another option to consider is organizing by task. If you perform similar jobs every day, consider keeping all the tools and equipment you need in one toolbox. Rather than collecting each piece separately, you can grab everything at once.
Get creative: You can organize the large cargo area of your work van in countless ways. Be creative with your storage systems to support your daily productivity. You can even hang items from the ceiling if you want.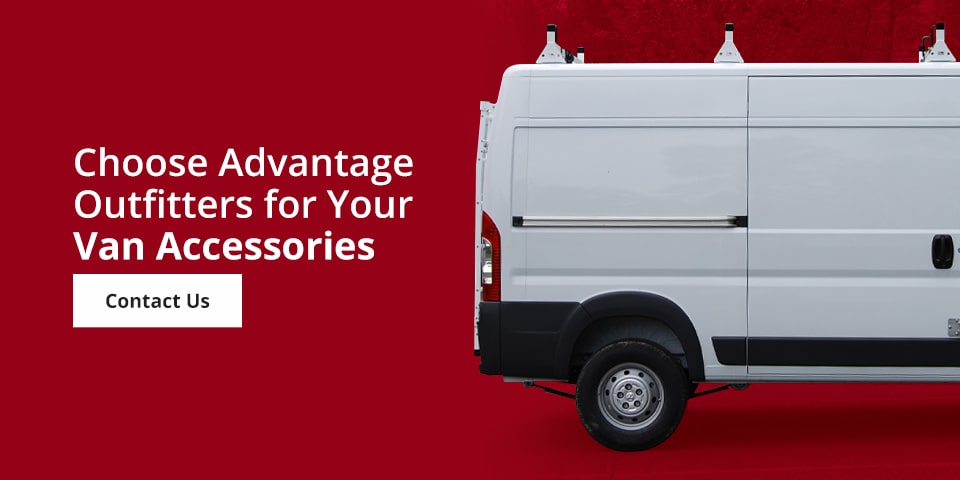 Choose Advantage Outfitters for Your Van Accessories
Start saving time and money with accessories from Advantage Outfitters, LLC. You can choose from our wide range of accessories to help boost your productivity. We have van accessories for different trade work that are custom fit to the most popular van models. Placing an order is easy, and products ship quickly so you can install your accessories right away.
Browse our selection of high-quality accessories to improve your work van storage for a more efficient workday.
{ "@context": "https://schema.org", "@type": "FAQPage", "mainEntity": { "@type": "Question", "name": "How can trade van accessories boost productivity?", "acceptedAnswer": { "@type": "Answer", "text": "1. Improve Your Mindset 2. Save Time and Effort 3. Ensure You're Prepared" } } }